You are now leaving the BD Biosciences website. The site you are about to visit is operated by a third party. The link to this site neither makes nor implies any representation or warranty for any products or services offered on a third-party site and is intended only to enable convenient access to the third-party site and for no other purpose. Do you want to continue?
Old Browser
For the best web browsing experience, please use Chrome, Safari or Firefox, minimum versions 77.0.3865, 12.1.2 and 68, respectively.
関節リウマチ(RA)、ループス、多発性硬化症などのリウマチ性疾患は自己免疫応答が原因で発症します。免疫不全症では免疫系が適切な免疫応答を誘導できなくなりますが、自己免疫疾患では免疫系が自己抗原に過剰応答します。このように自己と非自己を区別できなくなるのは、免疫寛容が破綻し、免疫系に備わっている予防機構によって自己攻撃を防がなければならなくなるためです1。自己免疫は、特定の器官に影響を及ぼしたり(RA)、全身に影響を及ぼしたり(ループス)します。強直性脊椎炎などの一部の疾患は、自己免疫性かつ炎症性の関節疾患と考えられています。
Examples of rheumatic diseases
関節リウマチ(RA)は、手足を含む全身の関節の炎症および損傷を特徴とする自己免疫疾患で、米国では人口の約0.5~1%に発症し、男性よりも女性に多く見られます2。
全身性エリテマトーデス(SLE)は慢性炎症性自己免疫疾患です。SLEは、自己抗体を産生することにより、皮膚、腎臓、肺、中枢神経系などの複数の器官に発症します3。
強直性脊椎炎(AS)は軸性筋骨格系の慢性進行性炎症性リウマチ性疾患で、複数の遺伝子が原因となって発症します4。
Genetic basis of AS
リウマチ性疾患には遺伝的要因が強く関与しています。特に、ヒト白血球抗原(HLA)座はリウマチ性疾患に対する遺伝的素因の約50%を占めており、主要組織適合遺伝子複合体(MHC)クラスII分子であるHLA-DRB1が強く関与しています4。その他の非HLA感受性遺伝子(タンパク質アルギニンデイミナーゼ4型[PADI4]やインターロイキン2受容体サブユニットαなど)もリウマチ性疾患に関与しています。
ASにはMHCクラスI分子であるHLA-B27が強く関連しています。HLA-B27検査は強直性脊椎炎のスクリーニングのためにルーチンで行われます5,6。
BD Biosciences tool for rheumatic disorders
BD Biosciencesでは、リンパ球表面HLA-B27抗原の有無をスクリーニングするためのツールをご用意しております。HLA-B27の存在は、リウマチ性疾患の1つである強直性脊椎炎と強く関連しています。 BD® HLA-B27キットは、BD社製フローサイトメトリーシステムを用いて、赤血球溶解全血中のHLA-B27抗原発現を迅速に検出します。
精度試験
| Precision | SD of LMF |
| --- | --- |
| Within Run | 0.7 |
| Between Instruments | 1.3 |
| Between Days | 0.8 |
| System Total | 1.5 |
10個のサンプル(陽性サンプル5個と陰性サンプル5個)を用いて、BD FACSCanto™システムのHLA-B27抗原に対する精度を推定しました。測定は2日間にわたって1日2回行われ、BD FACSCanto™機器3台を用いて3名の操作者が実施しました。各変数のHLA-B27 FITC LMF平均値のSDを算出しました。
交差反応性特性評価
BD® HLA-B27試験に用いた抗HLA-B27モノクローナル抗体GS145.2は、HLA-B7と最もよく交差反応することが明らかにされています7。交差反応性を示す一部のサンプルのLMFは決定マーカーの陽性側に傾き、結果が偽陽性となる可能性があります。このような交差反応性の特性を明らかにするために試験を実施しました。細胞毒性試験または低分解能分子試験により確認された、既知のHLA-B交差反応性抗原を持つ29個のサンプルと、6個のHLA-B27陽性サンプルを、3回ずつ染色し、3名の操作者がそれぞれにBD FACSCanto™機器2台を用いて捕捉しました。確認された6個のHLA-B27陽性サンプルはすべて、決定マーカーを上回っていました。5個の偽陽性サンプルは主にHLA-B7でした。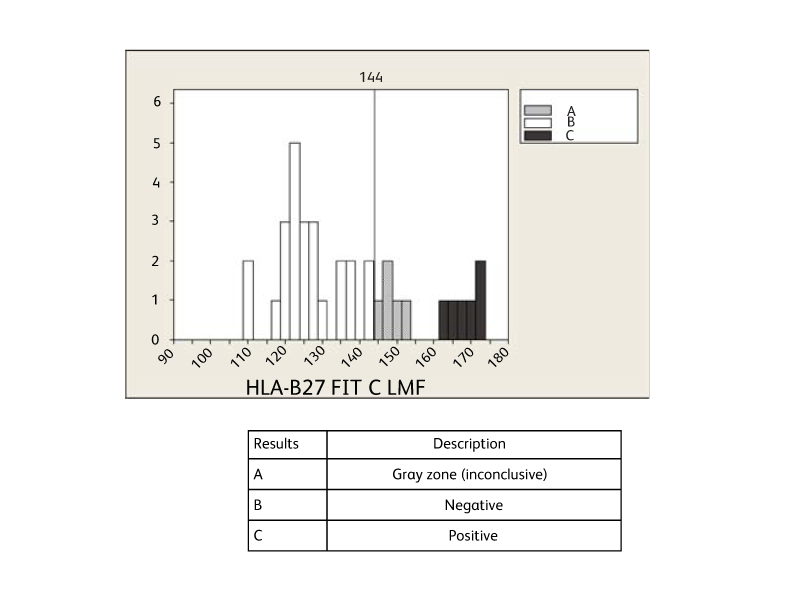 References
Wang L, Wang F, Gershwin ME. Human autoimmune diseases: a comprehensive update. J Intern Med. 2015;278(4):369-395. doi: 10.1111/joim.12395


Hunter TM, Boytsov NN, Zhang X, Schroeder K, Michaud K, Araujo AB. Prevalence of rheumatoid arthritis in the United States adult population in healthcare claims databases, 2004-2014. Rheumatol Int. 2017;37(9):1551-1557. doi: 10.1007/s00296-017-3726-1


Baechler EC, Batliwalla FM, Karypis G, et al. Interferon-inducible gene expression signature in peripheral blood cells patients with severe lupus. Proc Natl Acad Sci U S A. 2003;100(5):2610-2615. doi: 10.1073/pnas.0337679100


Chung IM, Ketharnathan S, Thiruvengadam M, Rajakumar G. Rheumatoid arthritis: the stride from research to clinical practice. Int J Mol Sci. 2016;17(6):900. doi: 10.3390/ijms17060900


Dakwar E, Reddy J, Vale FL, Uribe JS. A review of the pathogenesis of ankylosing spondylitis. Neurosurg Focus. 2008;24(1):E2. doi: 10.3171/FOC/2008/24/1/E2


Chen B, Li J, He C, et al. Role of HLA-B27 in the pathogenesis of anlkylosing spondylitis. Mol Med Rep. 2017;15(4):1943-1951. doi: 10.3892/mmr.2017.6248


Levering WHBM, Wind H, Sintnicolaas K, Hooijkaas H, Gratama JW. Flow cytometric HLAB27 screening: cross-reactivity patterns of commercially available anti-HLA-B27 monoclonal antibodies with other HLA-B antigens. Cytometry B Clin Cytom. 2003;54(1):28-38. doi: 10.1002/cyto.b.10022 
Report a Site Issue
This form is intended to help us improve our website experience. For other support, please visit our Contact Us page.
Successfully submitted.