You are now leaving the BD Biosciences website. The site you are about to visit is operated by a third party. The link to this site neither makes nor implies any representation or warranty for any products or services offered on a third-party site and is intended only to enable convenient access to the third-party site and for no other purpose. Do you want to continue?
Old Browser
For the best web browsing experience, please use Chrome, Safari or Firefox, minimum versions 77.0.3865, 12.1.2 and 68, respectively.
Please Note
This page has been recently translated and is available in French now.
The BD LSRFortessa™ Cell Analyzer offers the ultimate in choice for flow cytometry, providing power, performance and consistency.
Designed to be affordable and expandable, the BD LSRFortessa™ System has the flexibility to support the expanding needs of multicolor flow cytometry assays.
The system is an innovative and proven platform for multicolor analysis with its powerful fluidics systems and novel optics design, all of which work to maximize signal and enable minimum cross talk.
BD FACSDiva™ Software controls the efficient setup, acquisition and analysis of flow cytometry data from the BD LSRFortessa™ Workstation. The software is common across BD FACS™ instrument families, including the BD FACSCanto™ Cell Analyzer and BD FACSAria™ Cell Sorter systems. This affords greater application flexibility allowing you to easily move assays from one platform to another.
If you own our legacy BD® LSR II Flow Cytometer, you can take advantage of our exclusive special offers for trading in your BD® LSR II System. Contact our Technical and Applications Support personnel for maintaining optimal instrument performance and with any other instrument-related support.
View the BD LSRFortessa™ System brochure.
The BD LSRFortessa™ System's innovative excitation and collection optics design reduces excitation losses and optimizes collection efficiency for increased sensitivity and resolution
Maximum signal, minimum crosstalk—an innovative and proven platform for multicolor analysis


The octagon- and trigon-shaped optical pathways of collection optics maximize signal detection and increase sensitivity and resolution allowing you to identify dim and rare cell populations

Can be configured with up to 5 lasers—blue, red, violet, UV and yellow-green. This flexibility in laser wavelengths allows you to optimize assay design using the latest fluorescent dyes and substrates

Can accommodate the detection of up to 18 colors simultaneously with a defined set of optical filters that meet or exceed the majority of today's assay requirements

Get more information on the excitation and collection optics of the BD LSRFortessa™ System from the system brochure.
The BD LSRFortessa™ System's fluidics system features a true fixed alignment flow cell that is gel-coupled to the collection optics to maximize detector signal
The fluidics design ensures that the laser is precisely focused on the sample stream and maximum amount of emitted light can be collected for added sensitivity in multicolor applications
Fixed alignment also minimizes startup time, improves experiment-to-experiment reproducibility and enables automated daily quality control

The optional BD FACSFlow™ Supply System Fluidics Cart increases capacity and ease of use while maintaining a stable fluidics pressure. It includes an automated sheath and waste fluid control system that reduces daily maintenance by incorporating two 20-L containers (Cubitainers™)

Fluidic sensors maintain constant pressure, while a fluidics monitoring system warns when sheath fluid is low or empty or when the waste container is full

Get more information on the fluidics system of the BD LSRFortessa™ System from the system brochure.
The BD® High Throughput Sampler (HTS) option improves experimental workflow and the BD Special Order Research Product (SORP) program provides flexibility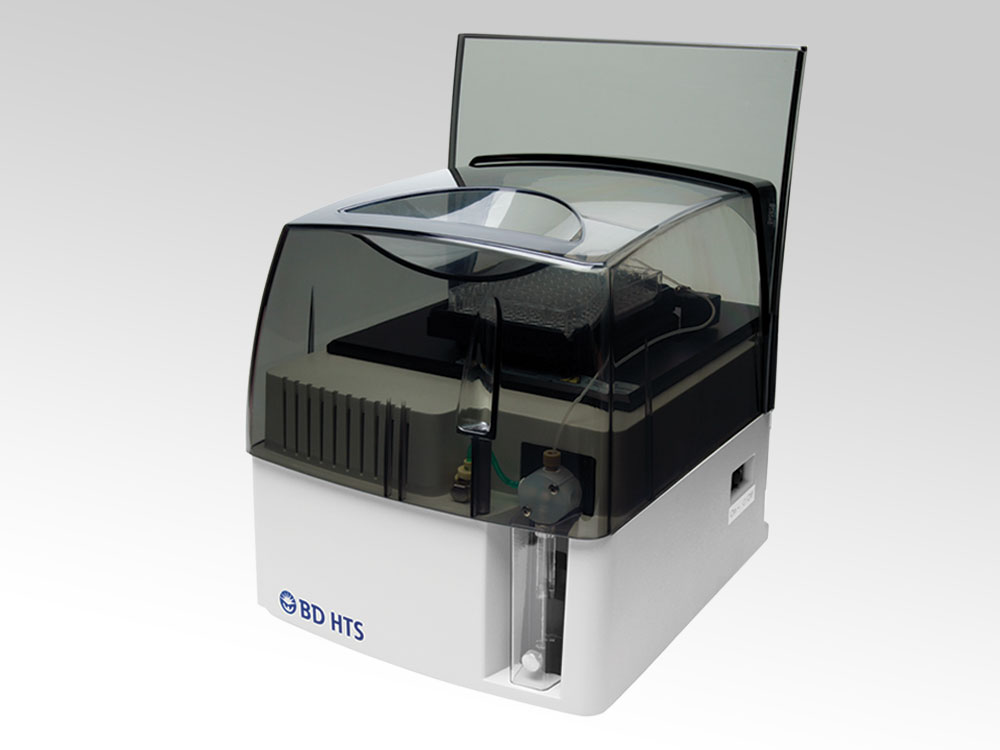 The HTS Option
HTS provides rapid, fully automated sample acquisition from 96- and 384-well microtiter plates. In high-throughput mode, the HTS option can speed through a 96-well plate in less than 15 minutes with less than 0.5% sample carryover from one well to the next. Low carryover is essential in research applications to ensure sample purity and data integrity.
Fast acquisition speed is achieved by synchronizing two high-precision pumps for sample mixing, sample injection and probe washing. Standard throughput mode can be selected for acquisition of larger sample volumes.
 
Special Order Research Product (SORP) Program for Custom Solutions
The BD Special Order Research Product program allows customers to configure BD flow cytometers and cell sorters to fit precise research and assay needs.
Tailored to the specific needs of research at the leading edge of biomedical discovery, the program offers a wide range of choices to help researchers create the ultimate customized instrument for their requirements. 
Learn more about BD custom solutions for flow cytometry.

The BD LSRFortessa™ Cell Analyzer has been effective in the analysis of Treg populations and T cell subtypes.
Regulatory T cells (Tregs) play a critical role in maintaining immune modulation and are present in normal peripheral blood in low numbers (5 to 10% of CD4+ T cells or 1 to 2% of total lymphocytes). Forkhead box P3 (FoxP3) is considered to be the definitive marker for this rare cell population. Tregs are known to express the highest levels of CD25. The CD4+CD25+(high) gating strategy shown here was used to identify Treg populations. These plots represent data taken from a BD LSRFortessa™ System using an 8-color panel that applies this gating strategy to identify FoxP3-positive cells.
Analysis of human blood
Data show a 10-color panel run on a 3-laser BD LSRFortessa™ System with a blue, red, violet configuration. The panel was used for defining T cell subsets using lysed whole blood (BD Pharm Lyse™ Lysing Buffer) from a normal donor. Use of the BD Horizon™ V450 and BD Horizon™ V500 Dyes allows brighter fluorochromes to be used for more dimly expressed antigens, while the use of 10 colors expands the amount of information gained from a single tube.

Request a Quote On a BD LSR Fortessa™ Flow Cytometer
Please fill in the following information and we will get in touch with you regarding your query.
Successfully submitted.
Report a Site Issue
---
This form is intended to help us improve our website experience. For other support, please visit our Contact Us page.
Form Submitted Successfully