You are now leaving the BD Biosciences website. The site you are about to visit is operated by a third party. The link to this site neither makes nor implies any representation or warranty for any products or services offered on a third-party site and is intended only to enable convenient access to the third-party site and for no other purpose. Do you want to continue?
Old Browser
For the best web browsing experience, please use Chrome, Safari or Firefox, minimum versions 77.0.3865, 12.1.2 and 68, respectively.
Please Note
This page has been recently translated and is available in French now.
Overview
BD® Research Cloud (BD RC), built by the creators of FlowJo™ Software, helps you organize your projects, gain visibility and control of your experiments, or quickly and easily collaborate with your colleagues.

It alleviates time spent moving data between one system and another and provides a tool for designing your next panel.

Sign up today for a free account at bdresearchcloud.com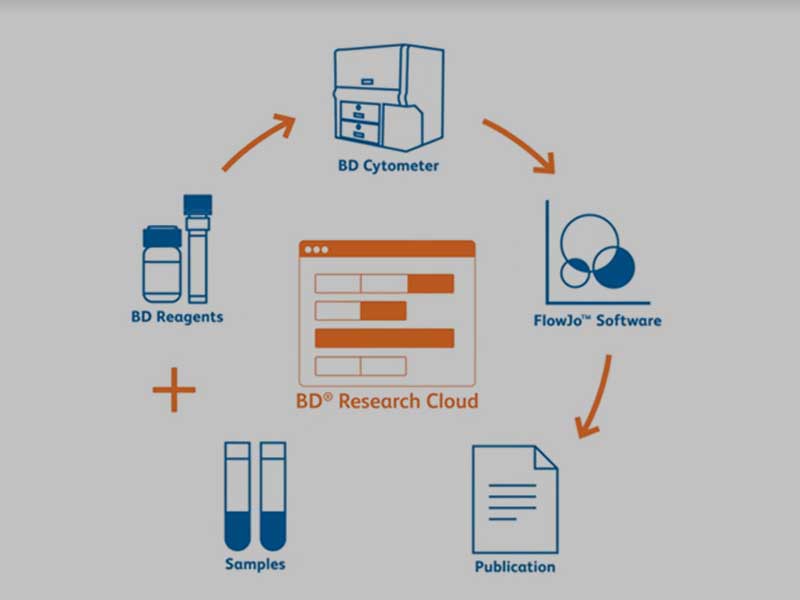 Utilize the Reagent Selector tool inside
BD® Research Cloud to guide you through the flow cytometry panel design process
BD has been the leader in panel design education since the BD Horizon tours in 2014, and the Reagent Selector tool inside BD® Research Cloud guides users through a panel design process consistent with those principles.
 
Define, store and share your cytometer configurations for use in panel design.
Use the BD reagent catalog and define custom fluorochromes.
Define your own reagent inventory with a premium license.
Define your biology using pre-defined populations and add your antigen density.
Assign your fluorochromes consistent with BD Horizon principles.
Easily select and order reagents, share your panel with a colleague or request a quote.



Organize your projects with a single-site storage platform that helps you collaborate in groups and quickly retrieve primary data and related metadata
BD® Research Cloud and the flexible workflow functionality can help you to:
Encapsulate the data, metadata and resources associated with an experiment, then easily go back to that information as you work towards publication.
Assign workflows to other members of your organization, and to define who can see and participate in your work using the Group structure within BD RC allows you.
Collaborate directly from BD RC Notifications and chat enable.
Handle data management on the instrument workstation and transfer data to instrument users using cloud storage.



Optimize the time spent on your flow cytometers and annotate your experiments for analysis ahead of time.
With BD RC, you can:
Define your experiment away from the cytometer and then import into BD FACSDiva™ Software.
Easily layout your specimens or your plate, pull in your panel design information, define keywords to capture in the FCS files, and define the plots for your experiment without spending extra time at the cytometer while your cells are waiting to be run.
Store and share the workspace files and the underlying data with your colleagues as BD® Research Cloud also integrates with FlowJo™ Software directly. Changes can easily be saved back to BD RC to allow others access and save the analysis version history.



Add even more value to your FlowJo Portal ID with BD® Research Cloud
Use your FlowJo Portal ID to create your BD RC account at bdresearchcloud.com and enjoy free access to panel design and workflow integration with your FlowJo™ Software analysis.
You can create an organization with a free Essentials license for up to 10 users to organize and collaborate on your lab's flow cytometry experiments.

Paid Professional and Premium licenses are available for groups of any size and offer additional features and storage.

BD® Research Cloud Frequently Asked Questions
Report a Site Issue
---
This form is intended to help us improve our website experience. For other support, please visit our Contact Us page.
Form Submitted Successfully