You are now leaving the BD Biosciences website. The site you are about to visit is operated by a third party. The link to this site neither makes nor implies any representation or warranty for any products or services offered on a third-party site and is intended only to enable convenient access to the third-party site and for no other purpose. Do you want to continue?
Old Browser
For the best web browsing experience, please use Chrome, Safari or Firefox, minimum versions 77.0.3865, 12.1.2 and 68, respectively.
Please Note
This page has been recently translated and is available in French now.
Request a Quote
Please fill in the following information and we will get in touch with you regarding your query.
Successfully submitted.
Overview
Derive greater insights and unlock new discoveries using image-enabled spectral sorting

BD FACSDiscover™ S8 Cell Sorter with BD CellView™ Image Technology, the first spectral flow cytometer sorter with sort-capable image analysis, expands the power of cell analysis and sorting to new dimensions by combining spectral flow cytometry with real-time spatial and morphological insights—empowering scientists to address previously impossible-to-answer questions.

Obtain insights on cell populations and characteristics that can be visually confirmed in real time during analysis and sorting

Enhance spectral flow cytometry with spatial and morphological insights to interrogate and sort cell types that previously could not be identified or isolated
Simplify your workflow with built-in visual inspection capabilities, more flexible panel design and automated features
Create a comprehensive profile of highly complex diseases and systems with correlation of downstream analysis with imaging and traditional flow data 

Learn more from the BD FACSDiscover™ S8 Cell Sorter brochure.
BD CellView™ Image Technology expands the power of cell analysis and sorting by combining flow cytometry data with spatial and morphological insights
Obtain detailed information about cells that was previously invisible in traditional flow cytometry experiments. The technology enables you to answer complex biological questions, such as how cells grow, function and interact, or to study exact locations of viruses or proteins within a cell, all at a highly accelerated pace.
The BD FACSDiscover™ S8 Cell Sorter with BD CellView™ Image Technology:
Has six independent imaging-enabled blue laser detectors

Enables visual examination of cell images provides confidence in data analysis

Allows adjustment of sort gates using cell images to exclude unwanted events in sort gates, which can improve quality of downstream studies

Includes mousing over gating to inform sort gates
Provides visual confirmation of index sorting
Includes image features such as eccentricity, max intensity, size, radial moment, correlation and delta center of mass
Learn more about BD CellView™ Image Technology

Advanced BD spectral system expands panel size and flexibility with 78 fluorescent detectors across five lasers with algorithmically optimized filter bandwidths
BD spectral flow cytometry increases flexibility by maximizing and simplifying the choice of fluorochromes detectable per laser. Expanding the palette of colors provides in-depth single-cell insights that can be isolated with high-speed sorting for further downstream studies.
Although spectral cytometry can seem intimidating or complex, our advanced spectral cytometry system offers you a guided user-interface including individually adjustable spectral detectors, auto-alerts if a detector is saturated and the flexibility to easily assign an autofluorescence-matched negative for each single color control.

Automated stream setup and six-way sorting streamlines operation while maximizing sample utilization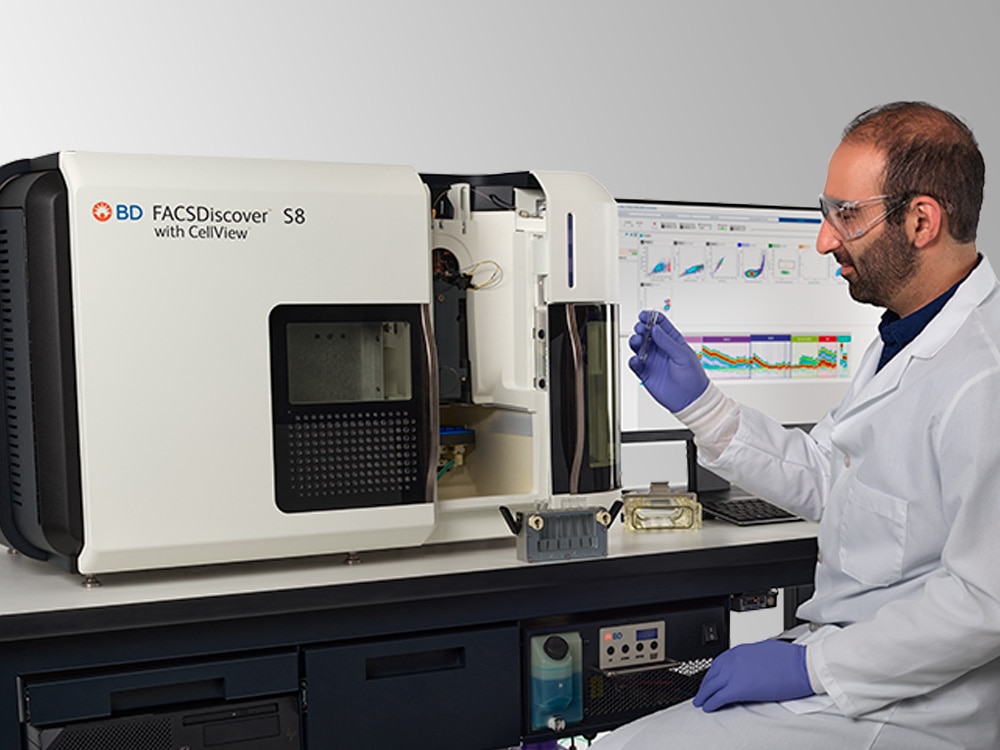 Offers automation technology with BD FACSChorus™ Software and guides you through the entire cell sorting process with its intuitive interface, on-screen instructions and tips, and simple-to-read reports

Combines the proven and exclusive BD fixed alignment, gel-coupled cuvette sorting technology with automation and simplified software
Uses a streamlined workflow to eliminate manual setup of the stream and monitoring of the sort, minimizing hands-on time and providing walk-away sorting capability
Enables six-way sorting into 5-mL collection tubes



Comprehensive QC and setup covering all lasers and all detectors
Multi-spectrum BD FACSDiscover™ QC and Setup Beads are excited by all lasers and emit into all detectors for full-spectrum analysis

Automated LEDs provide seamless detector QC across the full spectrum
Characterization of the instrument baseline and daily performance are summarized in a concise and simplified report
Daily instrument optimization available to account for changes in the cytometer


The BD FACSDiscover™ S8 Cell Sorter has been designed with safety in mind
We have partnered with The Baker Company to design a custom biosafety and sorting solution. Our solution is comprehensive and keeps your cell sorting activities running smoothly and safely, so you can focus on your research.

Report a Site Issue
---
This form is intended to help us improve our website experience. For other support, please visit our Contact Us page.
Form Submitted Successfully