You are now leaving the BD Biosciences website. The site you are about to visit is operated by a third party. The link to this site neither makes nor implies any representation or warranty for any products or services offered on a third-party site and is intended only to enable convenient access to the third-party site and for no other purpose. Do you want to continue?
Old Browser
For the best web browsing experience, please use Chrome, Safari or Firefox, minimum versions 77.0.3865, 12.1.2 and 68, respectively.
Please Note
This page has been recently translated and is available in French now.
Présentation
Doté de sa technologie brevetée de lavage des cellules, l'Assistant de Lyse et de Lavage BD FACS™ Lyse Wash Assistant (LWA) automatise la préparation des échantillons pour les applications de cytométrie en flux. Il lyse, mélange, lave et fixe les échantillons et réduit ainsi les tâches manuelles.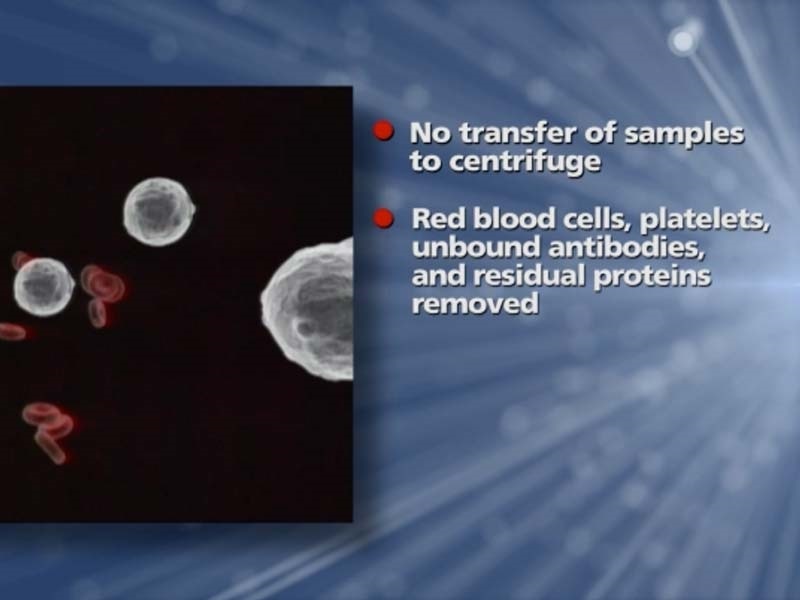 Le système BD FACS™ LWA offre plus d'efficacité dans le flux de travail pour une meilleure performance
Le système :
Lyse, mélange, lave et fixe pour rationaliser votre flux de travail
Traite jusqu'à 40 échantillons par analyse
Est doté d'une interface à écran tactile intuitive
Permet aux laboratoires d'augmenter davantage leur productivité avec l'option de réservoir plus grand en traitant quatre portoirs de chargeur complets (160 échantillons) sans avoir à changer de liquides pendant le traitement
Le carrousel LWA est compatible le chargeur universel avec BD FACS™ loader sur le cytomètre en flux BD FACSCanto™ II et avec l'assistant de préparation des échantillons BD FACS™ SPA III.
Le système BD FACS™ LWA automatise les étapes de lyse et de lavage
La technologie brevetée de lavage de cellules élimine la nécessité de transférer les échantillons vers une centrifugeuse de laboratoire externe, ce qui réduit le temps de manipulation.
Les globules rouges, les plaquettes, les anticorps non liés et les protéines résiduelles sont éliminés tout en préservant les globules blancs et en permettant une récupération propre de l'échantillon. "
Le système BD FACS™ LWA permet d'utiliser des protocoles de préparation d'échantillons personnalisables
Le système :
Offre la possibilité de programmer 6 protocoles
Permet de créer jusqu'à dix protocoles personnalisés pour répondre aux besoins du laboratoire, en utilisant les étapes programmables de préparation des échantillons dans n'importe quel ordre ou répétitions
Donne la possibilité de transférer des protocoles personnalisés entre différents instruments à l'aide d'un périphérique USB, pour une préparation standardisée des échantillons
Propose des options permettant de personnaliser une gamme de volumes de lyse et de distribution de fixateur. Vous pouvez sélectionner la fréquence et la durée de mélange, les temps d'incubation, les précipitations de lavage et les paramètres de force G
Permet d'économiser un temps précieux par rapport aux méthodes traditionnelles grâce à l'automatisation, tout en minimisant l'exposition aux matières potentiellement dangereuses

BD FACS™ Lyse Wash Assistant (LWA)
Permet le traitement automatisé par lot, jusqu'à 40 tubes d'échantillons par analyse
Demander un devis
Ressources
Brochure
Caractéristiques techniques
Interested in preparing for the IVDR? Visit our IVDR page to learn more about the measures you can take to prepare your lab.

Request a Quote
Please fill in the following information and we will get in touch with you regarding your query.
Successfully submitted.
Report a Site Issue
This form is intended to help us improve our website experience. For other support, please visit our Contact Us page.
Successfully submitted.