You are now leaving the BD Biosciences website. The site you are about to visit is operated by a third party. The link to this site neither makes nor implies any representation or warranty for any products or services offered on a third-party site and is intended only to enable convenient access to the third-party site and for no other purpose. Do you want to continue?
Old Browser
For the best web browsing experience, please use Chrome, Safari or Firefox, minimum versions 77.0.3865, 12.1.2 and 68, respectively.

Custom Conjugates and Reagents for Flow Cytometry
For Professionals in Research
Explore our broad portfolio of high-quality dyes and conjugates that can help expand your experimental design options. To power our BD FACSymphony™ family of instruments to do high-parameter flow cytometry, we offer small-scale conjugations between virtually any dye and any clone in our catalog. We also offer access to prototype dyes that are exclusive to BD, and we can conjugate our dyes to customer-provided materials. 
Custom Conjugates
The BD catalog contains over 18,000 unique antibody-dye combinations for flow cytometry, including the BD Horizon Brilliant™ Reagents. However, we know that your research sometimes requires a unique combination that is not readily available. The BD customs program can provide any conjugation you need within our portfolio of fluorescent dyes and antibodies, with all the same configurable specifications.
Are you developing your own antibodies in house or sourcing antibody content that BD does not have? Send us your antibodies! BD Biosciences will conjugate your antibodies to our wide array of fluorochromes, including our BD Horizon Brilliant™ Dyes.*
To inquire about bulk quantities of a catalog product or purified antibodies, email us at BDB_Custom_Orders@BD.com.
Once you have submitted a request, please allow up to two business days to receive a preliminary quotation. Production lead times and minimum order quantities are dependent on the reagent you choose.
Format: Dried, Lyophilized, Liquid 
Packaging: Tubes, Vials 
Minimum order size: 0.05 mg if BD materials, 2 mg if customer provided material
*Not all isotypes and antibodies will apply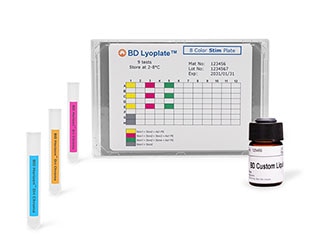 Below is the list of fluorochromes currently available for custom conjugation. Our team of experienced chemists can address any additional configuration or special requirements to deliver the product you need.
Excitation Laser Line
Channel
Fluorochrome
Ex-max (nm)
Em-max (nm)
Relative Brightness
UV
1
BD Horizon™ BUV395
348
395
2
BD Horizon™ BUV496
351
491
3
BD Horizon™ BUV563
351
560
4
BD Horizon™ BUV615
350
611
5
BD Horizon™ BUV661
351
653
6
BD Horizon™ BUV737
350
737
7
BD Horizon™ BUV805
351
803
Violet
8
BD Horizon™ BV421
407
421
BD Horizon™ V450
404
448
Pacific Blue™
401
452
9
BD Horizon™ BV480
436
478
BD Horizon™ V500
415
500
BD Horizon™ BV510
405
510
10
BD Horizon™ BV570
407
574
11
BD Horizon™ BV605
407
602
12
BD Horizon™ BV650
407
650
13
BD Horizon™ BV711
407
711
14
BD Horizon™ BV7SO
407
745
15
BD Horizon™ BV786
407
786
Blue
16
BD Horizon™ BB515
490
515
Alexa Fluor™ 488
495
519
FITC
494
520
17
BD Horizon™ BB630-P2
484
614
18
BD Horizon™ BB660-P2
476
658
19
PerCP-Cy5.5**
482
676
PerC**
482
678
BD Horizon™ BB700
476
695
20
HD Horizon™ BB755-P
477
758
21
BD Horizon™ BB790-P
474
795
Yellow-Green
22
PE*
496.564
578
BD Horizon™ BYG584-P
563
583
23
BD Horizon™ PE-CF594*
496.564
612
24
PE-Cy5*
496.564
667
25
PE-Cy7*
496.564
778
Red
26
APC
650
660
Alexa Fluor™ 647
650
668
27
BD Horizon™ APC-R700
652
706
BD Horizon™ Red 718
695
718
Alexa Fluor™ 700
696
719
28
APC-Cy7
650
779
BD® APC H7
650
782
*Excited by 488 nm, 532 nm and 561 nm lasers.
**Excited by 488 nm and 561 nm lasers. BUV, BD Horizon Brilliant™ UV; BV, BD Horizon Brilliant Violet™; BB, BD Horizon Brilliant™ Blue; BYG, BD Horizon Brilliant™ Yellow-Green
Prototypes of BD Horizon Brilliant™ Dyes (-P)
BD Life Sciences is committed to continuing to develop new BD Horizon Brilliant™ Dyes across various laser lines to improve the spectral properties of dyes and minimize the need for compensation in higher-order panels.
These prototype (-P) dyes have reached initial quality specifications but may undergo additional development that could result in minor performance changes. Any significant changes to the structure of the dye to optimize performance will be appropriately communicated to customers.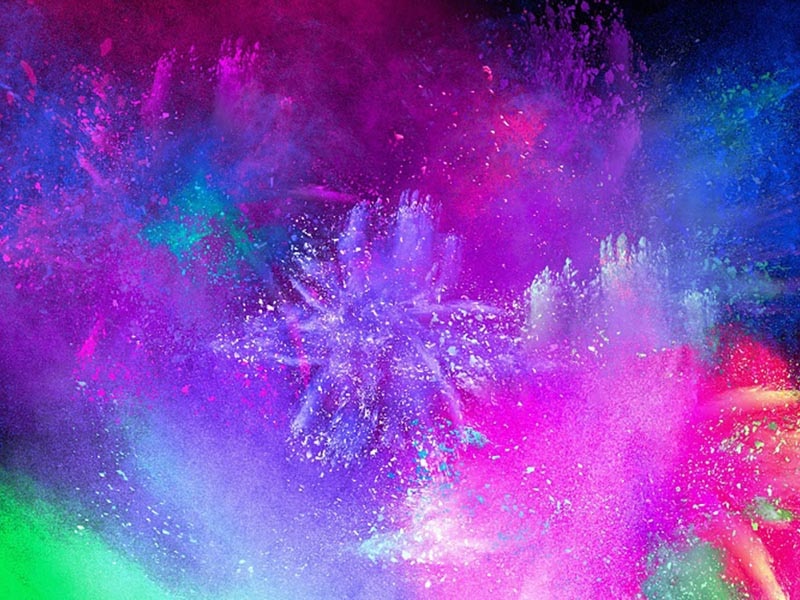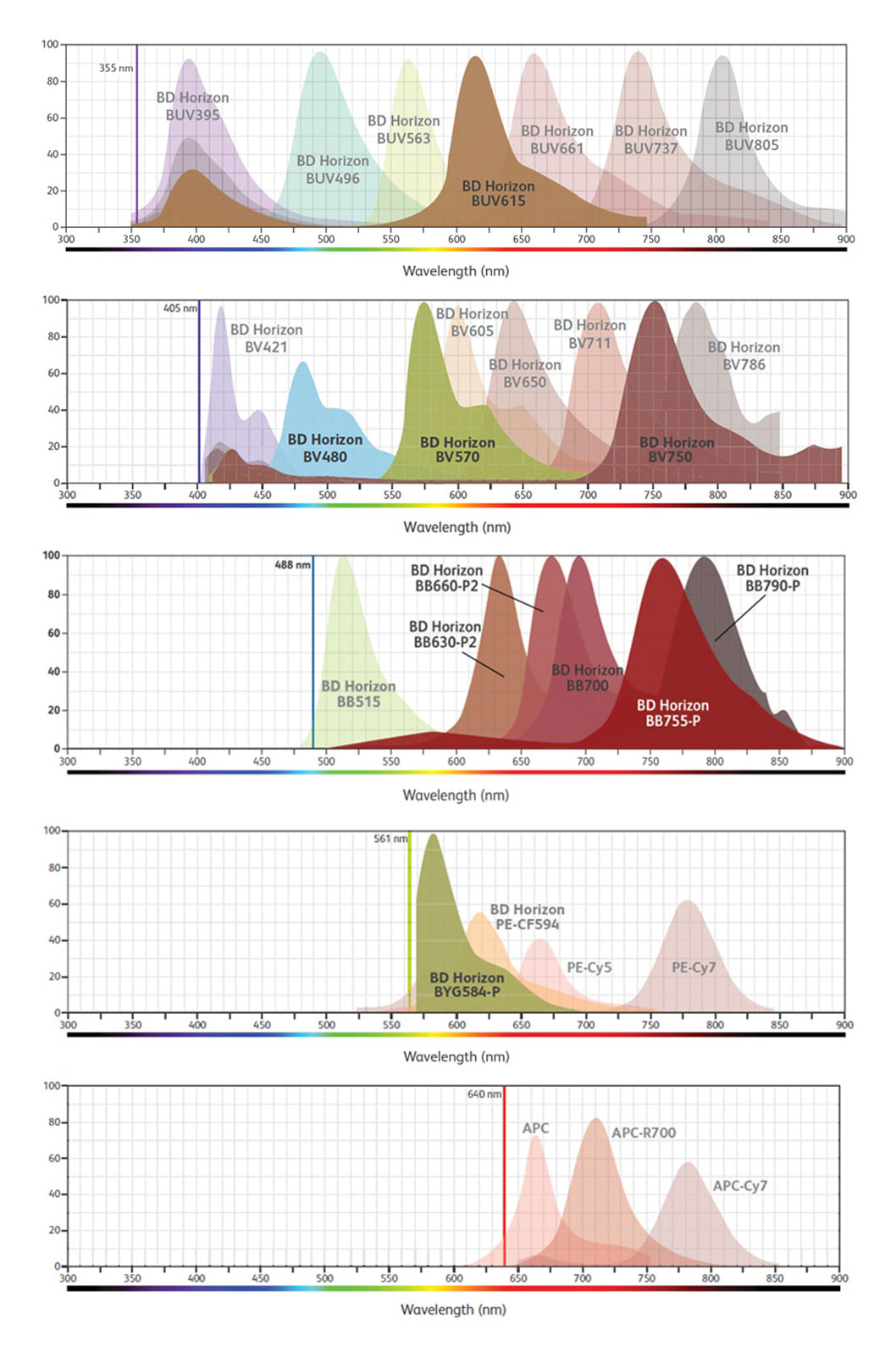 Report a Site Issue
---
This form is intended to help us improve our website experience. For other support, please visit our Contact Us page.
Form Submitted Successfully