You are now leaving the BD Biosciences website. The site you are about to visit is operated by a third party. The link to this site neither makes nor implies any representation or warranty for any products or services offered on a third-party site and is intended only to enable convenient access to the third-party site and for no other purpose. Do you want to continue?
Old Browser
For the best web browsing experience, please use Chrome, Safari or Firefox, minimum versions 77.0.3865, 12.1.2 and 68, respectively.

For Professionals in Research
What is western blotting and how does it work?
Western blotting—or immunoblotting—is a technique used to detect, characterize and quantitate proteins. The process first involves the electrophoretic separation of a mixture of proteins, including the protein of interest, on a polyacrylamide gel. The separated proteins are then transferred or blotted to a nitrocellulose or a PVDF membrane to immobilize the protein. The protein of interest is then detected by a simple antigen-antibody reaction using appropriate antibodies. A primary antibody is used to bind to the specific protein of interest followed by a secondary antibody to detect the antigen-antibody complex. The protein of interest is visualized as bands on the membrane. 

Western blotting applications
Using western blotting, proteins can be characterized for several aspects, including their presence or absence, abundance, phosphorylation status or localization. In addition to these qualitative aspects, western blotting can also be used for relative quantitation of proteins based on the band intensity between experimental and control samples. 

Western blotting antibodies
Both monoclonal and polyclonal antibodies are used for immunoprobing of antigens in western blotting. Monoclonal antibodies are derived from a single antibody-producing B cell, while polyclonal antibodies are derived from different B cells, all with the capability to recognize a specific antigen. While both have their advantages and disadvantages, monoclonal antibodies are preferred when specificity is highly critical. Monoclonal antibodies are highly specific and yield cleaner, more reliable and reproducible results compared to polyclonal antibodies. However, they are more expensive and are less tolerant to any procedural modifications to antigens during the experimental protocol. Polyclonal antibodies are comparatively less specific but offer broader recognition of the antigen and provide higher chances of obtaining qualitative information about proteins.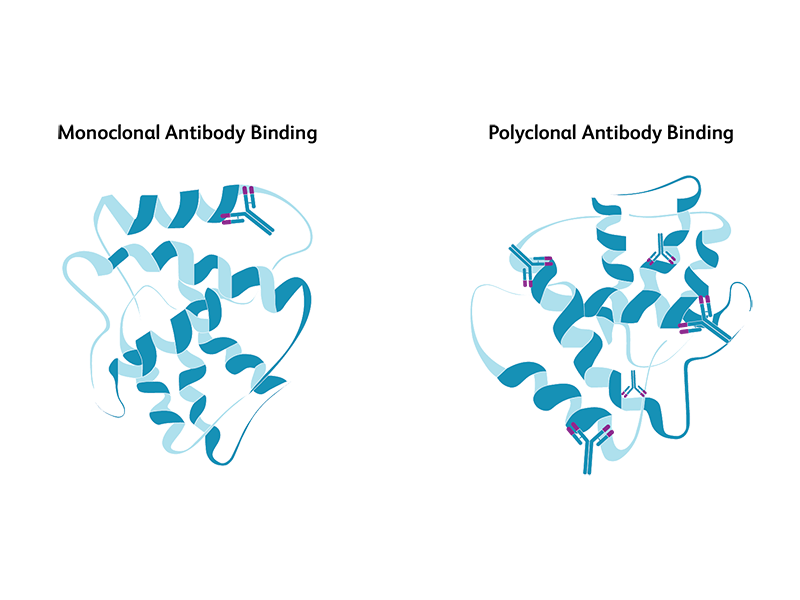 Primary antibodies, secondary antibodies and controls for western blotting
The primary antibody usually recognizes a specific protein or epitope and is conjugated or tagged to a fluorescent dye or an enzyme to enable subsequent detection. The tagged antibodies are detected directly (direct western blotting) or using secondary antibodies (indirect western blotting). Depending on the method, secondary detection is carried out using antibodies conjugated to enzymes or fluorophores. Horseradish peroxidase (HRP) is the most common enzyme used for tagging.
These fluorophore-conjugated antibodies utilize the property of fluorophores to absorb light at a certain wavelength and emit it at a different wavelength. By using different combinations of filters, specific wavelengths of light can be measured. Since fluorophores with absorption and emission maxima spanning the entire light spectrum are available, combinations of antibodies conjugated to fluorophores of different wavelengths can be used to detect multiple proteins.
Labeled antibodies against several important biological target proteins are commercially available.
Secondary antibodies facilitate signal detection and amplification. They are usually directed against the IgG portion of the species in which the primary antibody was made. Therefore, consideration should be given to the host species in which the primary antibody was raised vs the sample species (e.g., if your sample is from a mouse, the primary antibody should not be from mouse since your secondary antibody would be directed against nonspecific mouse IgG).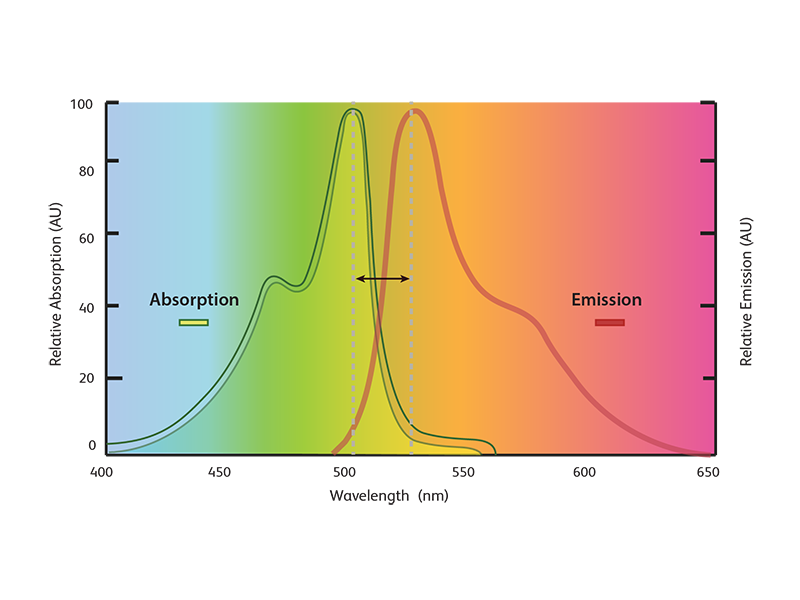 Fluorescent and chemiluminescent detection
Fluorescence- or chemiluminescence-based detection methods are normally used for the detection of antigen-antibody complex based on the primary antibody employed in the experiment.
In fluorescence-based secondary detection, fluorophore-conjugated secondary antibodies are used to bind the primary antibody and the signal is detected using a digital imager.
In chemiluminescent detection, a secondary antibody conjugated to HRP is used to bind to the primary antibody. This method either uses autoradiography or a digital imager for signal detection.
Commonly used fluorescent dyes for labeling antibodies are:
Phycoerythrin (PE)
Peridinin chlorophyll protein (PerCP)
Fluorescein isothiocyanate (FITC)
Allophycocyanin (APC)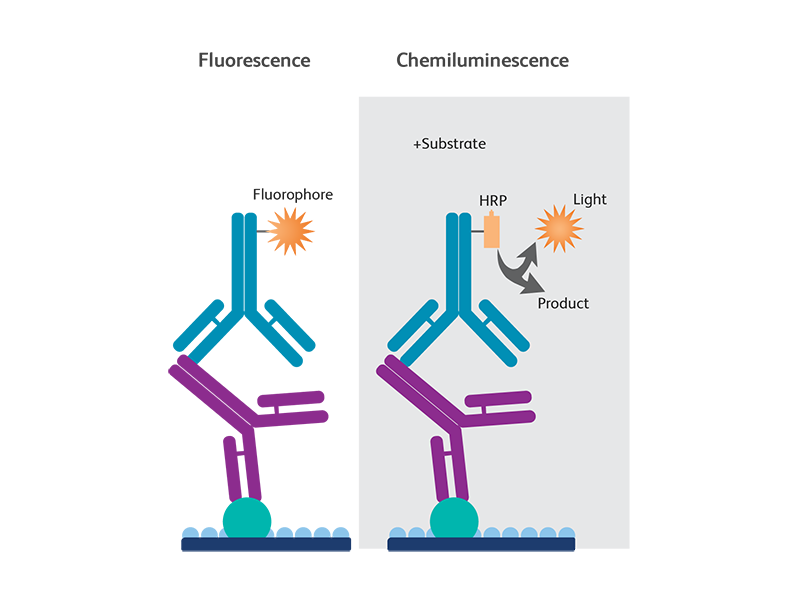 Western blotting versus ELISA: What are the differences?
The enzyme-linked immunosorbent assay (ELISA) is another type of immunoassay widely used for protein analysis. Like in western blotting, protein detection using an ELISA also uses antibody binding to antigens and could be accomplished with one antibody (direct ELISA) or using a primary and a secondary antibody (indirect ELISA). ELISAs also use colorimetric or enzyme-based methods for detection.

Unlike western blots, ELISAs are carried out in plates with a specific antibody immobilized onto the plate. 
The specificity achieved using western blots is much higher than from ELISAs. While ELISAs can detect a single protein at a given time, with western blots, multiple proteins can be detected using fluorophore-conjugated antibodies.
BD Biosciences antibodies, reagents and protocols for western blotting
BD Biosciences offers thousands of purified monoclonal antibodies and fluorophore-conjugated secondary antibodies that have been tested and validated for western blotting. Several HRP-conjugated antibodies and control cell lysates are also available.

In addition, validated western blotting protocols are also available to support you. You can also find answers to some of the frequently asked questions on western blotting.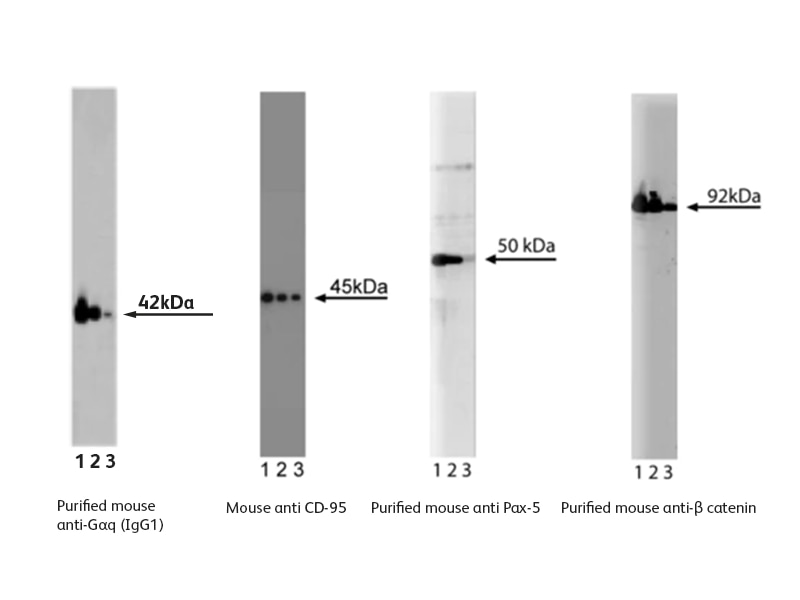 Report a Site Issue
---
This form is intended to help us improve our website experience. For other support, please visit our Contact Us page.
Form Submitted Successfully