You are now leaving the BD Biosciences website. The site you are about to visit is operated by a third party. The link to this site neither makes nor implies any representation or warranty for any products or services offered on a third-party site and is intended only to enable convenient access to the third-party site and for no other purpose. Do you want to continue?
Old Browser
For the best web browsing experience, please use Chrome, Safari or Firefox, minimum versions 77.0.3865, 12.1.2 and 68, respectively.
Overview
The BD LSRFortessa™ X-20 Cell Analyzer can be configured with up to 5 lasers to detect up to 20 parameters simultaneously to support ever increasing demands in multicolor flow cytometry. 
BD FACSDiva™ Software controls the efficient setup, acquisition and analysis of flow cytometry data from the BD LSRFortessa™ Workstation. This software is common across BD FACS™ instrument families, including the BD FACSCanto™ Cell Analyzer and BD FACSAria™ Cell Sorter systems. This affords greater application flexibility and allows you to easily move assays from one platform to another.
Take advantage of the multicolor panels designed for various applications, such as immunopheotyping, characterization of stem cells, identification of human mesenchymal stromal cell and more, using the BD LSRFortessa™ X-20 Cell Analyzer.
Learn more from the BD LSRFortessa™ X-20 System brochure.
If you own our legacy BD® LSR II Flow Cytometer, you can take advantage of our exclusive special offers for trading in your BD® LSR II System.
Contact our Technical and Applications Support personnel for maintaining optimal instrument performance and with any other instrument-related support.

The BD LSRFortessa™ X-20 System provides flexibility to meet your research needs
The BD LSRFortessa X-20 System:
Can be ordered with up to 5 lasers—most commonly blue, red, violet, yellow-green and UV—which provides flexibility in laser wavelengths. This flexibility allows you to optimize assay design by selecting the latest fluorescent dyes and antibodies in experimental protocols
Can accommodate the detection of up to 18 colors simultaneously with a defined set of optical filters that meet today's assay requirements. Optical capability can be added or upgraded to expand with your lab as future needs arise
Has a small footprint of 76.2 x 73.7 x 76.2 cm (30 x 29 x 30 in.), allowing it to fit easily on the benchtop for the cost-effective use of valuable laboratory space
Offers design enhancements that provide easier access to bandpass filters and mirrors, simplifying changes in the instrument configuration
The BD LSRFortessa™ X-20 System's innovative excitation and collection optics design reduces excitation losses and optimizes collection efficiency for increased sensitivity and resolution
Maximum signal and minimum crosstalk—an innovative and proven platform for multicolor analysis
The polygon optical detector array maximizes signal detection and increases sensitivity and resolution allowing you to identify dim and rare cell populations
The optics system uses a novel laser design that illuminates cells in the sample and collection optics that direct light scatter and fluorescence signals through spectral filters to the detectors
Get more information on the excitation and collection optics of the BD LSRFortessa™ System from the system brochure.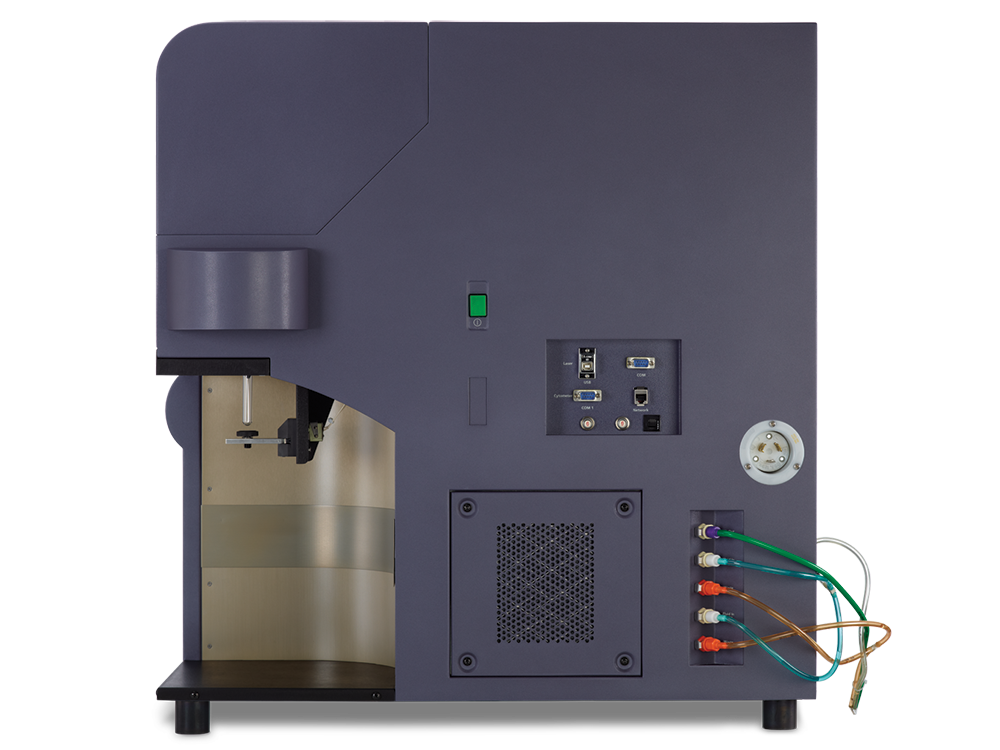 The BD LSRFortessa™ X-20 System's fluidics system features a true fixed alignment flow cell that is gel-coupled to the collection optics to maximize detector signal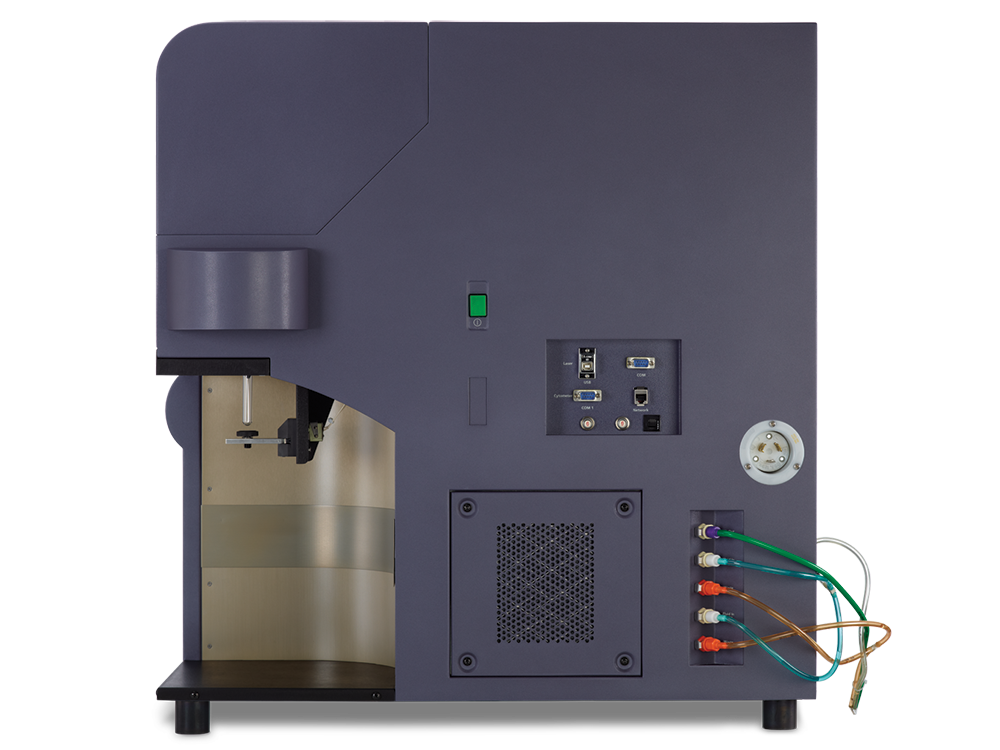 The fluidics design ensures that the laser is precisely focused on the sample stream and maximum amount of emitted light can be collected for added sensitivity in multicolor applications
Fixed alignment also minimizes startup time, improves experiment-to-experiment reproducibility and enables automated daily quality control
The sheath container (8 L) and waste container (10 L) are outside the cytometer, positioned on the floor for easy access
Fluidics sensors maintain constant pressure, while a fluidics monitoring system warns when sheath fluid is low or empty or when the waste container is full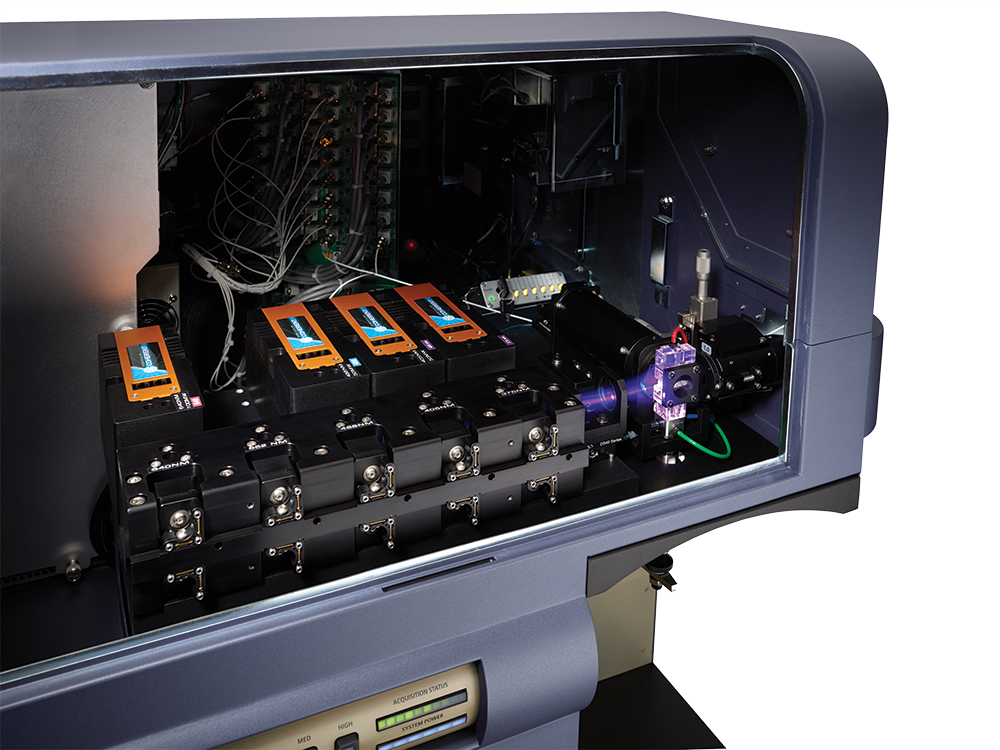 The BD LSRFortessa™ X-20 System offers custom configurations for evolving needs
An Innovative Process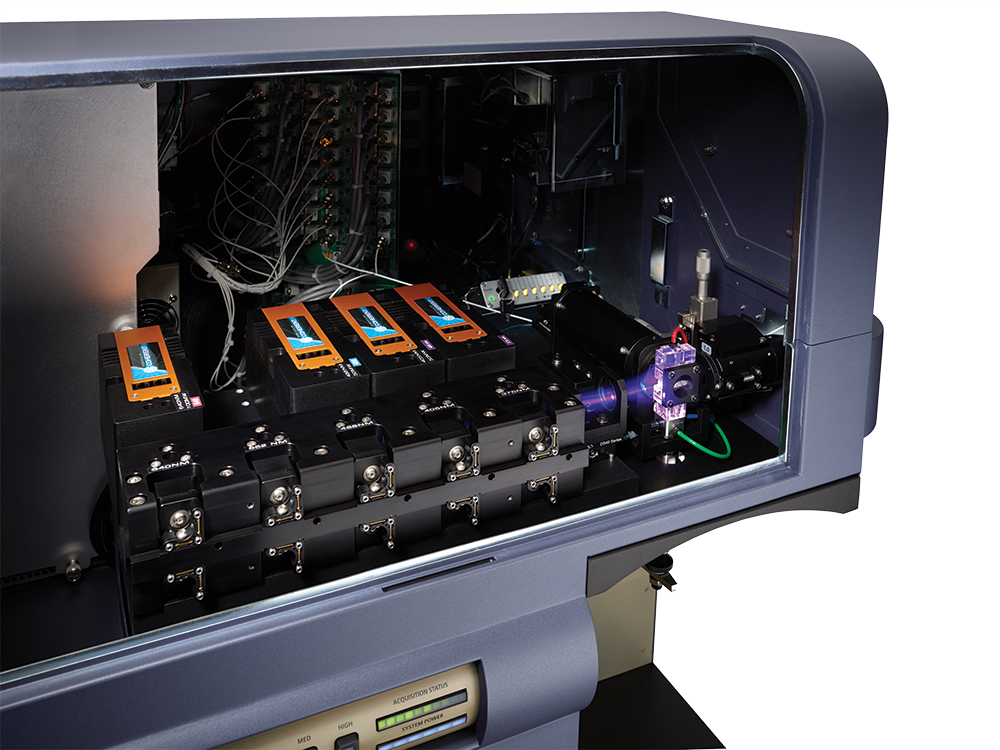 The BD special order program allows you to add lasers after your initial system purchase to meet new or evolving requirements. This wide range of choice and flexibility makes the special-order BD LSRFortessa™ X-20 System a solid long-term investment.
The vigorous sourcing of the latest and best laser technologies ensures an unparalleled range of configuration choices offered by the BD special order program for BD® LSR Cell Analyzers.
New technologies are regularly incorporated into the product line as soon as they become available.
The ever-expanding list of available lasers demonstrates the ongoing commitment by BD to perpetual innovation. This is one of the many ways BD ensures that the BD® LSR Cell Analyzer platform continues to support the evolving needs of leading researchers around the world.

Performance
The BD LSRFortessa™ X-20 System provides optimal resolution of cell populations.
The high sensitivity of the BD LSRFortessa™ X-20 Cell Analyzer allows optimal resolution of lower expression antigens and rare cell subsets. In this example, regulatory T cells (Tregs), characterized by low levels of expression of CD127 and high levels of CD25, were easily identified. Note the resolution of different levels of expression of CD25 and CD127.

Characterization of the BD LSRFortessa™ X-20 Cell Analyzer sensitivity using 8-peak beads
The sensitivity across detectors of a BD LSRFortessa™ X-20 Cell Analyzer equipped with blue (50-mW), red (100-mW) and violet (50-mW) lasers is illustrated by the optimal resolution of SPHERO™ Rainbow 8-Peak Beads. Note that all peaks are easily identified in various detectors from the blue (A, B), red (C, D) and violet (E, F) lasers.

Analysis of human T-cell subsets using the BD LSRFortessa™ X-20 System
Data show a 10-color panel run on a 3-laser BD LSRFortessa™ X-20 Cell Analyzer with a blue/red/violet configuration. The panel was used for defining various subsets of regulatory T cells (A, B), memory/effector CD4+ T cells (C, D, E, F) and memory/effector+ T cells (G, H, I, J).
Analysis of human lymphocyte subsets using the BD LSRFortessa™ X-20 System
Left: Plots A - E    Right: Plots F - J
Take advantage of panels designed for a variety of applications using the BD LSRFortessa™ X-20 Cell Analyzer.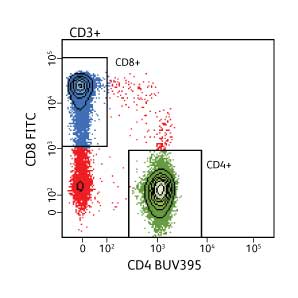 Request a Quote/Inquiry
Please fill in the following information and we will get in touch with you regarding your query.
Successfully submitted.
Report a Site Issue
This form is intended to help us improve our website experience. For other support, please visit our Contact Us page.
Successfully submitted.