You are now leaving the BD Biosciences website. The site you are about to visit is operated by a third party. The link to this site neither makes nor implies any representation or warranty for any products or services offered on a third-party site and is intended only to enable convenient access to the third-party site and for no other purpose. Do you want to continue?
Old Browser
For the best web browsing experience, please use Chrome, Safari or Firefox, minimum versions 77.0.3865, 12.1.2 and 68, respectively.
Please Note
This page has been recently translated and is available in French now.
Overview
Overview
The simple solution for consistent, quality results
The BD FACSMelody™ Cell Sorter with newly added 4-way cell sorting:
Makes the complex world of flow cytometry and sorting accessible to more researchers
Offers advanced automation technology with BD FACSChorus™ Software and guides you through the entire cell sorting process with its intuitive interface, on-screen instructions and tips and simple-to-read reports
Combines the proven and exclusive BD technology of high-end sorters with automation and simplified software
Helps in obtaining deep scientific insights, lab efficiency and cost savings
Learn more from the BD FACSMelody™ System brochure.
The FACSMelody™ Cell Sorter is easy to learn and use with minimal training required for effective operation
Eliminate manual steps and simplify your workflow with smart automation
The system is typically ready in less than 17 minutes, maximizing uptime
Fluidic startup automatically de-bubbles the stream
Instrument settings, gates and sort settings are available and retrievable from saved experiments
Compensation is conveniently computed automatically from the results of compensation controls
 
Learn more about the BD FACSMelody™ Cell Sorter from the system brochure
The BD FACSMelody™ Cell Sorter saves time with simplified operation and maintenance and improves lab efficiency
Experience fast results to improve lab throughput, minimal downtime and cost savings
A streamlined workflow eliminates manual setup of the stream and monitoring of the sort, minimizing hands-on time and providing walk-away sorting capability.
Fixed alignment removes the lengthy procedure with alignment beads required at startup.
Instrument QC continuously monitors the system to track performance and predict problems such as laser failures before they occur. QC is not required each time the sorting nozzle is installed.
The sorter design facilitates fast troubleshooting, such as easy and quick replacement of the sorting nozzle, without a need to re-align the laser and stream or run QC beads.
The fixed flow cell and reusable nozzle eliminate the need to purchase daily consumables. This affordable solution allows in-house cell sorting, which can save money compared to outsourcing.
 
Learn more about the BD FACSMelody™ Cell Sorter from the system brochure.
The BD FACSMelody™ System maximizes signal generation, collection and detection and enables sorting and detection of rare and dim cells
Reliable performance designed to empower scientific discovery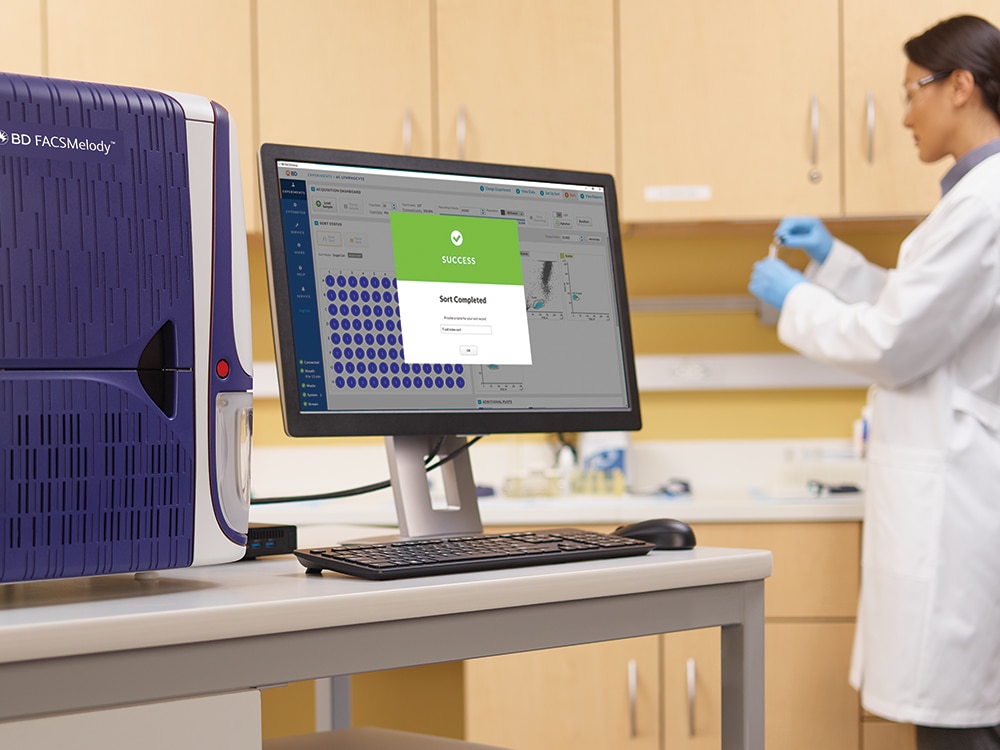 The patented gel-coupled cuvette with fixed alignment ensures that lasers are precisely focused on the sample stream to generate optimal signal for clear resolution of dim cells and adjacent populations
Spatially separated laser beams ensure minimal optical background noise and improved sensitivity from each laser to resolve dim populations

Optimized system of reagents, software and hardware
Learn more about the BD FACSMelody™ Cell Sorter from the system brochure.

The BD FACSMelody™ Cell Sorter provides a comprehensive biosafety solution
We have partnered with The Baker Company to design a custom biosafety and sorting solution. Our solution is comprehensive and keeps your cell sorting activities running smoothly and safely, so you can focus on your research. 

View the Microbiological Test Report for the BD FACSMelody™ Cell Sorter.

Here are the most recent biosafety and sorting guidelines, policies and publications for your reference.
Baker biosafety solution
Sorter + BSC measurements
Verified to meet biosafety standards for a Class II Type A2 biosafety cabinet
Verified for personnel and product protection
Microbiological test report
Meets ISAC guidelines for aerosol management
SterilGARD™ e3 Optimax for the BD FACSMelody™ Cell Sorter
53.8 x 34.5 x 91.9 to 98.4 in.  
(136.5 x 87.6 x 233.4 to 249.9 cm)
√
√
√
√
The BD FACSMelody™ Cell Sorter has demonstrated capabilities to sort various types of cells and cell subsets.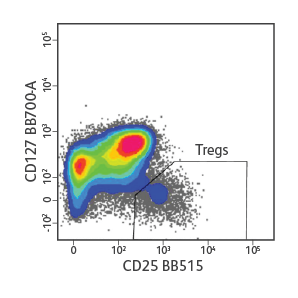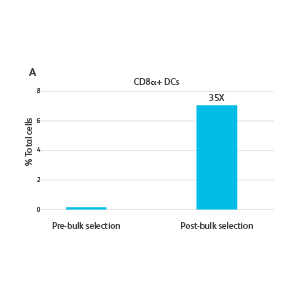 Video
One workflow: Cell enrichment to single-cell transcriptome and proteome analysis
Watch the video describing how to gain insights into mRNA and protein expression by enriching cell populations using the BD FACSMelody™ Cell Sorter. 

Testimonial
"BD FACSMelody is very easy to use."
Dr. Andrea L. Holme,
Senior Lecturer for Cytometry,
The University of Western Australia
BD FACSMelody™ Cell Sorter
Discover an approachable, affordable and automated 4-way cell sorting solution
Request Quote
Bead Lot Files and Resources
BD FACSMelody™ Cell Sorter
Discover an approachable, affordable and automated 4-way cell sorting solution
Request Quote
RELATED PRODUCTS
Reagents
BD FACSMelody™ Cell Sorter Blue Laser (488 nm)
Request a Quote
Please fill in the following information and we will get in touch with you regarding your query.
Successfully submitted.
Report a Site Issue
---
This form is intended to help us improve our website experience. For other support, please visit our Contact Us page.
Form Submitted Successfully