You are now leaving the BD Biosciences website. The site you are about to visit is operated by a third party. The link to this site neither makes nor implies any representation or warranty for any products or services offered on a third-party site and is intended only to enable convenient access to the third-party site and for no other purpose. Do you want to continue?
Old Browser
For the best web browsing experience, please use Chrome, Safari or Firefox, minimum versions 77.0.3865, 12.1.2 and 68, respectively.
Overview
The fusion of safety, performance and sorting

The BD FACSAria™ Fusion Flow Cytometer combines sorting capabilities with best-in-class biosafety expertise for a comprehensive advanced cell sorter and biosafety solution.

The fully integrated biosafety cabinet meets emerging operator and sample protection requirements as well as many country standards for bioprotection. The instrument uses BD FACSDiva™ Software to efficiently control the setup, acquisition and analysis of flow cytometry data from the operator workstation. The software is common across many BD cell analyzers and cell sorters, making the BD FACSAria™ Fusion Flow Cytometer compatible with them.
Get more information from the BD FACSAria™ Fusion Flow Cytometer brochure.
The BD FACSAria™ Fusion Flow Cytometer's proven dependability and ease of use puts the system in a class of its own
The BD FACSAria™ Fusion System is upgradable and backward compatible
The flow cytometer has been verified to meet personnel and product protection standards for a Class II Type A2 biosafety cabinet and to meet many local standards
Precisely integrated fluidic and optical systems maximize signal detection
Optimized fiber-launched lasers improve sensitivity and resolution for each color in a multicolor assay

The system can be expanded with additional lasers via a field upgrade. You can design a configuration that meets your lab's budget and site requirements today and have a growth path for the future
Get more information about the optics, fluidics and electronics of the BD FACSAria™ Fusion Sorter from the system brochure.
BD FACS™ Accudrop Technology and software automation simplify drop-delay determination
Once the drop-delay is calculated, the system automatically adjusts to maintain a constant break-off, called the Sweet Spot

Automatic clog detection stops the sort and protects the collection tubes if a clog is detected

After passing through the cuvette, the stream accelerates through the nozzle, and droplets are formed for sorting

Since particle interrogation occurs above the nozzle, insertion and removal of the nozzle can occur without realigning the optics or the fluid stream

BD FACS™ Accudrop Technology simplifies drop-delay determination
The BD FACSAria™ Fusion Flow Cytometer's index sorting capability makes it possible to review the complete cell surface phenotype
Complete cell surface phenotype of every cell sorted into a multiposition sort device, such as a 96-well tray

Sort and tray position information available on an event-by-event basis according to the X and Y coordinates of the sort collection device

Ability to precisely trace back post-sorting results to the flow characteristics of the specific cell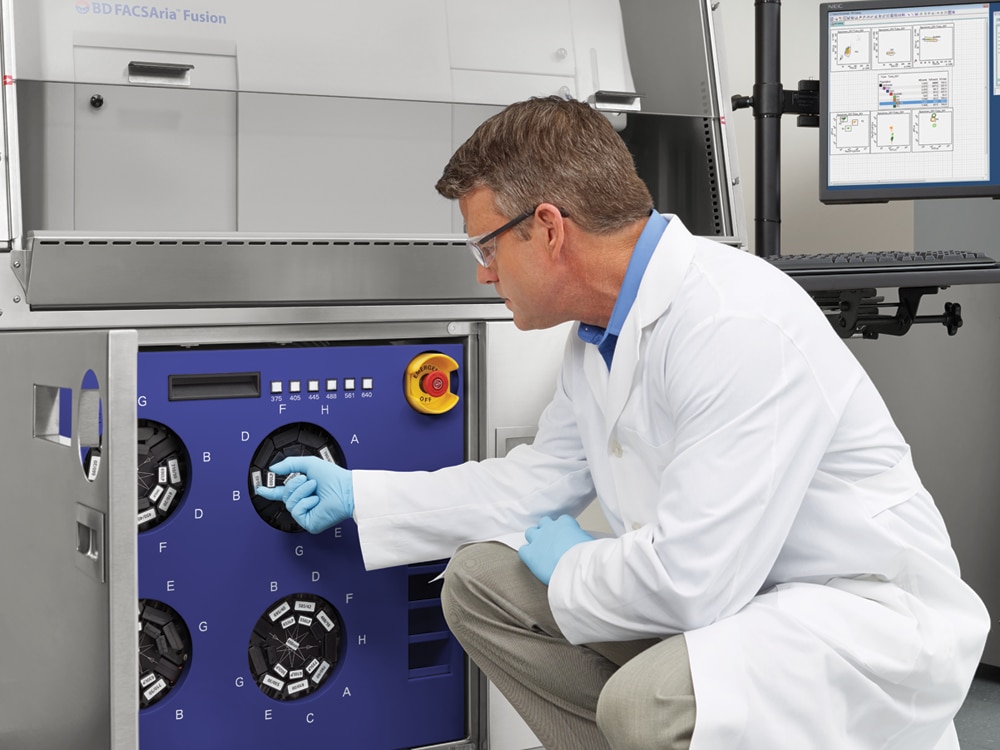 BD and Baker-designed cabinet meets biosafety standards and saves space
The Biosafety Cabinet (BSC) controls the direction, volume and speed of airflow to direct potentially harmful particles away from the operator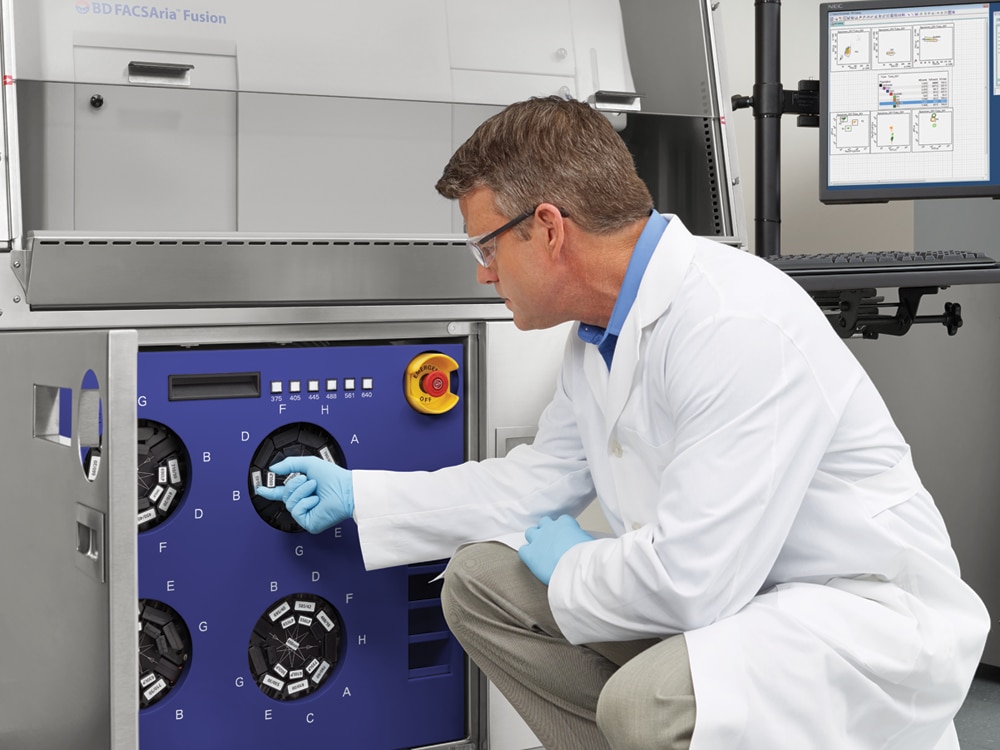 The BD FACSAria™ Fusion Flow Cytometer can be purchased with or without a BSC. Since the flow cytometer and the BSC were designed for a seamless fit, a BSC can be added later in a field upgrade that takes less than a day to install

The BSC protects the operator from aerosol exposure during a sort and the built-in and independently operated Aerosol Management System (AMS) also evacuates aerosols

The enclosed sample-to-sort pathway, the Class II Type A2 biosafety cabinet and the Aerosol Management System make aerosol management fully redundant

Since these systems are independent, they can be tested individually to ensure optimal operation and backup protection

PERFORMANCE
The BD FACSAria™ Fusion Flow Cytometer provides sensitivity for multicolor and sorting applications
Streamlines sorting and analysis with its fixed alignment flow cell, fixed optical architecture and software-controlled setup and operation.
The quartz cuvette flow cell is in true fixed alignment with the laser and is gel coupled to the collection optics. This design helps ensure that lasers are precisely focused on the sample stream so that the greatest signal is generated and that the maximum amount of emitted light is collected.

Fixed alignment minimizes startup time, improves experiment-to-experiment reproducibility,  reduces operator-to-operator variability, and enables automated daily quality control.
It also improves collection efficiency and optimizes resolution needed for multicolor applications, even at high-speed sorting settings.
The flow cell is designed to improve resolution for side population applications and DNA cell cycle analyses.

Sensitivity to resolve dim staining populations
The lasers are specifically selected for optimal signal-to-noise separation and improve the resolution of dim populations, thereby enabling more effective gating for sorting. Set at peak performance, the lasers enable dim staining populations to fluoresce more brightly, facilitating population resolution and enabling subsequent gating for sorting.
APPLICATIONS
The BD FACSAria™ Fusion System has been used in resolving various types of cell populations

Request a Quote/Inquiry
Please fill in the following information and we will get in touch with you regarding your query.
Successfully submitted.
Report a Site Issue
This form is intended to help us improve our website experience. For other support, please visit our Contact Us page.
Successfully submitted.