You are now leaving the BD Biosciences website. The site you are about to visit is operated by a third party. The link to this site neither makes nor implies any representation or warranty for any products or services offered on a third-party site and is intended only to enable convenient access to the third-party site and for no other purpose. Do you want to continue?
Old Browser
For the best web browsing experience, please use Chrome, Safari or Firefox, minimum versions 77.0.3865, 12.1.2 and 68, respectively.
For Professionals in Clinical Diagnostics
Overview
The BD FACSDuet™ Sample Preparation System provides a powerful new level of performance to move the pace of your lab forward.
 The system:
Is designed to complement and physically integrate with the BD FACSLyric™ Flow Cytometer.
Provides a complete walkaway sample-to-answer solution.
Drives productivity and accuracy in your results through automating processes and minimising manual intervention.
Supports the conformance with ISO-15189 laboratory quality standard with complete workflow traceability.
Answers the needs of many different labs with automated cocktailing preparation.
Enhances flexibility and standardisation supporting the use of non-BD reagent vials.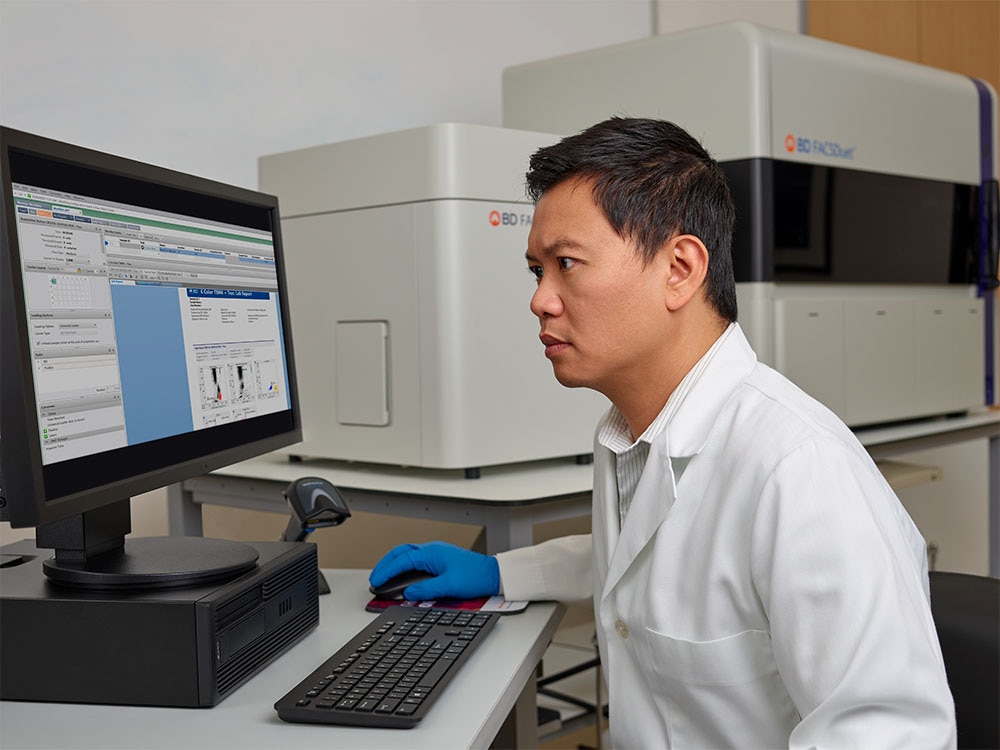 The BD FACSDuet™ System delivers standardization, efficiency and flexibility
Data reproducibility with standardization of processes and protocols
Consistency in operations with an intuitive software interface, minimizing training needs and variations due to different operators' experience. System automation eliminates manual steps and the risk of generating errors and testing repetition.
Efficiency and productivity with predictable sample throughput; continuous specimen loading enables predictable volume processing with creation of lab test volume capacity
Traceability of specimen, sample, reagents, and worklists provides data integrity eliminating manual data transcription and risk for error, supporting ISO 15189 standards
Modularity and flexibility to accommodate a wide range of laboratory needs
The BD FACSDuet™ Sample Preparation System enables flexibility in specimen and tube loading
The BD FACSDuet™ Sample Preparation System answers the growing needs of laboratories to handle different types and sizes of specimen tubes and supports the need for consolidation and testing centralization.
The BD FACSDuet Sample Preparation System:
Delivers the flexibility that is required by supporting a variety of blood collection tubes from different manufacturers, including BD Vacutainer®, Sarstedt S-Monovette®, Greiner and Streck.
Multiple tube adaptors are available which are barcoded and colour coded for easy identification supporting accurate tube piercing and sample volume dispensing.
Drives workflow efficiency and throughput accomodating up to 40 specimen tubes at any given time in four racks holding 10 specimens each.
Figures to the right present (A) Standard rack and (B) a rack specifically designed for pediatric Streck Cyto-Chex® BCT tubes.
Specimen traceability and automated worklist creation are guaranteed by 5 different barcodes on the specimen rack, identifying:
Rack
Tube position
Empty position
Adaptor Specimen
Automated barcode scanning during rack insertion enables
Patient specimen traceability
Pipetting management
Retrieving patient and assay information from the laboratory information system (LIS) for automated worklist creation
The BD FACSDuet™ System allows for traceability of samples and worklist through carrier barcode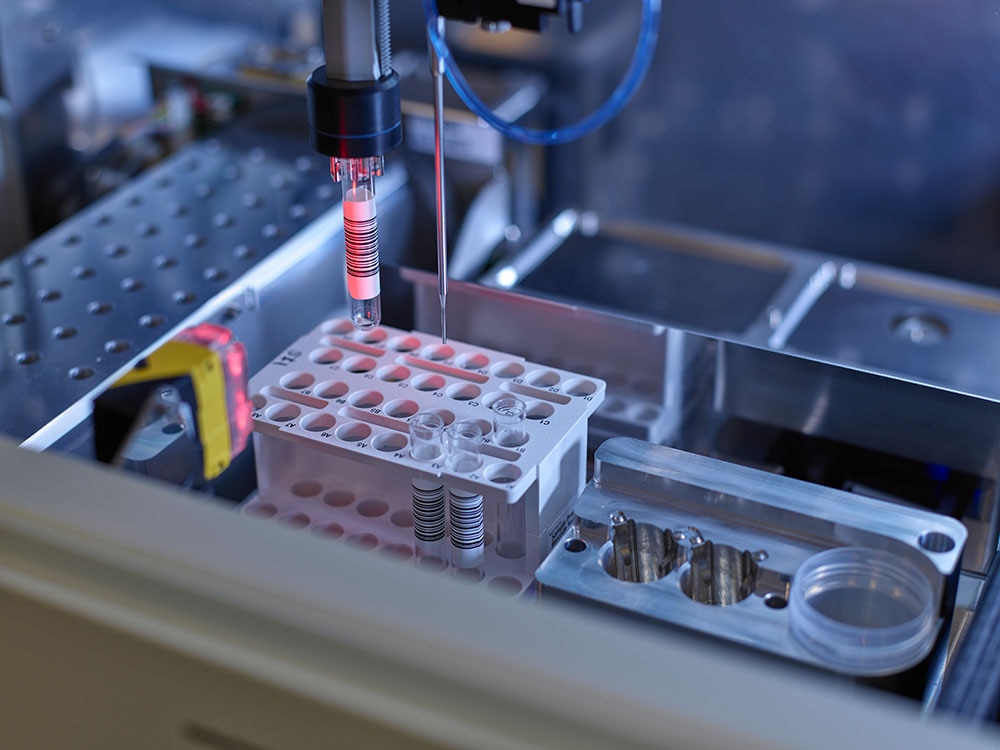 Worklist traceability is enabled by scanning the carrier barcode, which is associated to a specific worklist and defined patient specimens.
Secondary tubes (barcoded or not) are loaded in the BD FACSDuet™ Sample Preparation System onto 30 or 40 tube sample carriers, compatible with the BD FACSLyric™ Flow Cytometer.
Barcoded secondary tubes are scanned to ensure sample traceability and association to the specimen and the worklist.
Up to three carriers can be loaded at the same time on the BD FACSDuet™ Sample Preparation System, allowing for increased sample throughput. 
Refer to the technical specifications for more information. 

The BD FACSDuet™ Sample Preparation System delivers flexibility in panel design and walkaway capabilities by accommodating up to 46 reagent vials in two separate racks
The system enables a wide variety of reagent vials from several manufacturers, including: BD, Beckman Coulter, BioLegend, Cytognos, Dako, Invitrogen and Life Technologies
The system accommodates two (2) different types of antibody vial racks.
Image (top) is designed for accommodating vials from BD and other manufacturers (with or without adaptors) – BioLegend, Cytognos, Dako, Invitrogen and Life Technologies, while the Dual-Size reagent rack (bottom image) is designed to specifically accommodate Beckman Coulter vials (with or without adaptors in positions 1 to 12) as well as those from BD and other manufacturers.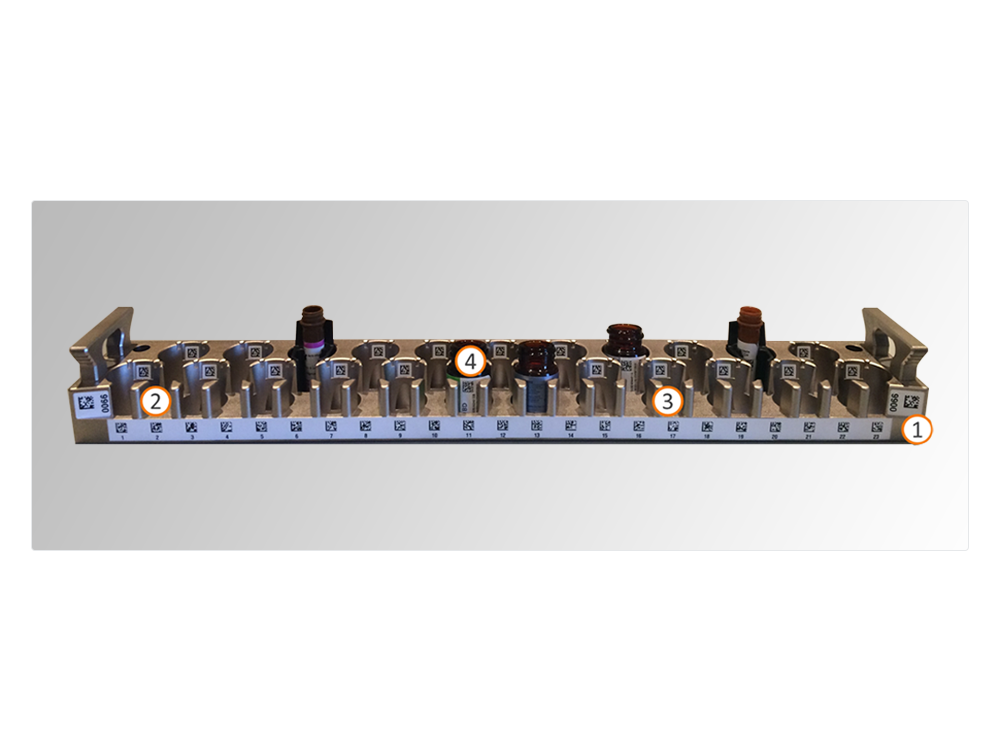 In addition to the barcode on the antibody vial (4), the reagent rack has 3 additional barcodes:  identifying the rack (1), identifying the reagent position (2), and identifying the empty position (3). Barcodes on reagent racks and antibody vials drive reagent traceability, efficient antibody management and reduction of reagent waste.
Reagent cocktailing functionality allows on-board automated antibody cocktail preparation, eliminating the risk for errors in manual pipetting and driving automated recording of all used antibodies for easier tracking and auditing.
Cap racks are available to avoid misplacing caps and antibody cross-contamination.

The BD FACSDuet™ Sample Preparation System allows for automated antibody cocktail preparation eliminating the risk of errors due to manual pipetting.
The system enables the automated recording of all used antibodies for easier tracking and auditing.  Part number, lot number and expiry date of the cocktail are also tracked and recorded to ensure quality and consistency in laboratory workflow. 
Each antibody cocktail can be made from a maximum of 45 unique conjugates in a single cocktailing vial.  Users' cocktail recipes are stored in the software and available for subsequent preparations of the same cocktail, ensuring reproducibility and quality of product independently from the user.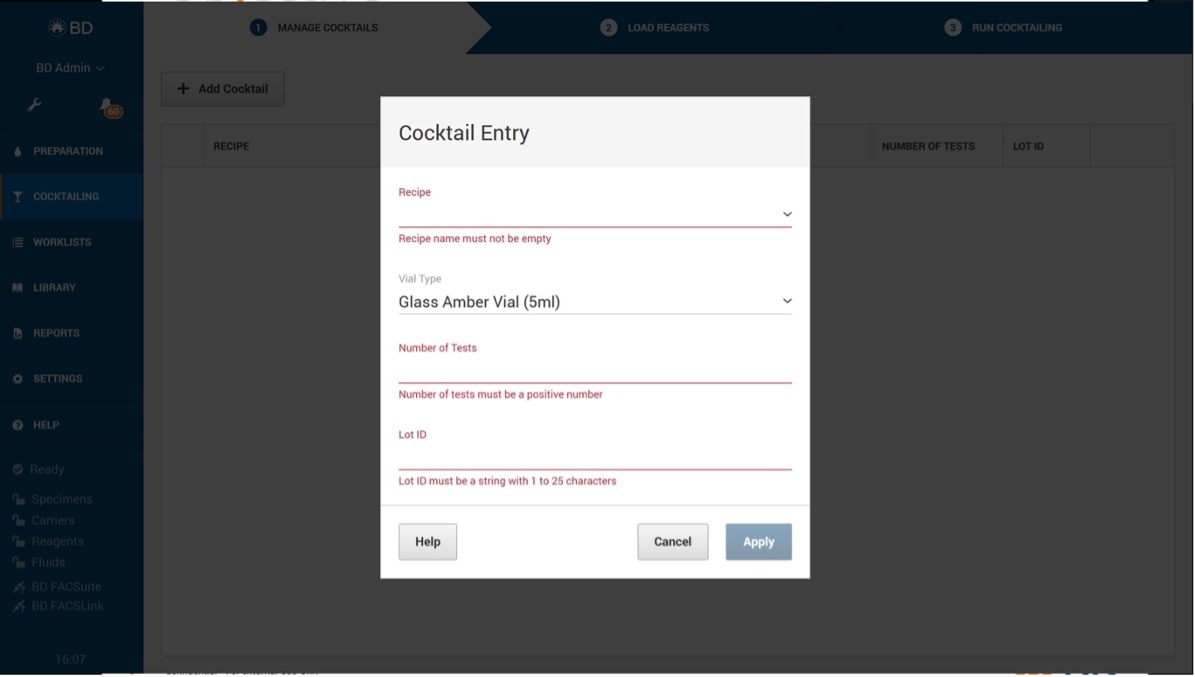 RESOURCES
Technical Specifications
Product List
Data
Request a Demo
Please fill in the following information and we will get in touch with you regarding your query.
Successfully submitted.
Report a Site Issue
---
This form is intended to help us improve our website experience. For other support, please visit our Contact Us page.
Form Submitted Successfully