You are now leaving the BD Biosciences website. The site you are about to visit is operated by a third party. The link to this site neither makes nor implies any representation or warranty for any products or services offered on a third-party site and is intended only to enable convenient access to the third-party site and for no other purpose. Do you want to continue?
Old Browser
For the best web browsing experience, please use Chrome, Safari or Firefox, minimum versions 77.0.3865, 12.1.2 and 68, respectively.
Immune Response Panel HS
(RUO)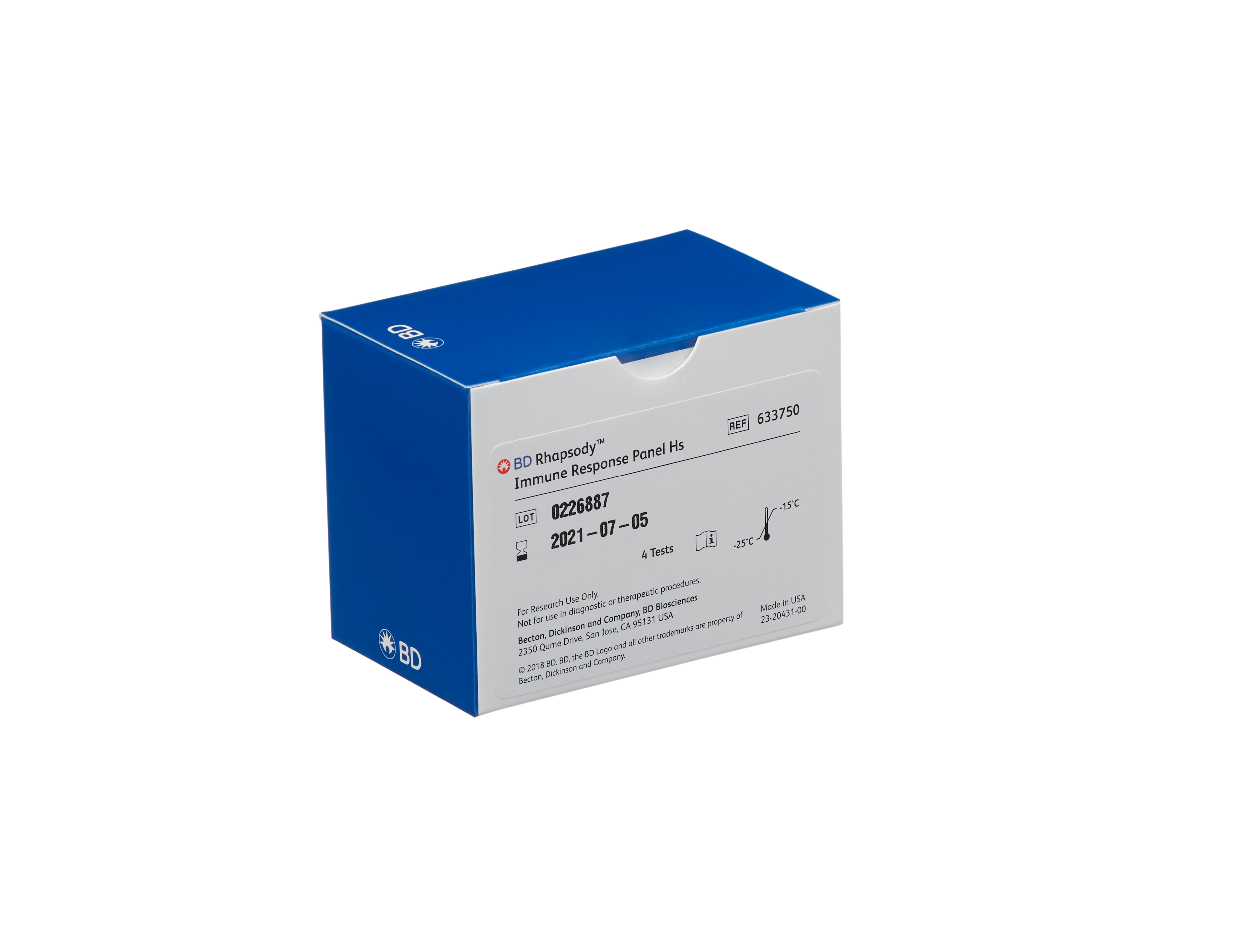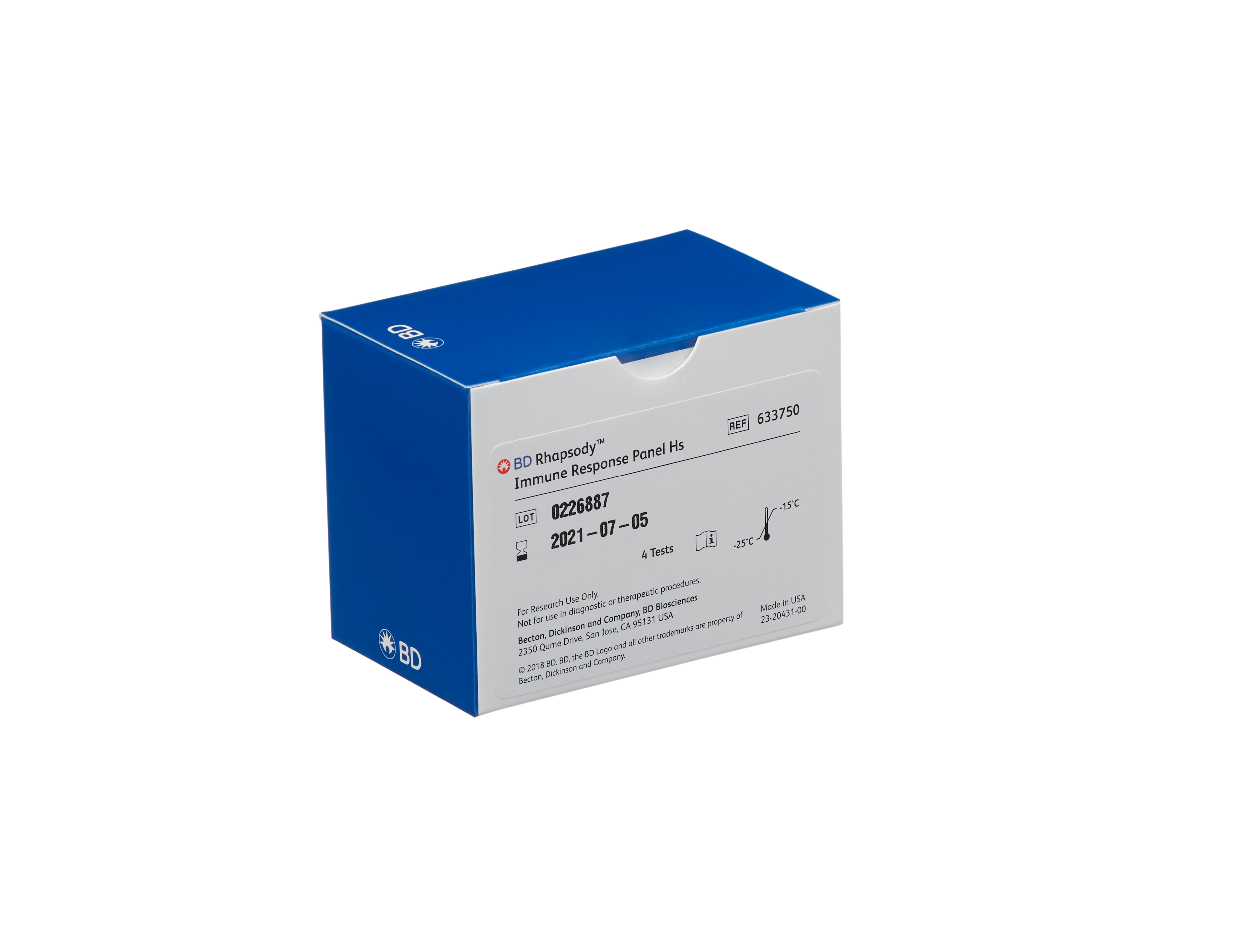 Regulatory Status Legend
RUO
For Research Use Only. Not for use in diagnostic or therapeutic procedures.
RUO (GMP)
For Research Use Only. Not for use in diagnostic or therapeutic procedures. Although not required, these products are manufactured in accordance with Good Manufacturing Practices
GPR
General Purpose Reagent
IVD
For In Vitro Diagnostic Use
ASR
Analyte Specific Reagent. Analytical and performance characteristics are not established.
Any use of products other than the permitted use without the express written authorization of Becton, Dickinson and Company is strictly prohibited.
Product Details
Single cell multiomics experiments on the BD Rhapsody™ platform
Description
This panel contains primer pairs that target 399 genes commonly expressed in human immune cells. The primer pairs have been validated for use in BD Rhapsody™ targeted assays.
Preparation And Storage
Store primer sets at –25°C to –15°C.
633750 Rev. 1
Citations & References
Development References (9)
Alivernini S, MacDonald L, Elmesmari A, et al. Distinct synovial tissue macrophage subsets regulate inflammation and remission in rheumatoid arthritis. Nat Med. 2020; 26(8):1295-1306. (Biology).

View Reference

Arroyo Hornero R, Georgiadis C, Hua P, et al. CD70 expression determines the therapeutic efficacy of expanded human regulatory T cells. Commun Biol. 2020; 3(1):375. (Biology).

View Reference

Ferreira RC, Castro Dopico X, Oliveira JJ, et al. Chronic Immune Activation in Systemic Lupus Erythematosus and the Autoimmune PTPN22 Trp620 Risk Allele Drive the Expansion of FOXP3+ Regulatory T Cells and PD-1 Expression. Front Immunol. 2019; 10:2606. (Biology).

View Reference

Gertz ML, Chin CR, Tomoiaga D, et al. Multi-omic, Single-Cell, and Biochemical Profiles of Astronauts Guide Pharmacological Strategies for Returning to Gravity. Cell Rep. 2020; 33(10):108429. (Biology).

View Reference

Malkani S, Chin CR, Cekanaviciute E, et al. Circulating miRNA Spaceflight Signature Reveals Targets for Countermeasure Development. Cell Rep. 2020; 33(10):108448. (Biology).

View Reference

Sainson RCA, Thotakura AK, Kosmac M, et al. An Antibody Targeting ICOS Increases Intratumoral Cytotoxic to Regulatory T-cell Ratio and Induces Tumor Regression. Cancer Immunol Res. 2020; 8(12):1568-1582. (Biology).

View Reference

Trzupek D, Dunstan M, Cutler AJ, et al. Discovery of CD80 and CD86 as recent activation markers on regulatory T cells by protein-RNA single-cell analysis. Genome Med. 2020; 12(1):55. (Biology).

View Reference

Wagar LE, Salahudeen A, Constantz CM, et al. Modeling human adaptive immune responses with tonsil organoids. Nat Med.. 2021; 27(1):125-135. (Biology).

View Reference

Yang Y, Liu F, Liu W, et al. Analysis of single-cell RNAseq identifies transitional states of T cells associated with hepatocellular carcinoma. Clin Transl Med. 2020; 10(3):e133. (Biology).

View Reference
View All (9)
View Less
633750 Rev. 1
Please refer to Support Documents for Quality Certificates
Global - Refer to manufacturer's instructions for use and related User Manuals and Technical data sheets before using this products as described
Comparisons, where applicable, are made against older BD Technology, manual methods or are general performance claims.  Comparisons are not made against non-BD technologies, unless otherwise noted.
Report a Site Issue
This form is intended to help us improve our website experience. For other support, please visit our Contact Us page.
Successfully submitted.