You are now leaving the BD Biosciences website. The site you are about to visit is operated by a third party. The link to this site neither makes nor implies any representation or warranty for any products or services offered on a third-party site and is intended only to enable convenient access to the third-party site and for no other purpose. Do you want to continue?
Old Browser
For the best web browsing experience, please use Chrome, Safari or Firefox, minimum versions 77.0.3865, 12.1.2 and 68, respectively.
Overview
The BD Rhapsody™ Single-Cell Analysis System includes the BD Rhapsody™ Scanner and BD Rhapsody™ Express Single-Cell Analysis System. The BD Rhapsody™ Express System enables single-cell capture and barcoding of hundreds to thousands of single cells for analysis of genomic and proteomic information, using proprietary, gentle, robust microwell-based single-cell partitioning technology. The BD Rhapsody™ Scanner is designed to visualize all steps in the single-cell capture workflow and provide detailed analysis metrics at every step, enabling the user to make key decisions throughout the workflow.
Get more information from the BD Rhapsody™ System brochure.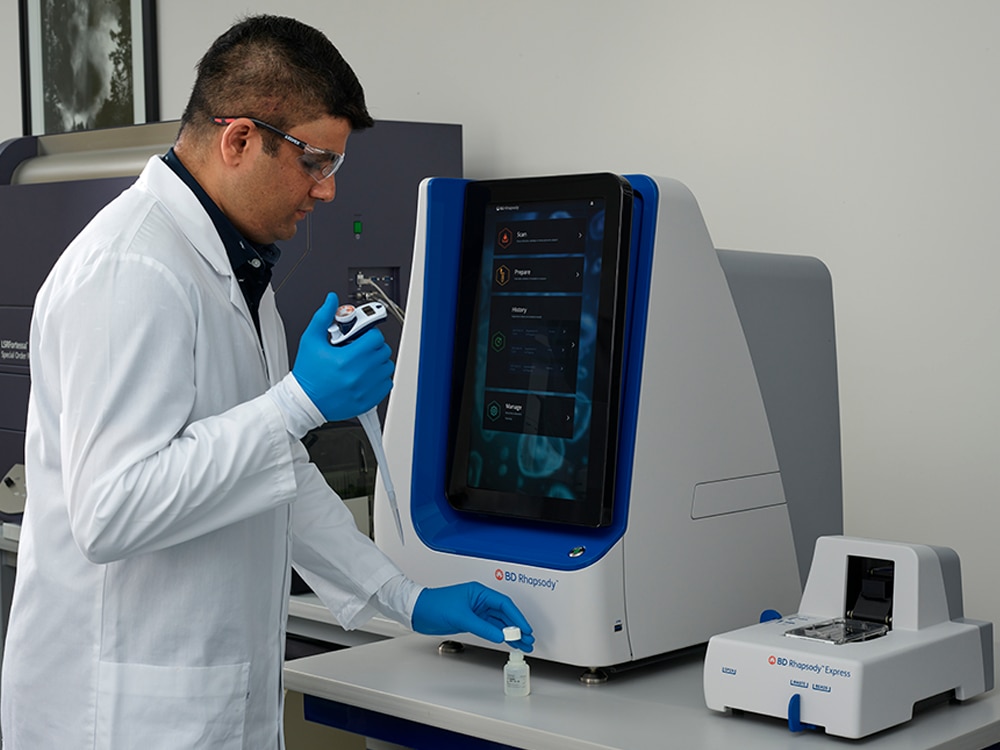 The BD Rhapsody™ Express Single-Cell Analysis System provides powerful microwell-based single-cell partitioning
Minimal set of benchtop equipment, no fluidic pumps
Allows gentle treatment of cells as they settle into microwells by gravity
Each BD Rhapsody™ Cartridge contains a microwell array with >220,000 partitions
The BD Rhapsody™ Cartridge has a volume ~600 µL; dilute cell suspensions can be loaded directly into the cartridge without needing to concentrate them into very small volumes
No microfluidic channels are involved so clogging of channels with cells is less of a concern
The microwells are specially treated to prevent cells from adhering to surfaces and extensive QC is performed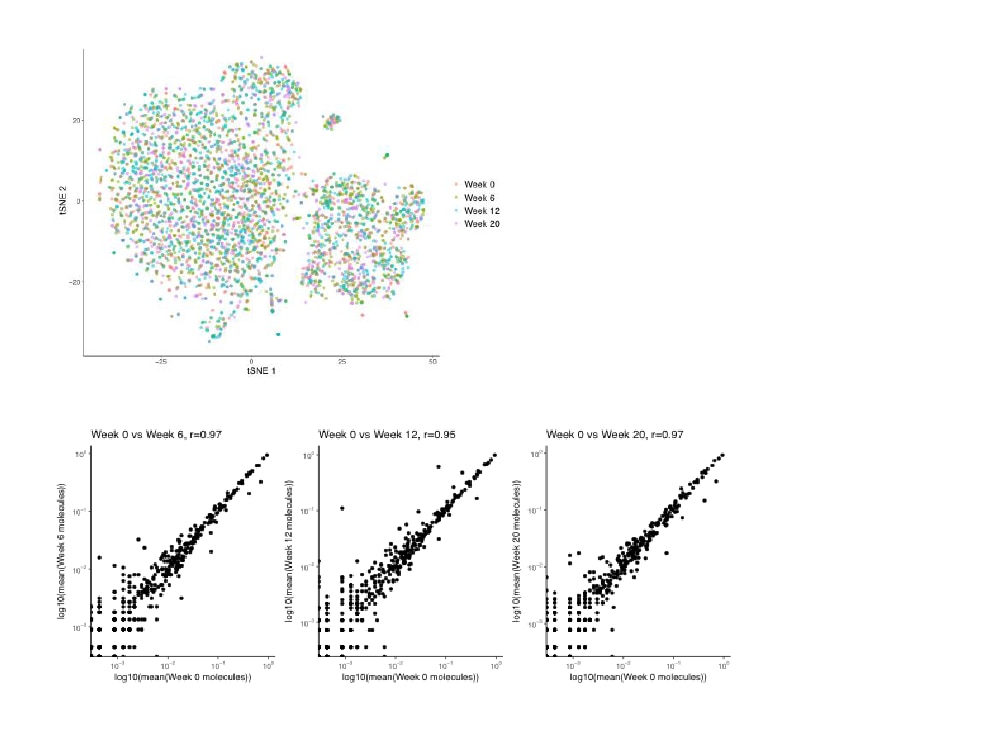 Stable magnetic barcoded beads used with the BD Rhapsody™ System can be retained for later experimentation allowing for flexibility with experimental design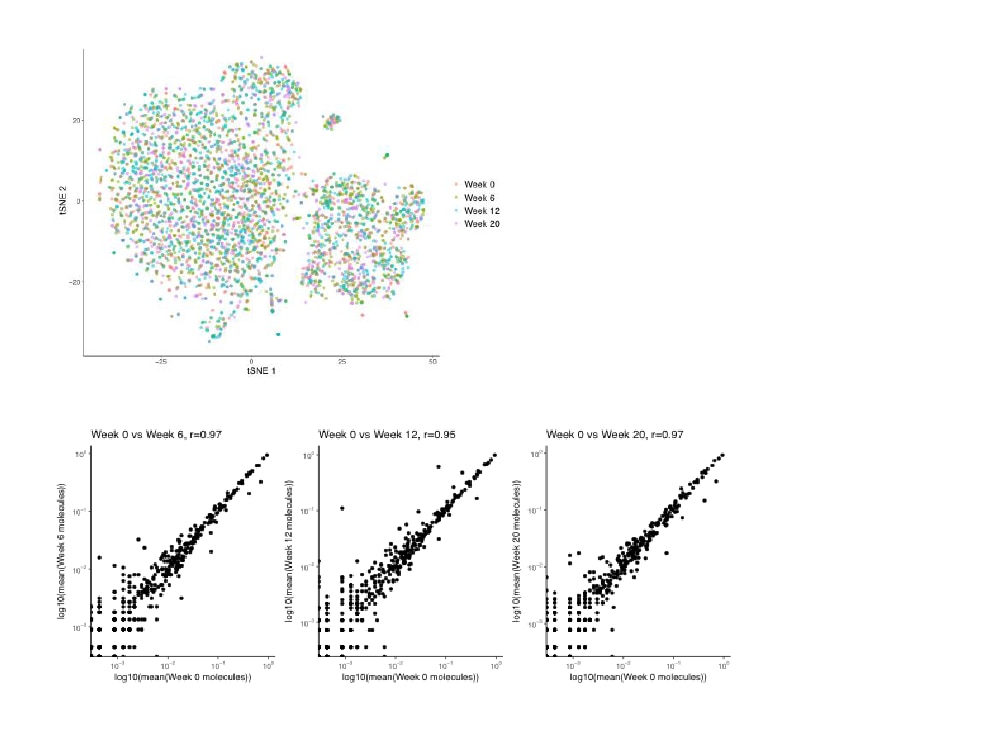 BD Rhapsody™ Beads remain intact throughout the workflow
Beads with cDNA molecules can be stored for several months
Beads can be subsampled for creation of multiple sequencing libraries
Archived beads can be pooled and sequenced together for operational efficiency
Archived beads can be shared easily with research partners
Archived, subsampled beads can help standardize performance and develop SOPs
Right: Image showing high correlation in gene expression and minimal batch effects seen in data obtained from beads stored up to 12 weeks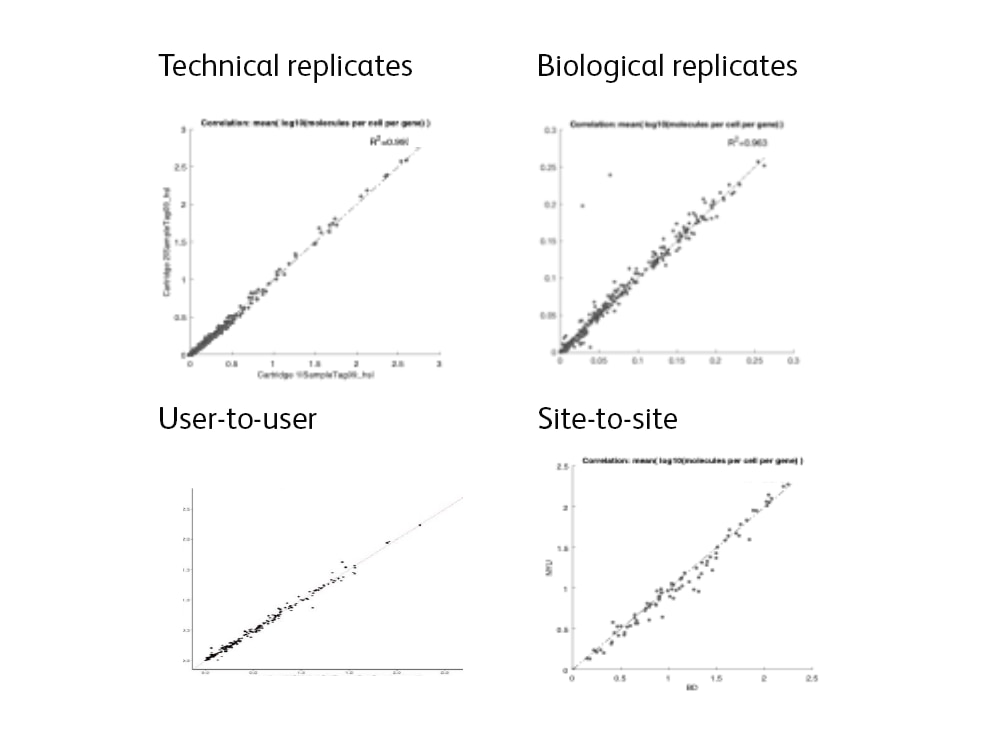 The BD Rhapsody™ Single-Cell Analysis System is the ideal choice for translational, multi-center, multi-cohort studies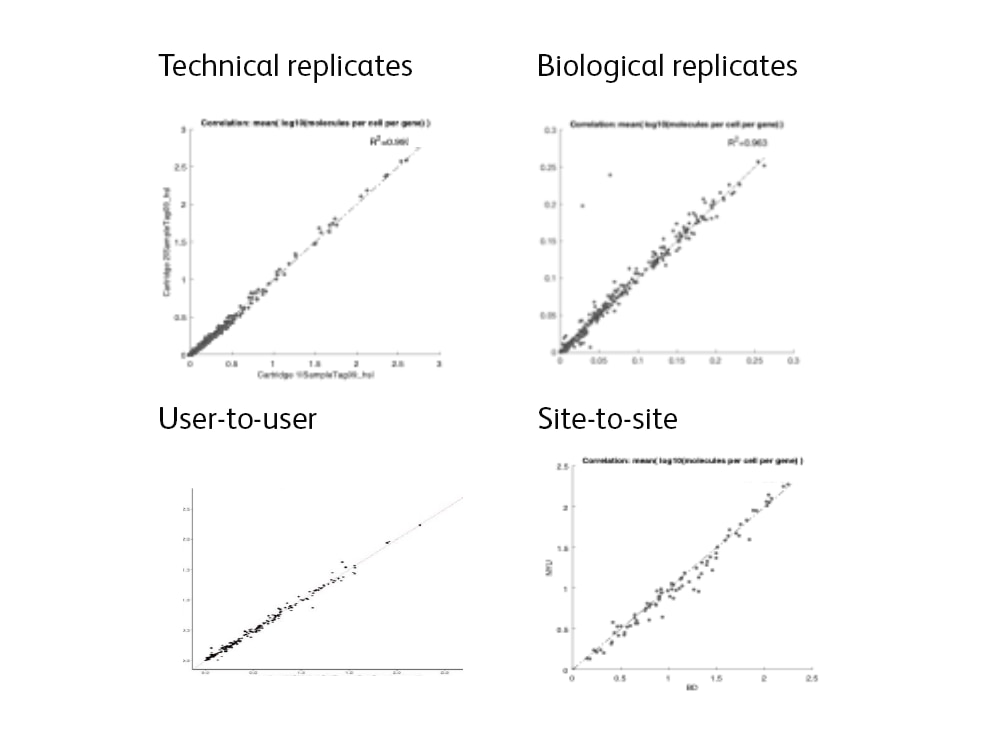 Reliable, reproducible results from gentle, gravity-based single-cell partitioning without microfluidics
Minimal batch effects with technical replicates
Minimal batch effects with biological replicates
Minimal site-to-site variability
Minimal user-to-user variability
Minimum sample bias
Ability to integrate large data sets without correction for batch effects
Right: Image showing high correlation in gene expression seen between technical and biological replicates and between users and sites.


The BD Rhapsody™ Scanner provides the ability to visualize single-cell capture and provides key quality metrics at every step
The BD Rhapsody™ Scanner:
Enables visual inspection of the cartridge and of each microwell through an optically clear window on the BD Rhapsody™ Cartridge
Provides quality control measures such as cell capture rate and cell multiplet rates by direct imaging of the cartridge to analyze quality of the cell preparation. Quality control metrics provide an indication if errors have occurred during the cartridge workflow allowing you to decide whether to proceed to sequencing
Analysis
Number of wells with viable cells at cell load
9118
Cell multiplet rate at cell load
2.4%
Number of wells with viable cells and a bead
7999
Cell multiplet rate
2.0%
Bead loading efficiency
PASS
Cell retention rate
PASS
Bead retrieval efficiency
PASS
Excess bead rate
PASS
PERFORMANCE
The BD Rhapsody™ Single-Cell Analysis System provides reliable and reproducible results making it an ideal system for translational studies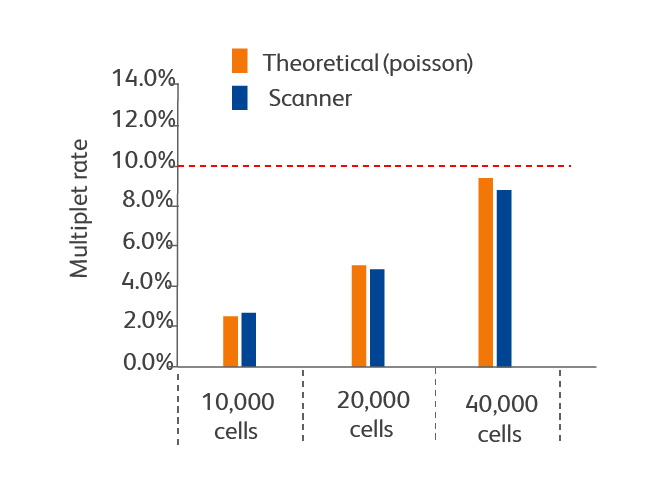 The system offers superior cell capture rates and low multiplet rates with a variety of cell types as compared to other systems
Strong correlation of all mRNA and protein markers identifies similar T-cell populations between cartridges
Equivalent data from biological replicates
Equivalent data from subsampled beads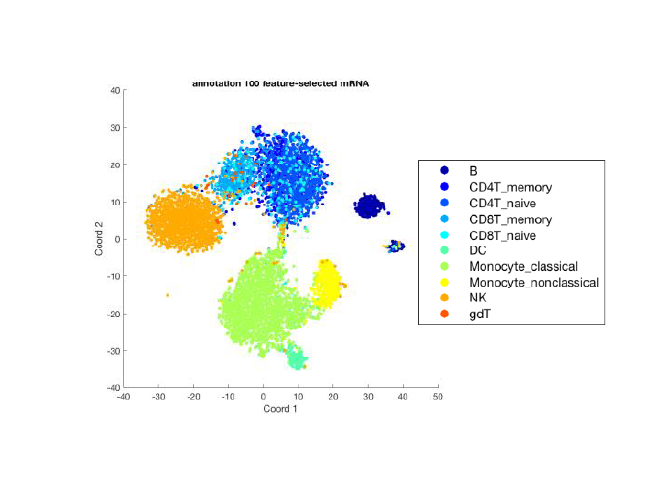 Similar proportions of each cell type are recovered from WTA and targeted assays performed on subsampled beads.

APPLICATIONS
The BD Rhapsody™ Single-Cell Analysis System enables simultaneous measurement of surface proteins and mRNA expression, facilitating the identification of distinct subsets of regulatory T cells
Differential gene expression and differential protein expression analysis were performed on three main Treg subsets identified based on manual gating and bivariate analysis of CD45RA and HLA-DR sorted Treg samples. Differential gene expression analysis was performed using the BD Rhapsody™ Targeted Human Immune Response Panel (399 genes). Upregulated genes (>1.25X) are shown in the heat map above. Differential protein expression of 22 proteins was performed simultaneously using BD® AbSeq Oligo-Conjugated Antibodies.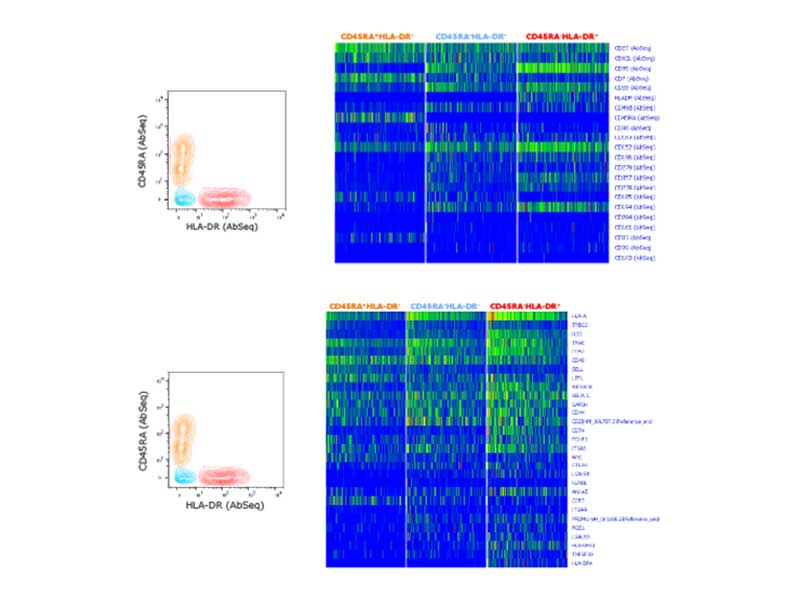 The BD Rhapsody™ Single-Cell Analysis System can be used for deep characterization of exhausted T cells
Expression of 12 proteins and genes that are significantly upregulated at day 14 of chronic simulation of CD8+ T cells. Two populations (red and green boxes) emerged based on the expression level of markers. Co-expression patterns were discerned for CD38, CD39 and CD94. 

The BD Rhapsody™ Single-Cell Analysis System enables resolution of innate lymphoid cell heterogeneity
Differential protein and gene expression at the single-cell level.
Heterogeneity was observed in major ILC subsets.

The BD Rhapsody™ Single-Cell Analysis System enables identification of heterogeneity within CLL samples
Clusters are well defined using simultaneous mRNA and protein analysis. Samples from healthy donors cluster similarly. CLL samples cluster separately and uniquely.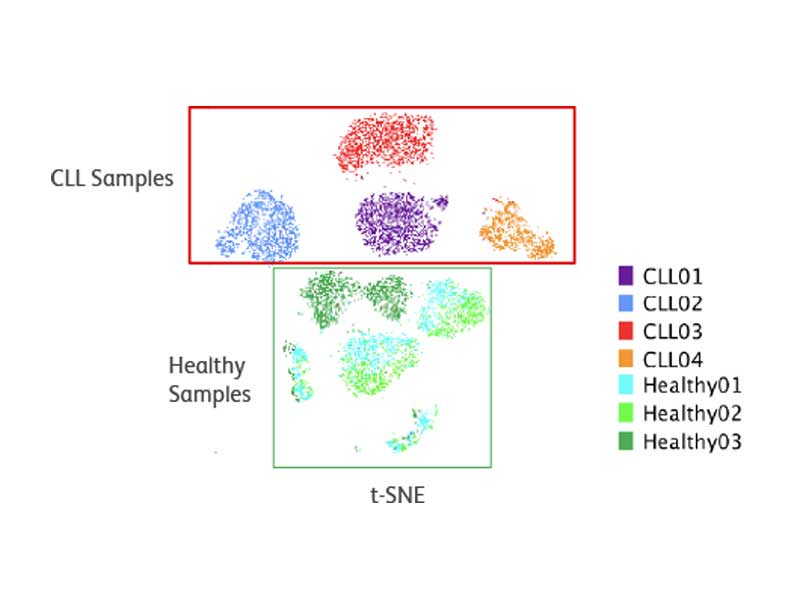 Request a Quote
Please fill in the following information and we will get in touch with you regarding your query.
Successfully submitted.
Report a Site Issue
This form is intended to help us improve our website experience. For other support, please visit our Contact Us page.
Successfully submitted.