You are now leaving the BD Biosciences website. The site you are about to visit is operated by a third party. The link to this site neither makes nor implies any representation or warranty for any products or services offered on a third-party site and is intended only to enable convenient access to the third-party site and for no other purpose. Do you want to continue?
Old Browser
For the best web browsing experience, please use Chrome, Safari or Firefox, minimum versions 77.0.3865, 12.1.2 and 68, respectively.

Overview
What are immunoassays and what are they useful for?
Immunoassays are analytical methods that utilize antigen-antibody chemistry and their interactions for the detection and quantitation of analytes, such as cytokines, chemokines, growth factors and other proteins. Radioimmunoassays (RIAs) and enzyme-linked immunosorbent assays (ELISAs) are some of the most commonly used immunoassays. ELISAs have been the gold standard for immunoassay analyses due to their remarkable sensitivity, specificity and precision. Enzyme-linked immunosorbent spot (ELISPOT) is another powerful immunoassay for analyzing specific antibody-secreting cells. More recently, capture bead–based immunoassays have provided a sensitive option for the measurement of a wide variety of analytes and offer the ability to multiplex at a larger scale compared to the other formats.

BD Biosciences offers multiple tools and assay platforms for cytokine and chemokine quantitation
BD® CBA Solutions for multiplexed detection and analysis
BD OptEIA™ Kits and Sets for routine ELISA research applications
BD® ELISPOT Assays for determining the frequency of cytokine production
Tools and Techniques for Cytokine Quantitation
| Tool/Technology | BD® Cytometric Bead Array (CBA) | ELISA | ELISPOT |
| --- | --- | --- | --- |
| Molecules detected | Secreted or intracellular | Secreted | Secreted (in situ) |
| Multiparameter | Yes | No | No |
| Single-cell / cell-subset information | No | No | Frequencies, no subset information |
| Antigen-specific | Yes | Yes | Yes |
| Post-assay viability | Yes | Yes | No |
| Protein quantitation | Yes | Yes | No |
| Instrumentation | Flow cytometer | Spectro-photometer | ELISPOT reader |
Bead-based Immunoassays
Bead-based immunoassays
Bead-based assays utilize fluorescently barcoded beads instead of a plate for binding with fluorescent antibodies and are interrogated using flow cytometry methods. Bead-based immunoassays enable multiplex detection of targets several folds higher than what is conceivable using normal ELISA formats, saving time and sample. 

Introduction to BD® Cytometric Bead Arrays (CBA)
CBA assays are bead-based immunoassays that use fluorescent antibodies for the detection of a variety of soluble and intracellular proteins, including cytokines, chemokines, growth factors and phosphorylated signaling proteins.

Each capture bead in the array has a unique fluorescence intensity and is coated with a capture antibody specific for a single analyte. A combination of different beads is mixed with a sample or standard and a mixture of detection antibodies that are conjugated to a reporter molecule (PE). Following incubation and subsequent washing, the samples are acquired on a flow cytometer.

BD® CBA Solutions offer the ability to add any protein or antibody of interest to increase flexibility
BD® CBA Functional Beads can be used to conjugate antibodies or proteins of interest for unique requirements. The conjugation procedure uses sulfo-SMCC chemistry and takes less than four hours using common laboratory supplies along with the buffers in the BD® CBA Functional Bead Conjugation Buffer Kit. This is an ideal platform for converting existing ELISAs into bead-based immunoassays that can be mixed with our portfolio of BD® CBA Flex Set Assays. The availability of multiple bead positions enables creation of novel multiplex panels, while the ability to prepare up to 1,000 tests in a single reaction ensures consistency across many tests.
BD® CBA Solutions are available in preconfigured kits or in an open, configurable format for unique needs.
Explore BD® CBA Solutions.

Sample data generated using the BD® CBA Solution
Refer to the comparison of BD® CBA Standards to NIBSC/WHO International Standards to find the NIBSC conversion factor summary.
BD® CBA Kits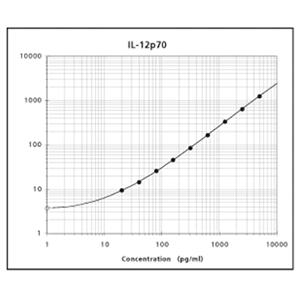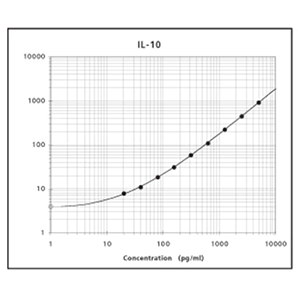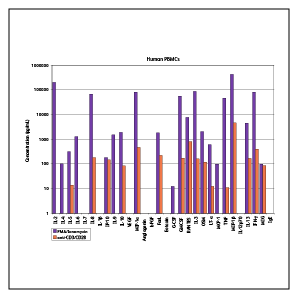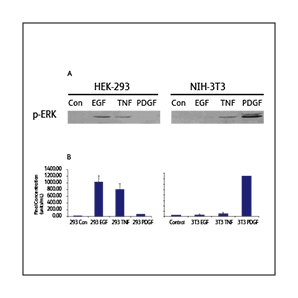 BD®  CBA Enhanced Sensitivity Kits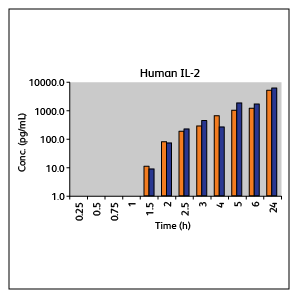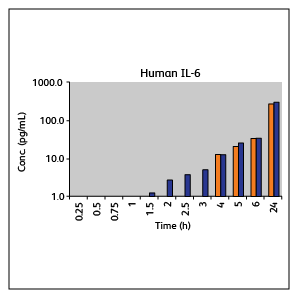 ELISA Immunoassay
ELISA Immunoassay
ELISA immunoassays or enzyme immunoassays (EIA) exploit specific antigen-antibody binding and enzyme reactions to detect and measure proteins, peptides and signaling molecules produced by various immune cells. In this technique, special ELISA microplates are used to immobilize the target antigen or antibody or both. Subsequent incubation with high-affinity antibodies results in detectable signals, which can then be measured using colorimetric or enzyme-based methods.

Several ELISA formats are available based on the detection strategy used. The most common type is a sandwich immunoassay format, which uses a capture antibody attached to the ELISA microplate to bind the antigen of interest. A second primary antibody is then used to bind the antigen.  The antigen is thus sandwiched between the capture antibody and the primary antibody. A biotinylated secondary antibody specific to the primary antibody is used subsequently for signal amplification and detection.
BD Biosciences offers sandwich ELISA kits and sets for convenient quantitation of soluble proteins in serum, plasma and tissue culture supernatants.

ELISA Protocols

ELISPOT Immunoassay
ELISPOT Immunoassay
The ELISPOT assay is commonly used to analyze antigen-specific T cells and to monitor T cell function. It is a powerful tool for detecting and analyzing individual cells that secrete a particular protein in vitro. Although originally developed for analyzing specific antibody-secreting cells, the assay has been adapted to measure the frequencies of cells that produce and secrete a variety of other effector molecules such as cytokines. ELISPOT is a highly quantitative assay.

ELISPOT, like a sandwich ELISA, utilizes a microplate well to attach the capture antibody. The microplate is used to grow culture cells, which are then stimulated to secrete cytokines. The secreted proteins are captured by the antibodies on the surface. The signal is then amplified and detected using an appropriate secondary antibody.
BD Biosciences offers several ELISPOT assay formats. The BD® ELISPOT Assay can detect cytokine release at the single-cell level, allowing the determination of cytokine-producing cell frequencies. The BD® ELISPOT Assay has been found to be more sensitive than ELISA and intracellular staining.
BD® ELISPOT reagent offerings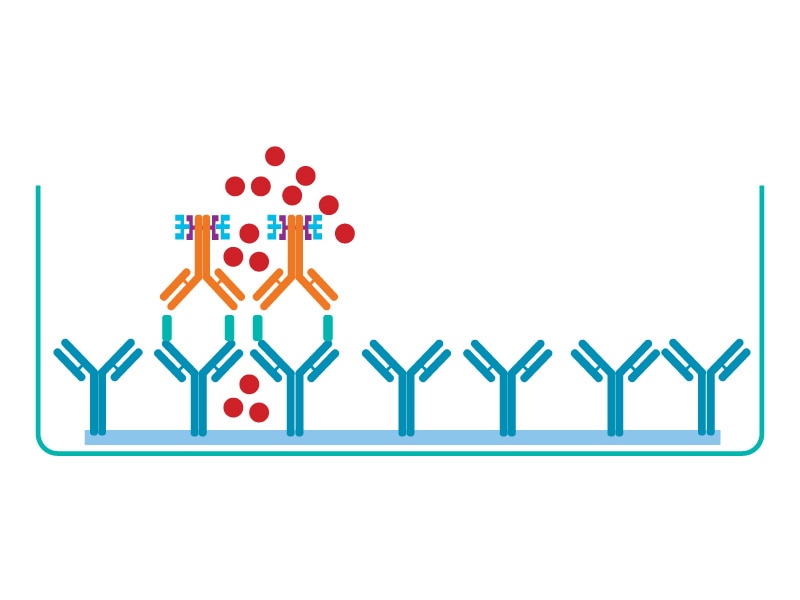 Report a Site Issue
This form is intended to help us improve our website experience. For other support, please visit our Contact Us page.
Successfully submitted.