You are now leaving the BD Biosciences website. The site you are about to visit is operated by a third party. The link to this site neither makes nor implies any representation or warranty for any products or services offered on a third-party site and is intended only to enable convenient access to the third-party site and for no other purpose. Do you want to continue?
Old Browser
For the best web browsing experience, please use Chrome, Safari or Firefox, minimum versions 77.0.3865, 12.1.2 and 68, respectively.
Overview
The BD Accuri™ C6 Plus Flow Cytometer, with its compact 11 x 14.75 x 16.5-inch footprint, light weight of 30 lb and operational simplicity, supports a wide variety of applications including immunology, cell and cancer biology, plant and microbiology and industrial applications. This portable and compact cell analyzer holds the analytical power of a cytometer twice its size. Backed by 23,000 citations to date*, the BD Accuri™ C6 Plus System enables you to go beyond your current research potential.
Take advantage of our special offer on the new BD Accuri™ C6 Plus Personal Flow Cytometer.
Get information and resources for the discontinued BD Accuri™ C6 Personal Flow Cytometer .
*Google Scholar™: https://scholar.google.com/scholar?hl=en&as_sdt=0%2C5&q=Accuri&btnG= ; Accessed June 2020.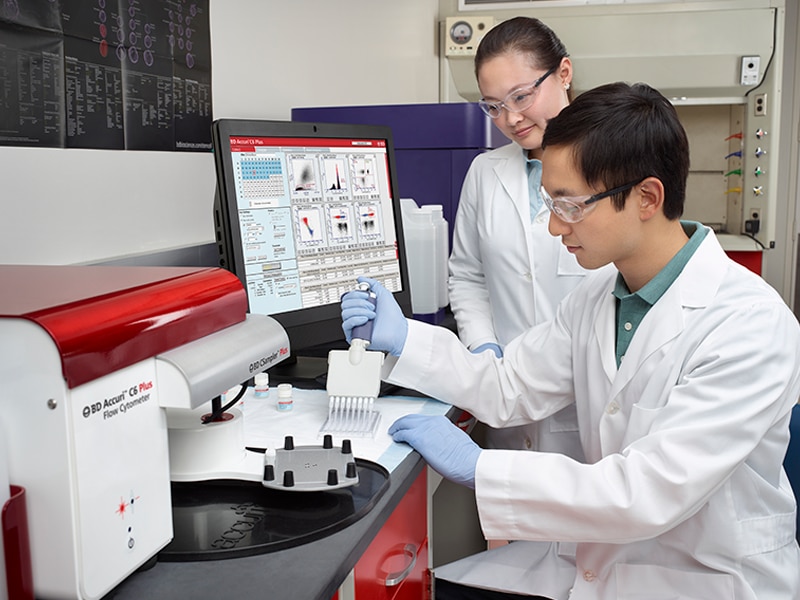 The BD Accuri™ C6 Plus Flow Cytometer Advantages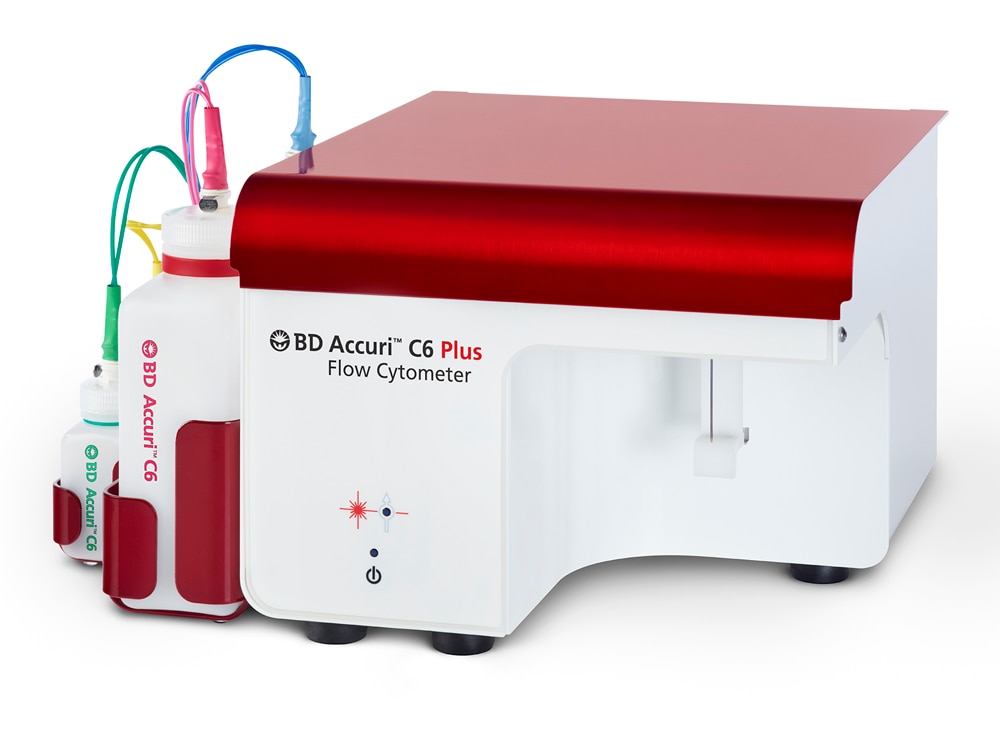 Sensitive, reliable and capable

Reliable instrument performance with automated QC
Volumetric counting and continuous sampling
Simple: easy to learn, use, maintain and teach

Quick and easy instrument setup
Simplified workflow with BD quality reagents and kits
Walkaway convenience with automated sample loader
Compact and transportable

Small footprint for easy transportation between labs
Intuitive and easy-to-learn BD Accuri™ C6 Plus Software

Intuitive user interface
Easy to learn and data can be collected and analyzed in less than an hour
Clearly visible software options and instrument controls
Get more information from the BD Accuri™ C6 Plus System Brochure.
The BD Accuri™ C6 Plus System Accurately Monitors the Sample Volume Pulled Per Run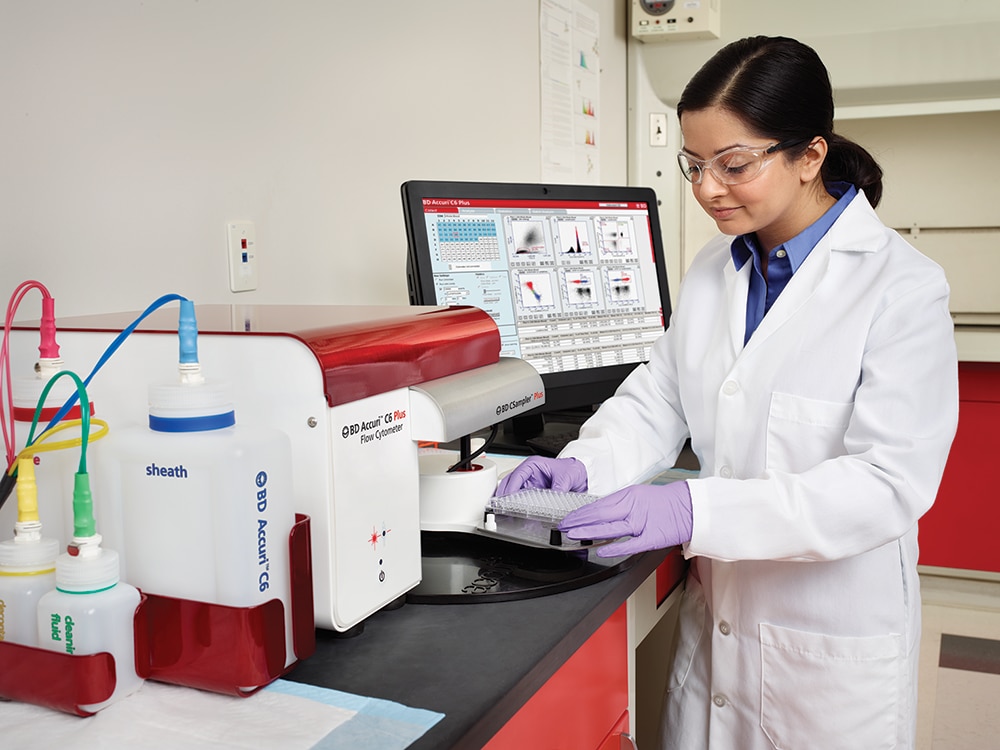 Fluidics
A unique, nonpressurized, peristaltic pump system drives the fluidics
The system can calculate absolute counts or sample concentration per µL without the use of counting beads
The optional BD CSampler™ Plus Software accessory offers reliable, easy-to-use automation while adding minimal footprint:
48-well plates
96-well plates
96-deep-well plates
24-tube rack (included) for standard 12 x 75-mm tubes
Get more information about the fluidics from the BD Accuri™ C6 Plus Flow Cytometer brochure.  
The BD Accuri™ C6 Plus Flow Cytometer, Combined with BD® Kits and Templates, Provides Better Insight and Easier Workflow
As easy as cell analysis is going to get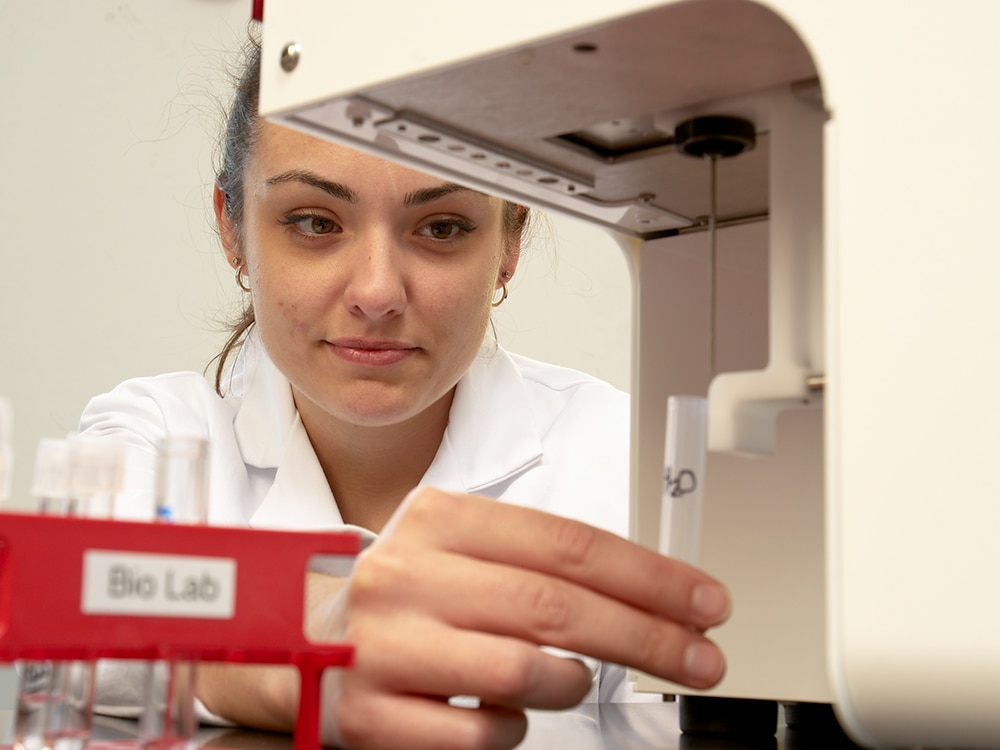 Apply the power of flow cytometry to your research with ready-to-go reagent kits and free software templates specific to your studies.
Preconfigured kits include fluorescent antibodies, buffer systems and other reagents needed for acquisition and analysis. 
Kits and templates are available for various applications:
Immunophenotyping, apoptosis, cell cycle, microbial counting, intracellular cytokine studies, stem cell analysis and more.


The BD Accuri™ C6 Plus Cell Analyzer Provides Simplicity and Sensitivity on Your Benchtop 
Optics
Equipped with a blue and red laser, two light scatter detectors and four fluorescence detectors with optical filters optimized for the detection of many popular fluorochromes, including FITC, PE, PerCP-Cy5.5 and APC
Easy to use with no need to adjust detector voltage
Data are digitally collected over a wide dynamic range and are fully available to you as needed, eliminating the risk of data loss due to incorrect settings
Software functions such as Zoom and VirtualGain allow visualization of data at any scale, so you can precisely set gates and regions
Extraordinary fluorescence sensitivity with optical and fluidic design provide the ability to withstand rugged conditions. Provided the system is anchored, it can run samples even if the benchtop is in motion, such as aboard a ship
Find out about BD Accuri™ C6 Plus System fluorochrome support.
Excitation Wavelength
Fluorochromes/Dyes
Standard Filter
Optional Filter

488 nm

FITC, BB515, Alexa Fluor™ 488, CFSE

533/30
-

GFP

533/30
510/15

JC-1, Fluo-4 AM, SYBR™Green

533/30
-

YFP

533/30
540/20

PE, JC-1, BD™ MitoStatus TMRE

585/40
-

OFP

585/40
565/20

Propidium Iodide

585/40, 670 LP
610/20

BD Horizon™ PE-CF594

670 LP
670 LP>610/20

RFP, mCherry, dsRed

670 LP
610/20

PerCP, PE-Cy5

670 LP
-

PerCP-Cy5.5

670 LP
670 LP>-

7-AAD

670 LP
670 LP>780/60

PE Cy7

670 LP
780/60

640 nm

APC, BD™ MitoStatus Red, Alexa Fluor™ 647

675/25 LP
-

APC-H7, APC-Cy7

670 LP
780/60
Performance
Adaptable optics, with many filter, laser and configuration options, and the unique fluidics system provide flexibility in the fluorochrome combinations you can analyze and automation for direct counting of cells
Identification of blood cell populations in a single tube using four colors
Bacterial viability on the BD Accuri™ C6 Plus System.


BD Accuri™ C6 Plus Personal Flow Cytometer
The cell analyzer with capabilities to bring flow cytometry even more within reach for new and experienced researchers alike

Request a Quote
Request a Quote
Please fill in the following information and we will get in touch with you regarding your query.
Successfully submitted.
Report a Site Issue
This form is intended to help us improve our website experience. For other support, please visit our Contact Us page.
Successfully submitted.