You are now leaving the BD Biosciences website. The site you are about to visit is operated by a third party. The link to this site neither makes nor implies any representation or warranty for any products or services offered on a third-party site and is intended only to enable convenient access to the third-party site and for no other purpose. Do you want to continue?
Old Browser
For the best web browsing experience, please use Chrome, Safari or Firefox, minimum versions 77.0.3865, 12.1.2 and 68, respectively.
Overview
The BD® Single-Cell Multiplexing Kits (human and mouse) allow you to combine and simultaneously process up to 12 different samples on a BD Rhapsody™ Cartridge. The kits are designed to work with all BD Rhapsody™ Assays and include streamlined informatics tools integrated into the BD Rhapsody™ Bioinformatics Pipeline to automatically demultiplex sample tags and identify individual samples during data analyses.

Learn more from the BD® Single-Cell Multiplexing Kit brochure.
FEATURES
The BD® Single-Cell Multiplexing Kit:
Can lower experimental cost by multiplexing up to 12 individual samples per BD Rhapsody™ Cartridge
Includes optimized antibody tagging plus informatics tools, enabling you to experience true sample-to-answer assays
Improves data quality by allowing you to identify and remove erroneous data from cell multiplets originating from separate samples through sample tagging
Is tested to work across a broad range of human cells and tissues and mouse samples
PERFORMANCE
The BD® Single-Cell Multiplexing Kit identifies cell multiplets yielding high-quality single-cell output
t-SNE analysis of single-cell gene expression profile with the BD® Single-Cell Multiplexing Kit and BD Rhapsody™ Human Immune Response Panel (right). A. Cells are colored by annotation from the Sample Tag determination algorithm within the BD Rhapsody™ Bioinformatics Pipeline. B. Blue cells highlight multiplets identified. C. t-SNE plot with multiplets and undetermined cells removed to obtain cleaner data for analysis.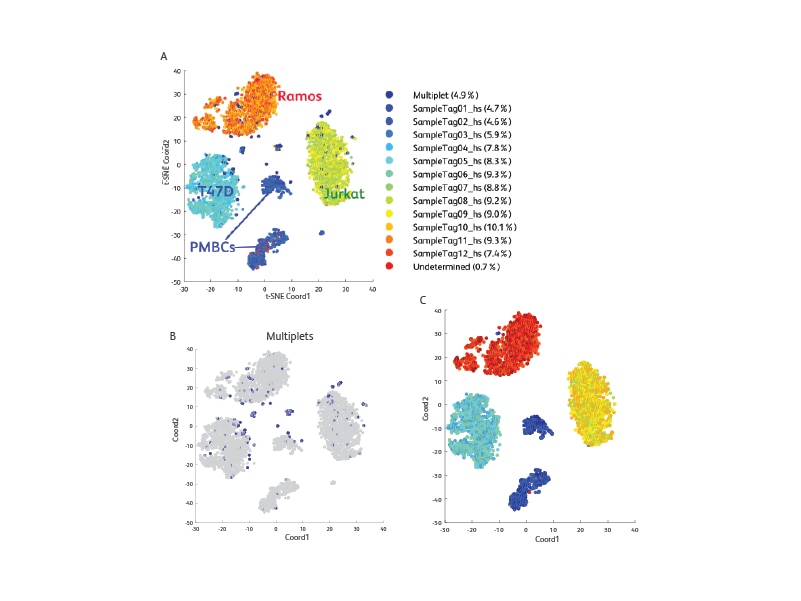 APPLICATIONS
The BD® Single-Cell Multiplexing Kit can be used to increase the number of cells loaded and analyzed while maintaining a low rate of unidentified multiplets
t-SNE visualization of cell clusters in the 12 Sample Tag experiment with the BD Rhapsody™ System using the Immune Response Panel (right). A. Annotation of major cell types identified by their markers, with putative multiplet clusters in between major clusters, many of which are identified using Sample Tags. B. Highlight of Sample Tag-identified multiplets: multiplets can be identified using Sample Tags even within one cell type cluster. C. Removal of multiplets identified by Sample Tags and their associated putative clusters yields cleaner single-cell RNA-seq data.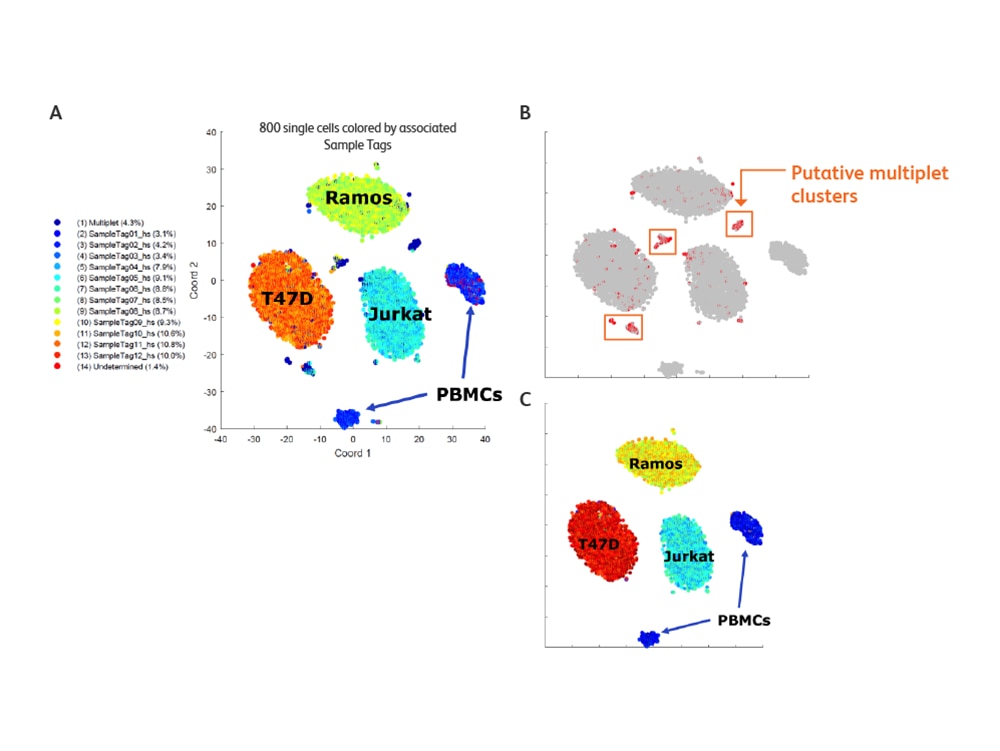 The BD® Single-Cell Multiplexing Kit can be used with single-cell suspension samples to identify multiplets
Visualization of Jurkat-only cluster (Sample Tags 4-6) from a 12 Sample Tag experiment (right). A. Multiplets are highlighted as blue points within the Jurkat cluster. Note that many Jurkat multiplets are located on the top-left of the cluster. B. Top-left putative cells identified in the Jurkat cluster are associated with higher detection of genes per cell. C. Extracting total mRNA molecules detected per putative cell revealed that cells identified as multiplets by Sample Tags have higher molecule detection, suggesting that they are bona fide multiplets.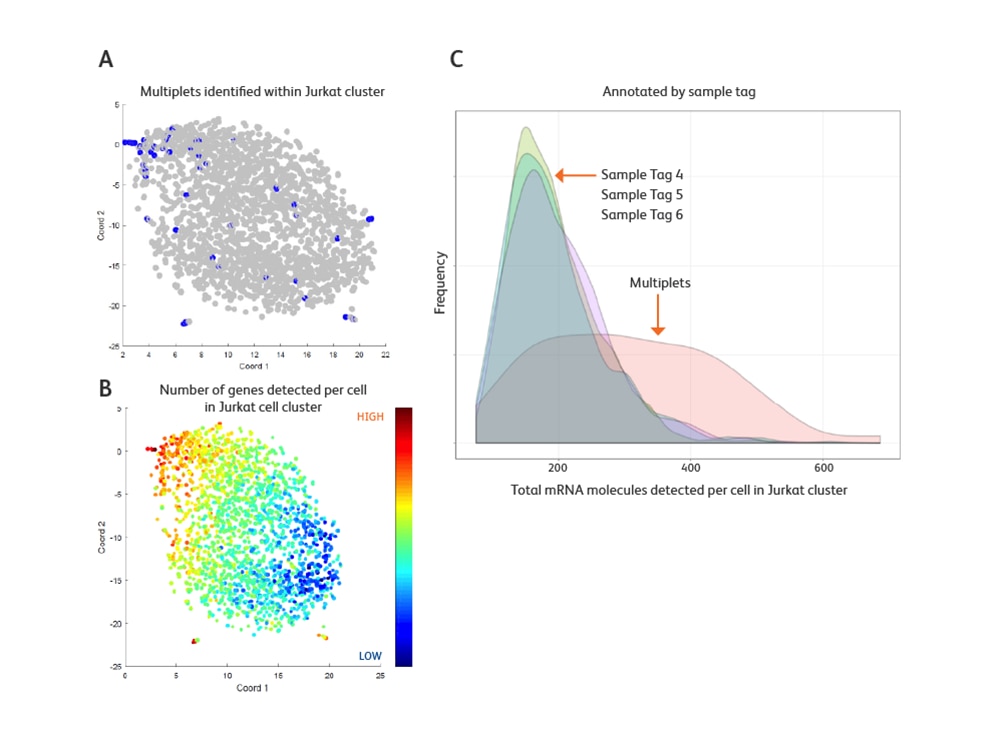 Report a Site Issue
This form is intended to help us improve our website experience. For other support, please visit our Contact Us page.
Successfully submitted.