You are now leaving the BD Biosciences website. The site you are about to visit is operated by a third party. The link to this site neither makes nor implies any representation or warranty for any products or services offered on a third-party site and is intended only to enable convenient access to the third-party site and for no other purpose. Do you want to continue?
Old Browser
For the best web browsing experience, please use Chrome, Safari or Firefox, minimum versions 77.0.3865, 12.1.2 and 68, respectively.
Overview
The BD FACSymphony™ A5 Cell Analyzer:
Leverages the inherent benefits of flow cytometry and enables the simultaneous detection of up to 50 parameters

Offers highly customizable options to meet your research priorities and can be configured to meet your needs today with room for growth tomorrow

Harnesses the power of the full BD solution to reach deeper insights with state-of-the-art analyzers, a portfolio of bright dyes, specialized technical support and high-dimensional analysis tools  
 
Contact your local representative to discuss the ideal instrument to meet your needs. 
Learn more from the BD FACSymphony™ A5 Cell Analyzer brochure. 
The BD FACSymphony™ A5 Cell Analyzer improves sensitivity to enable you to identify and analyze rare cell types and events
The instrument features an ultra-quiet VPX electronics system that supports up to 50 high-performance detectors.
The capabilities of this platform technology uniquely allow you to conduct deep and broad phenotyping and gain richer scientific insights by fully leveraging the broad portfolio of catalog and custom BD Horizon Brilliant™ Reagents.
The BD FACSymphony™ A5 Cell Analyzer allows you to select up to 9 lasers for maximum flexibility with new lasers, dyes and applications in the pipeline
Configure your instrument to meet your research needs using traditional or unique wavelengths and power ratings.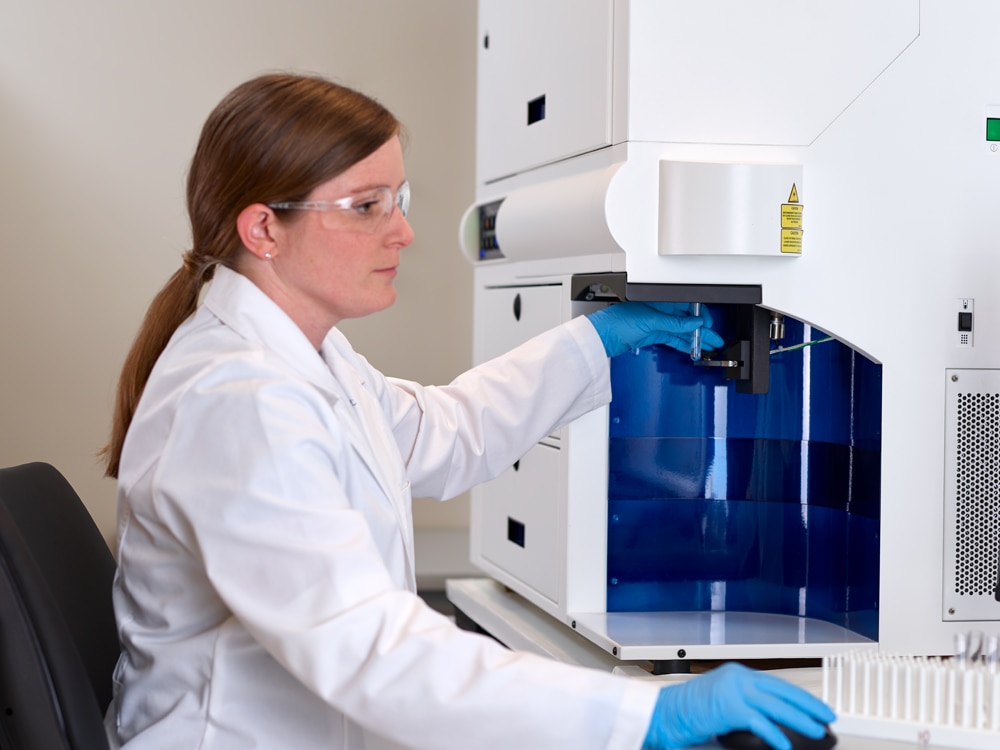 Optical arrays offer more flexibility than ever
Choose from:
Classic tube photomultiplier tubes (PMTs) in decagon arrays with up to 10 detectors

Small square form PMT and GaAs/GaAsP* detectors in high-parameter cascade (HPC) arrays

Detectors optimized for increased sensitivity and lower noise in ranges of the spectrum
Up to 20 detectors per laser
Discrete pre-amplifiers
Filter sets are exchangeable for traditional fluorescent markers as well as specialized sets for unique dyes or proteins.
* Gallium arsenide phosphide
The BD® High Throughput Sampler (HTS) and BD FACSFlow™ Supply System (FFSS) options are available for increased efficiency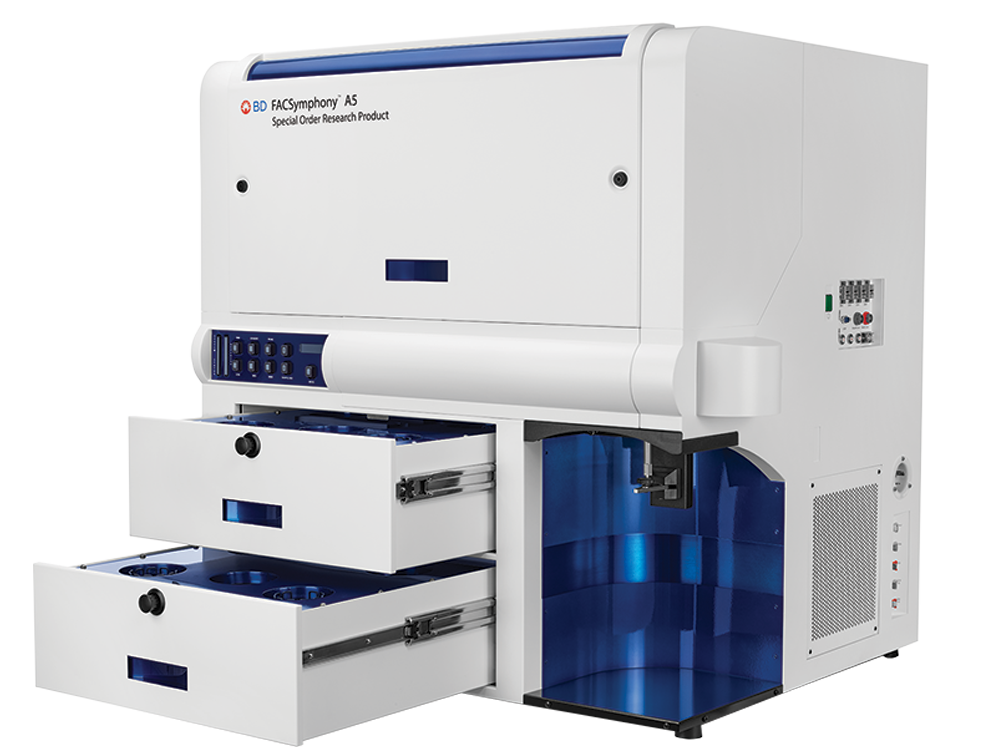 The HTS option:
Automates and accelerates sample acquisition

Compatible with 96- and 384-well plates

<0.5% sample carryover in high-throughput mode
The FFSS option:
Increases capacity and ease of use while maintaining a stable fluidics pressure

Reduces daily maintenance by incorporating a 20-L BD FACSFlow™ Cubitainer

As a Special Order Research Product (SORP), the BD FACSymphony™ A5 Cell Analyzer offers a choice of lasers from 26 different laser wavelengths to optimally configure your instrument for your specific research application. 
For most lasers, multiple power ratings that can be adjusted, stored and recalled using the digital laser command and control functionality are available.
Dependent on the laser, power settings from 20–1,000 mW may be available.
Fluorochrome availability and excitation characteristics across various wavelengths should be discussed during the configuration process to identify the best optical options for your research.
Common lasers used
| | | |
| --- | --- | --- |
| Laser | Wavelength (nm) | Power (mW) |
| UV | 355 | 20–100 |
| Violet | 405 | 100–200 |
| Blue | 488 | 100–200 |
| Yellow-Green | 561 | 100–200 |
| Red | 637 | 140 |
Performance
The BD FACSymphony™ A5 Cell Analyzer works with conventional and BD Horizon Brilliant™ Fluorochromes to expand experimental design and help accelerate time to insight
Enable on-site training and instrument characterization with CD4 fluorochrome evaluation kits
Each BD fluorochrome optimized for flow cytometry has been conjugated to anti-human or mouse CD4 and is provided for PMT voltrations and instrument characterization. Higher-parameter configurations may also include custom fluorochromes suitable for additional channels. Mid- and low-expressed antigen specificities are available on a custom basis.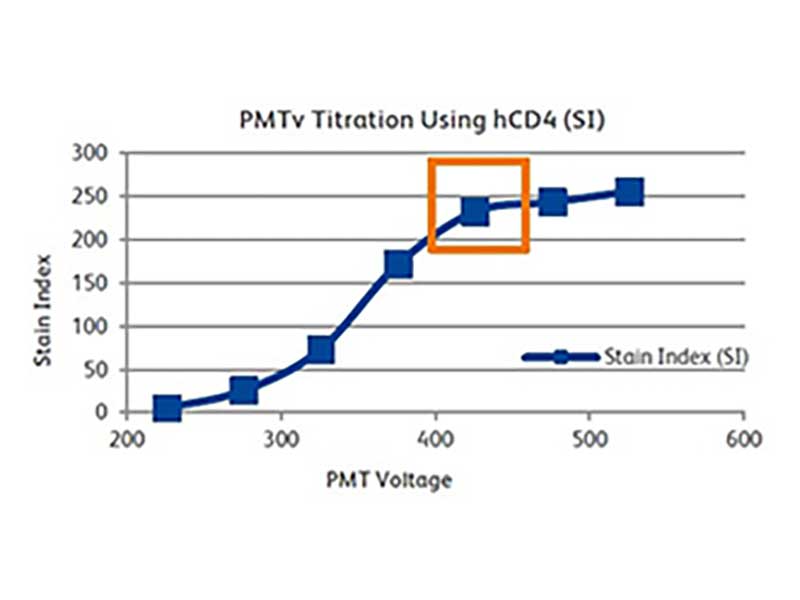 Representative PMTV titration and measured stain index of PBMCs stained with clone SK3 mouse anti-human CD4 acquired at varying PMTVs in 25 V increments. Stain index and resolution for this detector is nearing maximal at a PMTV of 425 V and above as indicated by the square.
Reduce cost and risk of optimizing new high-parameter panels
Speak with your representative about including reagents as part of your instrument purchase to enable you to minimize the cost and risk of optimizing new high-parameter panels on your BD FACSymphony™ Cell Analyzer.
Our high-parameter specialists will work with you to identify the optimal panel for your experimental design and instrument configuration and provide the reagents needed to get to the final rendition of your panel.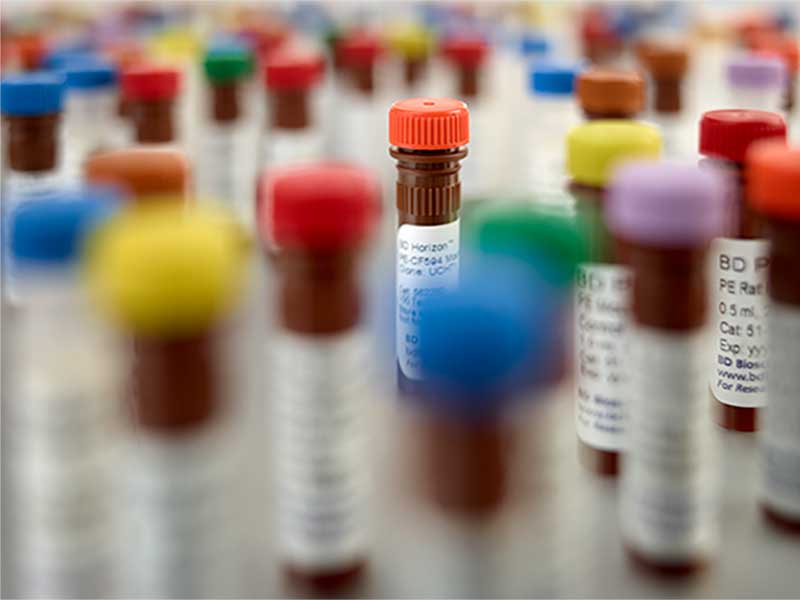 The BD FACSymphony™ A5 Cell Analyzer and FlowJo™ v10 Software enable high-dimensional data analysis
Take your analysis to the next level with new features in FlowJo™ v10 Software including improved BD FACSDiva™ Software support, platform overlays, spectral compensation and more.

Useful tools for high-dimensional visualization and analysis of BD FACSymphony™ Cell Analyzer data include t-SNE, OptSNE, UMAP, TriMAP and EmbedSOM.
Keep up to date on the latest plugins at FlowJo Exchange.
Human PBMCs from 15 normal donors were stained with a 25-color immunophenotyping panel and acquired on three similarly configured BD FACSymphony™ A5 Cell Analyzers. Unsupervised nonlinear dimensionality reduction algorithms from FlowJo™ v10 Software were employed to visualize these data sets.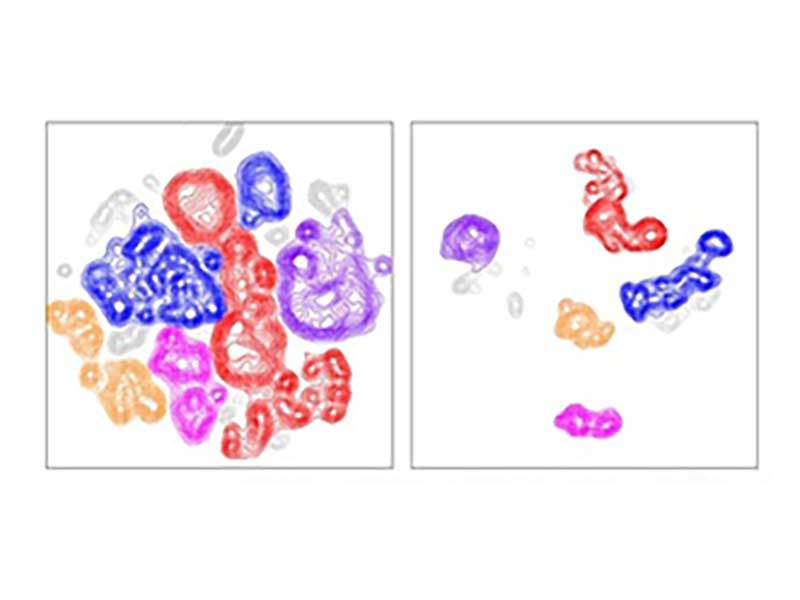 The BD FACSymphony™ A5 Cell Analyzer enables high-parameter analysis for a wide array of applications, including phenotyping of human blood, analysis of murine leucocyte subsets and assessment of surface markers of human ILC1 cells.
Human PBMCs were stained with a 25-color immunophenotyping panel and analyzed on the BD FACSymphony™ A5 Cell Analyzer. Five different healthy donors each were run on the analyzer with identical instrument configurations at three different sites.  Donor 1 data are shown here. 
Comparable segregation of murine cell populations defined by a 28-color reagent panel on the BD FACSymphony™ A5 Cell Analyzer. Two-dimensional t-SNE map generated after merging cells from bone marrow, blood, spleen and lymph nodes. Cell populations were manually gated and overlaid onto the t-SNE plot. Doughnut charts display the frequency of the indicated cell populations in each individual tissue. 

Fresh PBMCs were stained with a 21-color panel and analyzed on the BD FACSymphony™ A5 Cell Analyzer. Lineage CD3-CD56-CD127+CD117-CD294- ILC1 cells were gated into CD4-CD8- (blue), CD4+CD8- (red) and CD4-CD8+ (green) subsets and further analyzed for protein expression patterns.

BD FACSymphony™ A5 Cell Analyzer
A customizable flow cytometer for analysis of up to 50 parameters
Request a Quote
Request a Quote
Please fill in the following information and we will get in touch with you regarding your query.
Successfully submitted.
Report a Site Issue
This form is intended to help us improve our website experience. For other support, please visit our Contact Us page.
Successfully submitted.