You are now leaving the BD Biosciences website. The site you are about to visit is operated by a third party. The link to this site neither makes nor implies any representation or warranty for any products or services offered on a third-party site and is intended only to enable convenient access to the third-party site and for no other purpose. Do you want to continue?
Old Browser
For the best web browsing experience, please use Chrome, Safari or Firefox, minimum versions 77.0.3865, 12.1.2 and 68, respectively.
Overview
Overview
BD OptiBuild™ On-Demand Reagents make it easy for you to gain access to the antibodies you need on an ever-growing catalog of dye combinations. Whether you want to minimize compensation or add new markers to complex experiments, BD OptiBuild™ Reagents provide flexibility to evaluate new colors and simplify your panel design.

Unlike traditional large-scale, expensive custom conjugates, these reagents come in convenient 50-µg vials and can be ordered the same way as any catalog reagent. Products are made especially for you, on-demand and typically ship within 3 to 5 business days.*
 
Click to view BD OptiBuild™ Reagents converted to off-the-shelf products.


*In the continental U.S., Canada, China and Europe.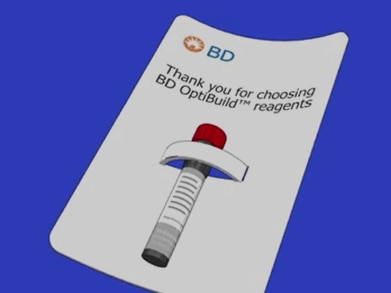 Sample Data
Sample Data
The on-demand nature of BD OptiBuild™ Reagents is the result of years of testing and analysis. We can offer robust reagents that provide a valuable alternative to traditional reagents. The sample data below tell a story of the journey to expand our portfolio of reagents to simplify panel design.

Panel design is critically important to generating high-quality data. Principles of panel design dictate the optimal matching of antigen density with fluorochrome brightness, yet at least one required reagent is unavailable as a standard catalog item for approximately 20% of panels designed today. Access to the right reagents can improve resolution and data quality, ultimately leading to deeper scientific insights through your research.  
Expanding options for multicolor panels
BD OptiBuild™ Reagents provide choice so that you have multiple options for your markers of interest. BD OptiBuild™ and BD Horizon™ Reagents complement each other so that you can optimize your panel with a reliable reagent in the color you need.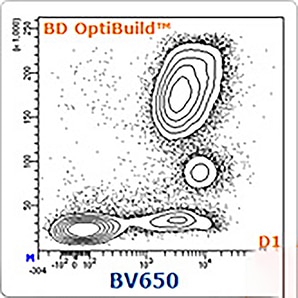 KLRG1 fluorescence on multiple formats of BD Horizon Brilliant™ and BD OptiBuild™ Reagents
BD Horizon™ BB700: A brighter alternative to PerCP-Cy5.5. The BD OptiBuild™ Reagent portfolio now includes BD Horizon Brilliant™ Blue 700. BB700 was developed as a brighter alternative to PerCP-Cy5.5.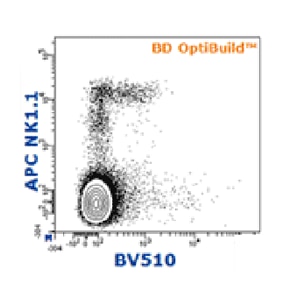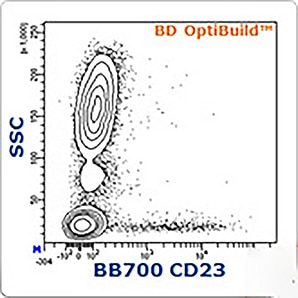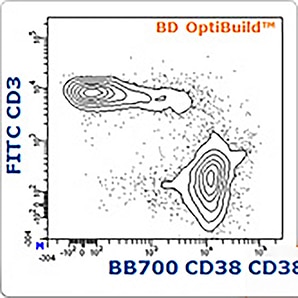 Panel design considerations
Reagent choice brings flexibility to your research, but it's important to keep in mind the BD Horizon™ Dye principles of matching antigen density with fluorochrome brightness to design optimized panels. Depending on your applications and research goals, some dyes might resolve your populations better than others. The Research Applications team can help refine panel design. For inquiries, email help.biosciences@bd.com or contact your local reagent support team.
CD21 expression on multiple formats of BD Horizon Brilliant™ and BD OptiBuild™ Reagents.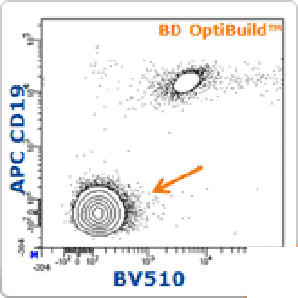 Although BD OptiBuild™ Reagents differ from the way our traditional reagents are manufactured and quality-control tested, these reagents maintain the high performance and quality standards of the BD Horizon Brilliant™ Dyes.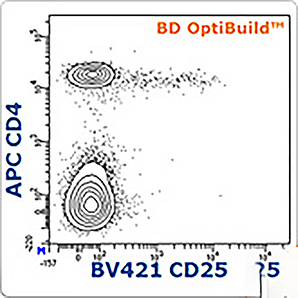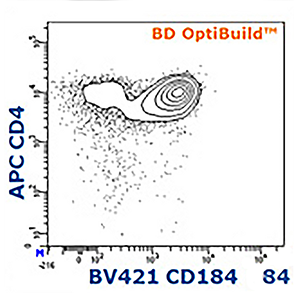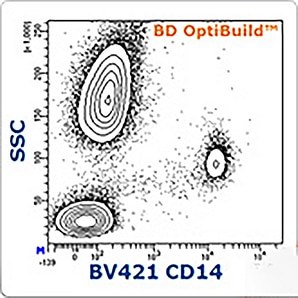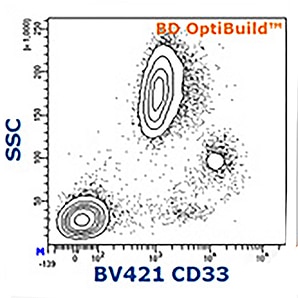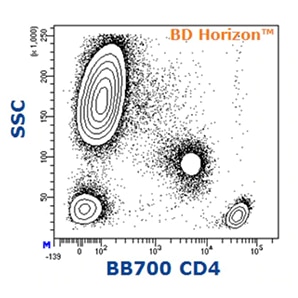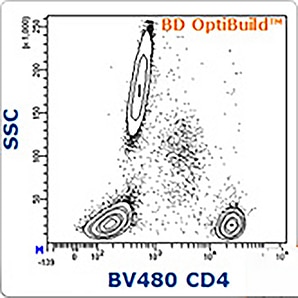 BD OptiBuild™ Reagent performance in multicolor panels
BD OptiBuild™ Reagents can be used to redesign or expand upon existing panels that have various combinations of fluorochromes and antibodies. BD OptiBuild™ Reagents have been extensively tested in multicolor cocktails to demonstrate reproducible results compared to traditional reagents.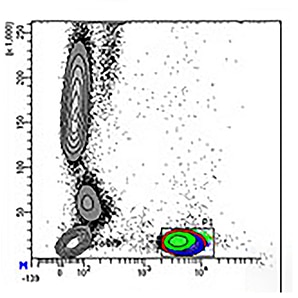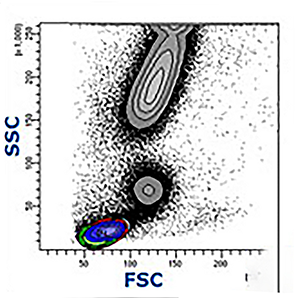 Human 12-color NK cell inhibitory receptor panel designed with BD OptiBuild™ Reagents
Characterization of human NK cells using the NK cell inhibitory receptor panel. 
Representative analysis of PBMCs isolated from a healthy human donor. Lymphocytes were first identified based on light scatter properties (not shown). CD3⁻ non-T cells were gated prior to the identification of two major NK subsets: CD56brightCD16⁻ (light green, top histogram) and CD56dimCD16⁺ (dark green, bottom histogram) cells. The expression of differentiation markers and inhibitory receptors was assessed in the two NK cell subsets and revealed expected expression patterns. The sample was acquired on a 3-laser, 12-color BD FACSLyric™ Flow Cytometer. Data were analyzed using FlowJo™ v10 Software.
Lot-to-lot consistency
BD OptiBuild™ Reagents are made on demand, which means that every reagent vial is equivalent to a new batch. We know that consistent performance is of the utmost importance for the reliability of research results, so the manufacturing process was also extensively tested for lot-to-lot consistency.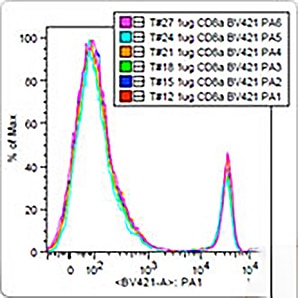 The data above show multiple conjugation events using the same batches of dye and antibody, demonstrating highly reproducible performance. We also assessed the impact of other potential sources of variability by using different batches of dye and antibody. These reagents will continually perform with minimal lot-to-lot variation so that you can be confident in your results in a multisite or longitudinal study.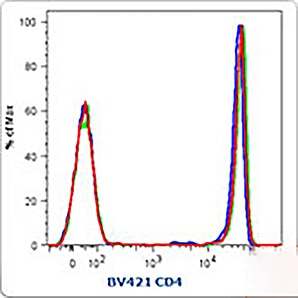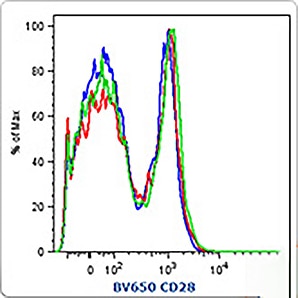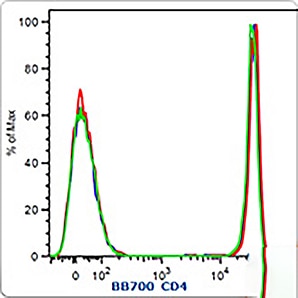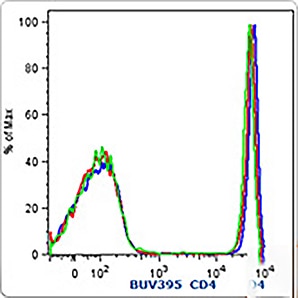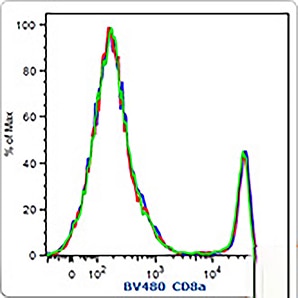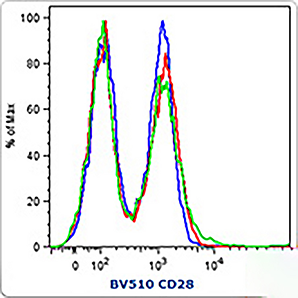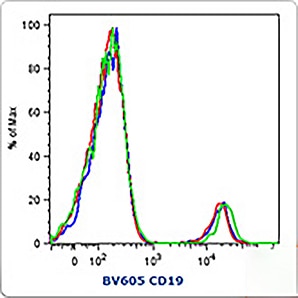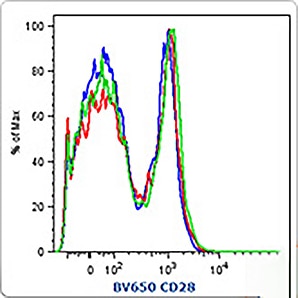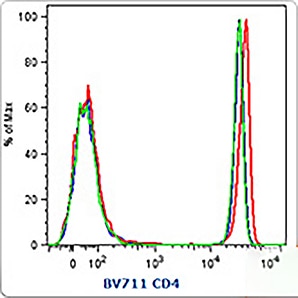 Leveraging the principles of antigen density and relative fluorochrome brightness, BD OptiBuild™ Reagents have been carefully selected to ensure that they can be readily integrated into your ongoing research. The manufacturing process was rigorously validated to ensure that every conjugation produces an active and specific reagent. As with any custom product, there is a minimal possibility that certain permutations do not perform optimally for biological reasons. If you encounter any issues with the performance of these reagents, please contact our Research Applications team.
BD OptiBuild™ Reagent data on these clone/format combinations are shown for comparative purposes only, and they are not available for sale. There is no overlap between the BD Horizon™ and BD OptiBuild™ Reagent catalogs.
FAQs
Frequently Asked Questions
Resources
Related Products
We know that reagent accessibility is important to helping you reach your scientific goals. BD OptiBuild™ Reagents expand your panel design possibilities by using existing antibodies and dyes in combinations not readily available through the standard BD Bioscience reagent portfolio. Our vast menu gives you flexibility in panel design and helps you avoid a timely redesign.
Learn more about our fluorochromes and fluorochrome-conjugated antibodies below.
Report a Site Issue
This form is intended to help us improve our website experience. For other support, please visit our Contact Us page.
Successfully submitted.