You are now leaving the BD Biosciences website. The site you are about to visit is operated by a third party. The link to this site neither makes nor implies any representation or warranty for any products or services offered on a third-party site and is intended only to enable convenient access to the third-party site and for no other purpose. Do you want to continue?
Old Browser
For the best web browsing experience, please use Chrome, Safari or Firefox, minimum versions 77.0.3865, 12.1.2 and 68, respectively.
Overview
The BD FACSymphony™ A5 SE Cell Analyzer offers the ability to:
 
Gain full visible spectrum coverage to collect all light emitted without the need for filter changes, increasing dye flexibility and number of simultaneous colors

Unmix spectral data live in BD FACSDiva™ Software while retaining familiar compensation workflow

May improve resolution of difficult cells and populations using autofluorescence unmixing
Access spectral abilities on your BD FACSymphony™ A5 instrument with an A5 SE upgrade kit
Choose between spectral or compensation-based workflows, achieved through careful optical design and added software functionality
 
Learn more from the BD FACSymphony™ A5 SE Cell Analyzer brochure.



The BD FACSymphony™ A5 SE Cell Analyzer offers an optical design to enable both spectral unmixing and compensation workflows
Algorithmically optimized filter set collects full spectrum of emitted light
 
Algorithm trained on available dyes to optimize placement of 48 detectors across five onboard lasers



Software functionality allows live spectral unmixing or compensation workflows in BD FACSDiva™ Software
Using the familiar BD FACSDiva™ Software workflow, assign a dye to a detector  with the choice to analyze using compensation or spectral unmixing live during acquisition

Visualize spectral profile with spectral plots
Resolve populations with high autofluorescence using autofluorescence unmixing


Premium BD FACSymphony™ System technology enhances resolution
High-parameter cascade (HPC) arrays
Scalable detector array technology allows for up to 20 detectors on a single laser line

Enables square form fit and gallium arsenide (GaAs) PMTs for enhanced resolution
High-sensitivity GaAs PMTs
Reduce noise and increase sensitivity in red and near-infrared emission channels
Maximize resolution across visible spectrum by utilizing two or three GaAs PMTs off each laser line for emission of 720 nm or greater

Take your analysis to the next level with FlowJo™ v10.8 Software including improved BD FACSDiva™ Software support
Match spectral unmixing results between BD FACSDiva™ Software and FlowJo™ v10.8 Software so your visualizations are the same during acquisition or analysis
Use BD FACSDiva™ Software to unmix autofluorescence or unmix in FlowJo™ Software, which includes the AutoSpill and AutoSpread algorithms
FlowJo™ Software provides a number of useful tools for high-dimensional visualization and analysis of BD FACSymphony™ Cell Analyzer data including tSNE, OptSNE, UMAP, TriMap, EmbedSOM and more
Keep up to date on the latest plugins at FlowJo Exchange.

The BD® High Throughput Sampler (HTS) and BD FACSFlow™ Supply System (FFSS) options are available for increased efficiency
The HTS option:
Automates and accelerates sample acquisition
Compatible with 96- and 384-well plates
<0.5% sample carryover in high-throughput mode
The FFSS option:

Increases capacity and ease of use while maintaining a stable fluidics pressure
Reduces daily maintenance by incorporating a 20-L BD FACSFlow™ Cubitainer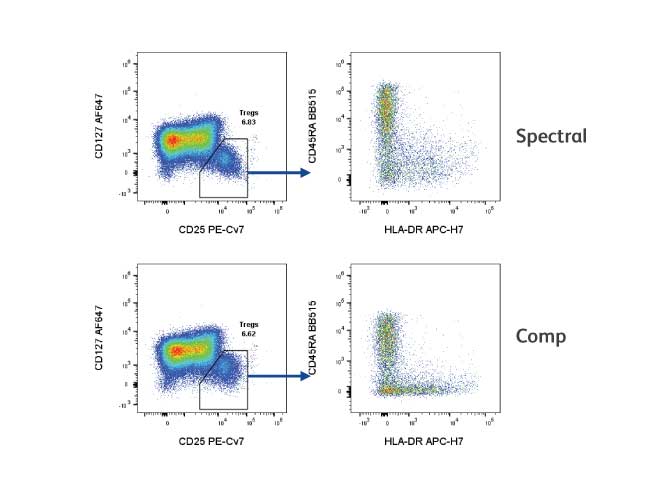 The BD FACSymphony™ A5 SE Cell Analyzer offers flexibility of spectral unmixing or compensation-based workflows in a single instrument
Gallium arsenide (GaAs) PMTs reduce noise and increase resolution in far red and near-infrared channels

What is spectral cytometry?
Spectral flow cytometry represents an alternative data acquisition and analysis strategy to conventional flow cytometry providing advantages in flexibility of fluorescent label inputs without having to change filters, as well as the ability to multiplex more fluorescent labels in one multicolor sample.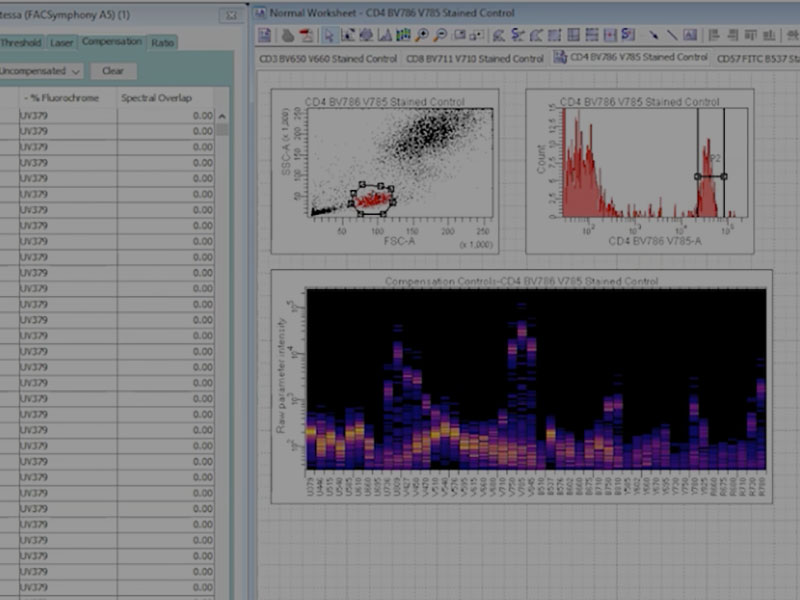 BD FACSymphony™ A5 SE Cell Analyzer
Unlock the full potential of the BD FACSymphony™ platform with the flexibility of spectral unmixing or compensation workflows.
Request a Quote
Resources
Brochure
Technical Specifications
User Guide
Request a Quote for BD FACSymphony™ A5 SE Cell Analyzer
Please fill in the following information and we will get in touch with you regarding your query.
Successfully submitted.
Report a Site Issue
This form is intended to help us improve our website experience. For other support, please visit our Contact Us page.
Successfully submitted.