You are now leaving the BD Biosciences website. The site you are about to visit is operated by a third party. The link to this site neither makes nor implies any representation or warranty for any products or services offered on a third-party site and is intended only to enable convenient access to the third-party site and for no other purpose. Do you want to continue?
Old Browser
For the best web browsing experience, please use Chrome, Safari or Firefox, minimum versions 77.0.3865, 12.1.2 and 68, respectively.
BD® AbSeq Immune Discovery Panel
High-dimensional protein discovery tool for single-cell studies
Uncover up to 30 immune markers in a single experiment
The BD® AbSeq Immune Discovery Panel (IDP) is developed using our antibody-oligo based technology and consists of 30 different specificities against most major human immune markers lyophilized in a single tube. The BD® AbSeq IDP is tested to detect human immune markers and is designed to work on the BD Rhapsody™ Single-Cell Analysis System with BD Rhapsody™ Single-Cell RNA Assays and BD® Multiplexing Kits.
 
Find more information from the BD® AbSeq Immune Discovery Panel brochure.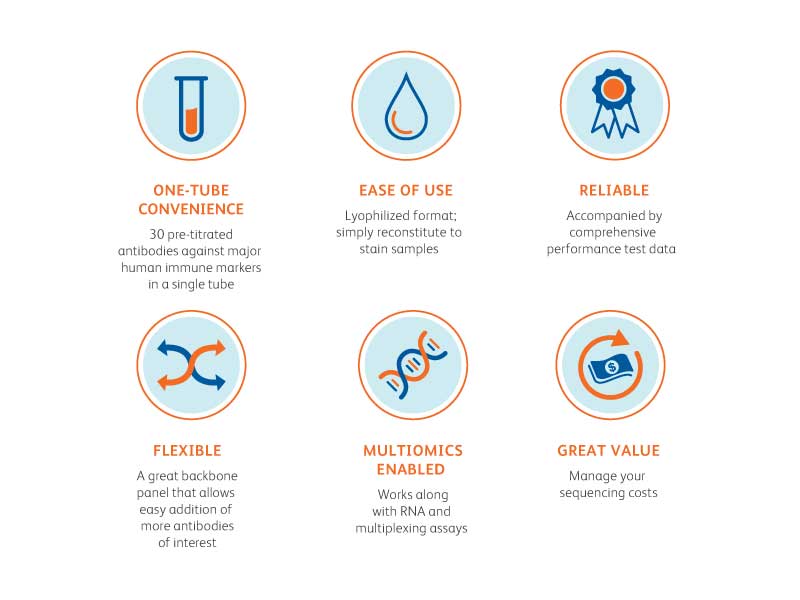 List of BD® AbSeq IDP Specificities
30 pre-titrated antibodies
 
Specificity
Clone
Oligo ID
CD3
UCHT1

AHS0231

CD4
SK3
AHS0032
CD8
SK1
AHS0228
CD11c

B-Ly6

AHS0056
CD14

MPHIP9

AHS0037
CD16

3G8
AHS0053
CD19

SJ25C1

AHS0030
CD25

2A3

AHS0026
CD27
M-T271
AHS0025
CD28
L293
AHS0138
 
Specificity
Clone
Oligo ID
CD45RA

HI100

AHS0009
CD56

NCAM16

AHS0019
CD62L

DREG-56

AHS0049
CD127

HIL-7R-M21

AHS0028
CD134

ACT35

AHS0013
CD137

4B4-1

AHS0003
CD161

HP-3G10

AHS0205
CD183 (CXCR3)

1C6/CXCR3

AHS0031
CD185 (CXCR5)
RF8B2
AHS0039
CD186 (CXCR6)
13B 1E5
AHS0148
 
Specificity
Clone
Oligo ID
CD196 (CCR6)
11A9
AHS0034
CD197 (CCR7)
2-L1-A
AHS0273
CD272
J168-540

AHS0052
CD278
DX29

AHS0012
CD279
EH12.1
AHS0014
CD357 (GITR)
V27-580

AHS0104
CD366 (TIM-3)
7D3

AHS0016
HLA-DR
G46-6

AHS0035
IgD
IA6-2
AHS0058
IdM
G20-127
AHS0198
BD® AbSeq IDP Protocol
Follow these simple steps to use the BD® AbSeq IDP:
 
Steps for reconstituting the lyophilized IDP and staining cells
 
Remove the IDP tube from the foil bag and bring up to room temperature for 5 minutes
Make sure the pellet is located at the bottom of the tube
Add 35 µL of nuclease-free water to the bottom of the tube and allow antibodies to reconstitute for 5 minutes at room temperature
Store the reconstituted antibodies on ice until the cells are ready for staining
Note: Reconstituted antibodies should be used within 24 hours.
To make 2X AbSeq labeling master mix, add 65 µL of BD Pharmingen™ Stain Buffer to the solution to bring it to a total of 100 µL
Mix with 100 µL cell suspension prepared following Single Cell Labeling with BD® AbSeq Ab-Oligos (Doc ID 214394 Rev. 1.0) and stain the cells on ice for 30 minutes
Add 3 mL BD Pharmingen™ Stain Buffer (FBS) to labeled cells and pipette-mix
Centrifuge each tube at 400 x g for 5 minutes
Uncap each tube and invert to decant supernatant into biohazardous waste. Keep the tube inverted and gently blot on a lint-free wipe to remove residual supernatant from tube rim
Repeat steps 7–9 twice more for a total of three washes
Resuspend pellet in 620 µL cold BD Pharmingen™ Stain Buffer (FBS) from the BD Rhapsody™ Cartridge Reagent Kit and proceed to single-cell capture
 
See the Single Cell Analysis Workflow with BD Rhapsody™ Systems.
The performance of the BD® AbSeq IDP is comparable to data generated using a freshly prepared mixture of the same 30 specificities of our single vial BD® AbSeq Reagents
Similar performance between the IDP versus freshly mixed BD® AbSeq Antibodies. Following isolation from whole blood, peripheral blood mononuclear cells (PBMC) were split into resting (untreated) and activated (treated with CD3/CD28 for 24 hours) groups.
A 1:1 mixture of the resting and activated cells were stained with either the IDP or a freshly prepared mixture of the same AbSeq specificities. Equal number of cells were then loaded onto the BD Rhapsody™ Cartridges and AbSeq and WTA libraries were generated and sequenced (n = 2 individual experiments for this study). Data were analyzed using SeqGeq™ Software and Dataview Software.
A. UMAP demonstrated strong overlap in the cell groups identified between the IDP and fresh BD® AbSeq Antibody-stained samples.
B. The total number of AbSeq molecules detected by the IDP and fresh BD® AbSeq Antibody mixture showed a high correlation with R2 greater than 0.98.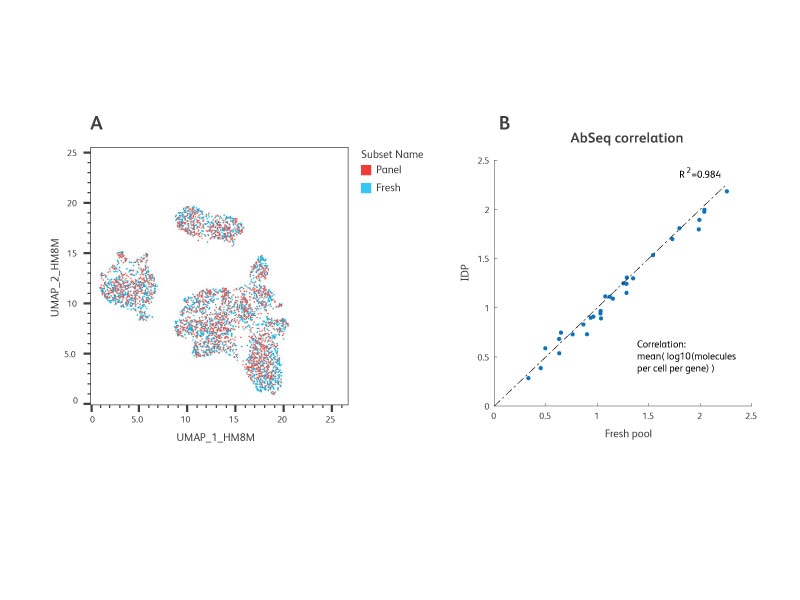 All 30 specificities included in the BD® AbSeq IDP reliably detect their respective individual targets when tested against PBMCs from multiple donors
Performance of all 30 AbSeq specificities included in the IDP. PBMCs were activated and prepared as described in the figure above. After staining, cells were captured on the BD Rhapsody™ System and AbSeq and WTA libraries were generated and sequenced. To obtain over 80% sequencing saturation, the libraries were sequenced at 20,000 reads/cell for WTA and 30,000 reads/cell for AbSeq using the Illumina™ NextSeq™ High-Output Kit. Data were analyzed using SeqGeq™ Software and Dataview Software. We repeated the above experiments with at least two different donors. The representative figures from one donor are shown here.
A. Cell annotation of UMAP of resting + activated PBMCs resolved by the IDP antibodies and the WTA mRNA profile.
B. Heat maps of each AbSeq clone from IDP on UMAP from (A) showing the specificity of AbSeq detection for individual cell type.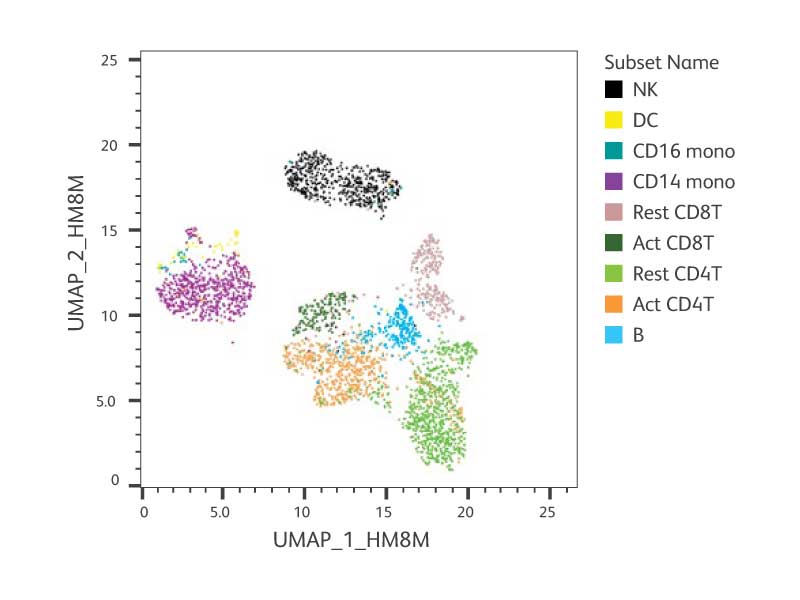 Add more BD® AbSeq Antibodies to IDP without compromising the specificity of the BD® AbSeq IDP or the added antibodies.
The IDP is a flexible backbone panel and accommodates additional AbSeq specificities. Three BD® AbSeq Antibodies were added and mixed with the reconstituted IDP pellet (n = 2).
A. The IDP performance was not impacted by drop-ins as shown by high correlation (R2 over 0.99 with or without drop-ins).
B. The IDP specificities of CD8[SK1] and CD45RA (top row) were assessed against the specificity of drop-ins CD8 [RPA-T8], CD45RO and CD38 (bottom row) and are shown in UMAP. Drop-in for CD38 detected cell types that are expected to be positive for CD38. Drop-in clone for CD8 (RPA-T8) showed a staining pattern very similar to the IDP clone (SK1) suggesting the high specificity of drop-in antibody as well as the compatibility of two clones for the same antigen. The contrasting expression pattern of CD45RO (drop-in) compared to CD45RA (IDP) further confirmed that adding the AbSeq specificities to the IDP had no adverse impact on experimental outcomes.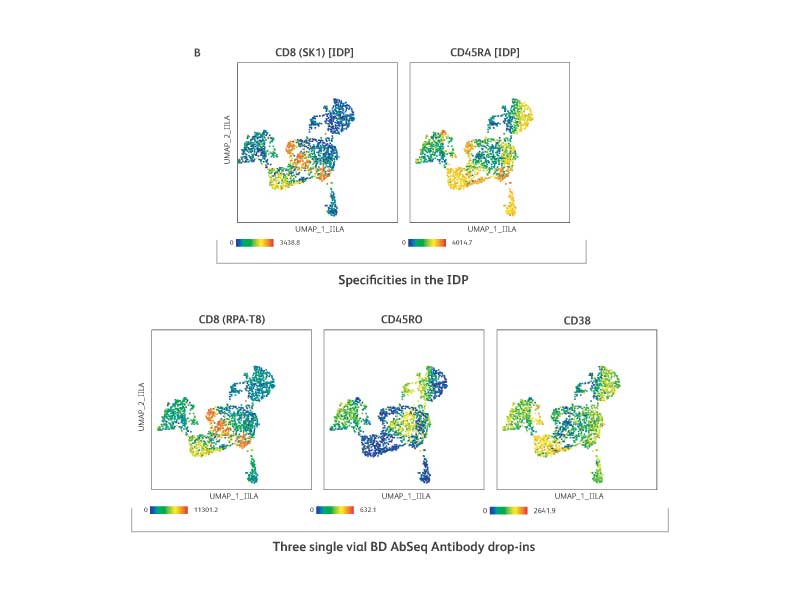 The BD® AbSeq IDP works seamlessly with BD Rhapsody™ RNA Assays and BD® Multiplexing Kits.
The IDP is designed to work with RNA and multiplexing assays
A. WTA and AbSeq libraries from IDP-stained cells (1:1 mixture of resting and activated PBMCs) were generated and sequenced. To illustrate the power of multiomic analysis, we analyzed the WTA data only (mRNA analysis) and compared with WTA + AbSeq data (mRNA and protein analysis). UMAP coordinates and unbiased clustering (Phenograph) using only WTA (mRNA) data are shown on the left, while coordinates and annotations using WTA + AbSeq (mRNA and protein) data are shown on the right. With a multiomics approach, additional cell types were revealed offering deeper biological insights.
B. To test the compatibility of the BD® Single-Cell Multiplexing Kit (SMK) and the IDP, we performed cell staining with the SMK and the IDP together and generated WTA, AbSeq and SMK libraries for sequencing. The expression of markers in the IDP was then compared to data generated in the absence of the SMK. These data showed that addition of the SMK does not impact the IDP as demonstrated by high correlation (R2 >0.99) between the IDP + WTA versus IDP + WTA + SMK.

Report a Site Issue
This form is intended to help us improve our website experience. For other support, please visit our Contact Us page.
Successfully submitted.