You are now leaving the BD Biosciences website. The site you are about to visit is operated by a third party. The link to this site neither makes nor implies any representation or warranty for any products or services offered on a third-party site and is intended only to enable convenient access to the third-party site and for no other purpose. Do you want to continue?
Old Browser
For the best web browsing experience, please use Chrome, Safari or Firefox, minimum versions 77.0.3865, 12.1.2 and 68, respectively.
Flow cytometry in the study of anaerobic bacteria – The BIOASTER ANOXIC Platform
The various species of bacteria inhabiting human and animal bodies, particularly in the gut microbiota, play key roles in many biological processes. Important health issues like undernutrition, irritable bowel syndrome,  metabolic disorders, skin diseases and many others are linked to gut bacteria and their functions. As bacteria in the gut are anaerobic and cannot be studied under normal atmospheric conditions, special techniques are needed to be able to culture and analyse them.
The BIOASTER ANOXIC platform enables the exploration of microbiota with specific focus on anaerobic bacteria. The platform consists of specialised high-throughput tools that are designed to mine and study bacterial species of interest. These tools also allow for the monitoring of host-microbiota interactions and the validation of pre-clinical models. Included in the platform's specialized equipment is a BD Influx™ flow cytometer with a special glove box attached to its sorting chamber. Oxygen can be depleted from the glove box by pumping in nitrogen, thereby allowing anaerobic bacteria to be analysed and sorted in a conducive environment.


Coupled with protein expression systems and engineering, genomics, transcriptomics, metabolomics, proteomics, immunomonitoring and data analysis, the BIOASTER ANOXIC platform provides comprehensive high-throughput culturing, sorting and analysis of anaerobic microorganisms.

To learn more about the BIOASTER ANOXIC platform, watch the video and download the brochure.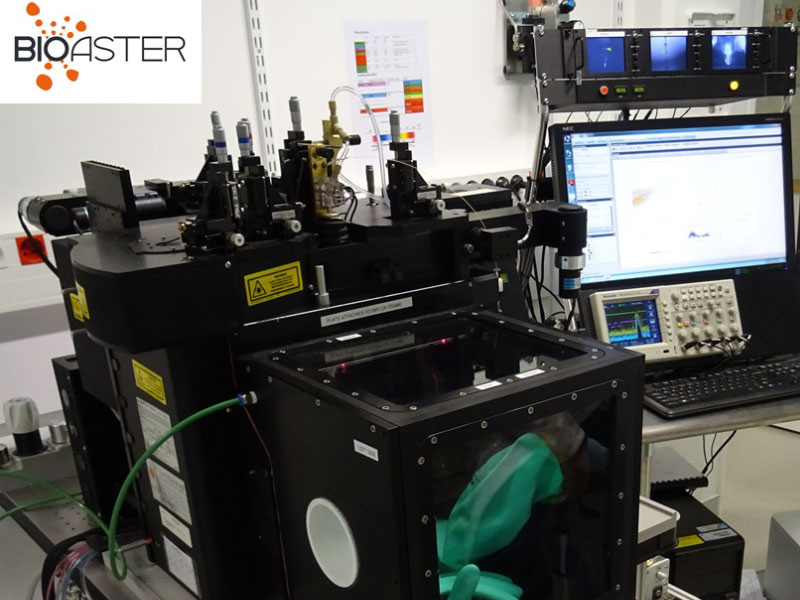 Report a Site Issue
This form is intended to help us improve our website experience. For other support, please visit our Contact Us page.
Successfully submitted.