You are now leaving the BD Biosciences website. The site you are about to visit is operated by a third party. The link to this site neither makes nor implies any representation or warranty for any products or services offered on a third-party site and is intended only to enable convenient access to the third-party site and for no other purpose. Do you want to continue?
Old Browser
For the best web browsing experience, please use Chrome, Safari or Firefox, minimum versions 77.0.3865, 12.1.2 and 68, respectively.
Overview
A cell sorter to put you at the forefront of research
The BD FACSymphony™ S6 System adds cutting-edge technology to the performance of the BD FACSAria™ Fusion Cell Sorter and the innovative optics of the BD FACSymphony™ A5 Cell Analyzer to power your scientific discovery.

Configurable up to 50 parameters to define phenotypically distinct subpopulations and isolate populations previously only available for analysis

Flexibility to sort subpopulations up to 6 ways or into plates or slides
 
Find more information in the BD FACSymphony™ S6 System brochure.
Together, BD high-parameter instruments allow transfer of high-parameter panels to drive deep scientific insights without the hassle of repeating the panel design process.
Learn more about the analyzers in the BD FACSymphony™ family:
The BD FACSymphony™ S6 Cell Sorter has been designed to drive deeper scientific insights from your experiments.
The system provides excellent sensitivity to explore the nuances of marker expression and the sort performance you expect from BD.
The BD FACSymphony™ S6 Cell Sorter provides:
Up to 50 parameters of detection with low noise electronics and PMT detectors

Optics designed to maximize signal collection, including BD patented technologies with gel-coupled cuvettes and high-parameter cascade arrays

Ability to sort up to 6 resolved populations simultaneously, saving you time and moving you quickly towards discovery

Index sorting, allowing you to review the cell-surface phenotype of every cell sorted into a plate or slide to support downstream experimental observations
The security of BD FACS™ Accudrop technology, which enables high-performance sort results by maintaining an optimal breakoff and pausing the sort when necessary to protect the purity of the sorted sample
Design the BD FACSymphony™ S6 Cell Sorter to meet your individual application needs—from sample input to sample output and everything in between—through the BD Special Order Research Product (SORP) program
Choice of up to 9 spatially separated lasers from over 25 wavelength options. Available laser powers may vary depending on the wavelength

High-parameter cascade (HPC) arrays allow for up to 20 parameters on a single laser line

Removable filters that can be completely customized for optimal detection of dyes and fluorescent proteins for your needs

A multitude of sort collection devices with new flexibility. Sort up to 6 ways at one time

Availability of high-precision interchangeable nozzles for a wide range of cell size support: 70, 85 and 100 µm nozzles are standard. 130 μm nozzles are also available.
Peace of mind through field upgrade support, including the addition of new laser lines or additional parameters in the future, and the biosafety cabinet after purchase

Collection options, including 5, 15 and 50 mL tubes, microcentrifuge tubes and 96-well and 384-well plates
Contact your local BD representative for a full discussion of options on the BD FACSymphony™ S6 Cell Sorter.
The BD FACSymphony™ S6 Cell Sorter has been designed with safety in mind
The biosafety cabinet (BSC) from The Baker Company and the BD FACSymphony™ S6 Cell Sorter fit together seamlessly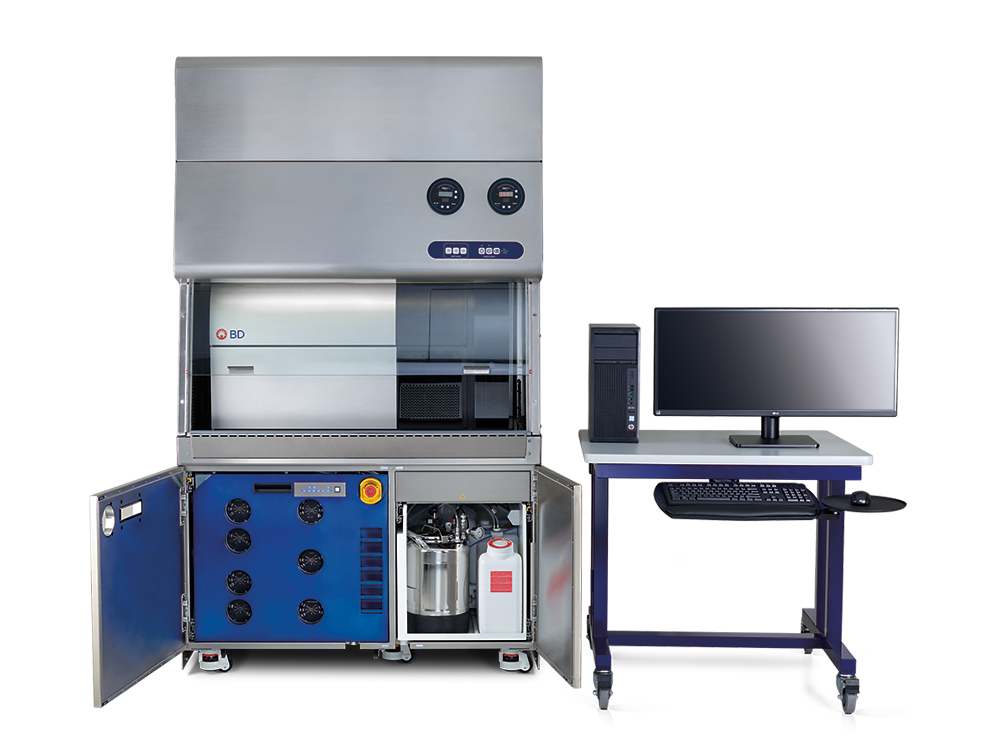 BSC has been verified to meet National Sanitation Foundation International Standard 49, the European Standard 12469, the China Standard SFDA YY- 0569:2005 and the Australian Standard AS 2252.2– 2009 for personnel and product protection

You can order the sorter now and upgrade with the BSC later as a field upgrade that takes less than one day to install

The independent aerosol management system (AMS) rapidly evacuates any aerosols contained in the sort chamber and traps any particulates in a dedicated AMS HEPA filter

Performance
The BD FACSymphony™ S6 Cell Sorter pairs with other BD products to enable an end-to-end solution for high-parameter analysis
BD has more than 40 years of experience and expertise building flow cytometry tools that push the edge of innovation to drive science forward. The BD FACSymphony™ S6 Cell Sorter builds on that legacy and is part of the BD solution to unlock your experimental power.


Flexibility for experimental design with a broad portfolio of fluorochromes from BD, featuring the BD Horizon Brilliant™ Dyes and BD OptiBuild™ Technology, and our custom reagent services
Easy exchange of panels between high-parameter instruments, such as the BD FACSymphony™ Analyzers
Multiomic analysis of specific, rare cell populations targeted and isolated with the BD FACSymphony™ S6 Cell Sorter using BD® AbSeq Antibody-Oligo Conjugates and the BD Rhapsody™ Single-Cell Analysis System
High-parameter analysis using FlowJo™ Software, which offers native models for advanced data analysis, necessary tools for publication-quality graphics and a plug-in architecture to enable access to the latest algorithms and workflows
Ability to define a gating strategy for a population found using any combination of clustering, gating and dimensionality reduction with the HyperFinder plugin and the FACSDiva™ Software import and export workflow
Best-in-class BD service and applications support that is available worldwide
BD FACSymphony™ S6 Cell Sorter
A cell sorter designed to power your scientific discoveries with 6-way sorting and up to 50 parameters

Request a Quote
Request a Quote
Please fill in the following information and we will get in touch with you regarding your query.
Successfully submitted.
Report a Site Issue
This form is intended to help us improve our website experience. For other support, please visit our Contact Us page.
Successfully submitted.